INNOVATIVE DATING FROM HOME SERVICE AIMS TO CREATE VIRTUAL CONNECTIONS DURING ERA OF SOCIAL DISTANCING
Brand-New Dating Service Emphasizes Social Interaction in Daring New Relationship Experiment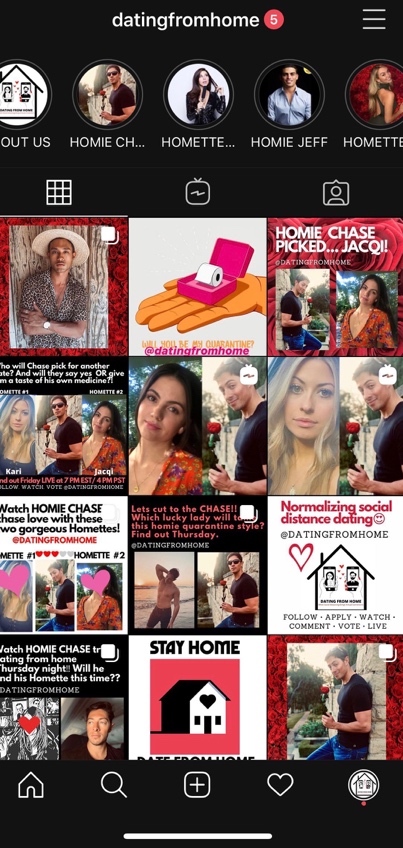 As citizens from coast-to-coast continue to adjust to increasing government regulations aimed at limiting social interaction, dating services have scrambled to find ways for people to build relationships without having to physically meet-up for traditional dates. Fortunately, renowned dating coach and matchmaker Cher Gopman has developed a solution for those still looking to find their perfect match in this era of social distancing.
"When social distancing went into effect, I was no longer able to set people up on traditional dates or help people navigate the dating process," comments Gopman, Founder of NYC Wingwoman LLC. "However, my business partner Lauren had taken part in some Zoom dates at the beginning of the quarantine, and I was fascinated by the process. That's when it dawned on me that virtual dating was the way forward, both during the quarantine and beyond."
After extensive preparation, Dating From Home (@datingfromhome on Instagram) was launched this month as a virtual dating experience that helps to normalize FaceTime and Zoom dates during the quarantine. Dating From Home's goal is to help people still find love while at home and also provide entertainment for the Instagram community.
With people needing a break from binge-watching traditional television shows through various streaming services, Gopman realized that Dating From Home could be a fun, interactive dating show all available through the readily-accessible Instagram platform.
So how does it all work? The Dating From Home team picks one "Homie" or "Homette" (their term for Bachelor or Bachelorette since everyone is at home) and sets them up on two virtual dates. The dates are recorded over Zoom and posted on Instagram for the audience to watch, comment and vote for who they think deserves a second date.
The Homie or Homette will make their decision, but with a fun twist. The final decision will then be up to that contestant to decide if they do want to go on the second date or be set up with two new dates for their next interaction.
After each date, the Dating From Home team goes LIVE with both dates to talk about their thoughts on how the date went. They also bring in influencers to gather other notable opinions of the dates.
The Dating From Home service is completely free for interested contestants, as the platform was created to help people find love despite social distancing and also put a smile on people's faces during a difficult time.
This week's episode revolves around setting up Kaitlyn Herman television show Big Brother. Kaitlyn's date will take place Wednesday April 22nd at 7:00 p.m. EST followed by the live show on Instagram where viewers will get to hear from Kaitlyn and her dates and learn what they have to say. On Thursday, April 23rd at 7:00 p.m. viewers will find out who she wants to go on a second date with and if her date accepts or if they would rather to be set up on two new dates.
"It's amazing that the reality stars are turning to Instagram for a chance to date their fans in the hopes of finding love," said Gopman. "The goal of this fun and interactive dating experience is not only to bring love into people's lives but provide entertainment to our new quarantine community during these unprecedented circumstances."
Within one week of launching over, Dating From Home has received more than 300 applications to get signed up.
"It can be really tough to be single under these circumstances, and that's why we decided to take my expertise to Instagram," said Gopman. "As a dating coach and matchmaker for nearly five years I have helped countless people successfully find love, and I'm excited to continue doing that through this new platform."
For more information on Dating From Home, please visit www.datingfromhome.net or @datingfromhome on Instagram.
646-883-2831