Organic coconut oil in a stick, for easy topical application on body, face & lips — Genuis! Not to mention its from a Westchester mom Lisa Wurtz
.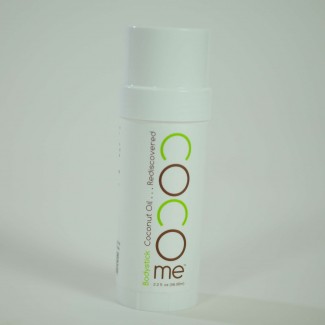 Coconut oil is all the rage these days for both health & beauty. Many people are introducing this amazing oil into their daily skincare regimens. Coconut oil protects the skin from free radical damage, moisturizes, repairs the skin and can improve the look & feel. According to the maker of Cocome Body Stick, it can actually change a persons complexion. After becoming a mom, Lisa Wurtz (the woman behind the brand) realized she wanted a more natural approach to her beauty routine. Not being able to find a great lotion that she loved on the market she developed the CocoMe Stick.
All it is is pure virgin, organic coconut oil & a bit of beeswax. The stick can be used on anyone – even on a baby for diaper rash! Throw it in your bag for those moments you need a little moisture on the skin throughout your day! Or use the lip balm to protect the lips from cold weather & prevent drying. I am addicted to it after one day of use!!
Post Written By Carrie Kaplan of Carrie Kaplan Skincare, Irvington, NY