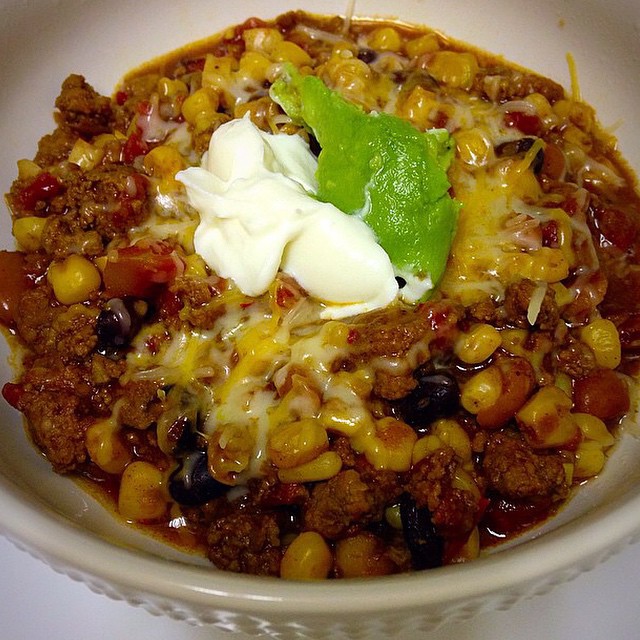 Ingredients:

1 tbsp olive oil or Pam Spray ( I use Pam)
2 carrots, chopped
1 onion, chopped
1 poblano or bell pepper, chopped
1/2 pound lean ground beef
2 tbsp tomato paste
1 8-oz can tomato sauce
2 tbsp chili powder
1 tsp ground cumin
1 tsp oregano
1 tbsp salt and pepper
1 15-oz can black beans, rinsed
1 15-oz can pinto beans, rinsed
1/2 cup corn kernels (from 1 ear, frozen and thawed)
1/2 cup grated low-fat Cheddar (2 oz)

Optional Toppings: Diced onions or scallions, sliced avocado and greek yogurt

Directions:
Heat the oil or PAM in a large saucepan over medium-high heat. Add the carrots, onions, and poblano and cook, stirring for 3 minutes.
Add the beef and cook, breaking it up with a spoon, until no longer pink, 3 –5 minutes.
Add the tomato paste and sauce, stirring until it is slightly darkened, 1 minute.
Stir in beans, spices, 3 cups water, salt and pepper.
Simmer over medium heat until the vegetables are tender, 8 – 10 minutes. Stir in the corn.