Opening Reception on Saturday, February 12 from 5 – 8 pm to coincide with Katonah Art Jaunt event with Chroma and Oak & Oil Galleries in town. 
CB Gallery, Katonah, NY's top contemporary art gallery, is pleased to announce its next exhibition entitled "Sensation" by Norwalk-based artist, Heide Follin.  The exhibit will run from February 5 – March 12, 2022, with an opening reception on Saturday, February 12 from 5-8 pm to coincide with the Katonah Art Jaunt event with Chroma and Oak & Oil galleries.
Norwalk, Connecticut-based artist, Heide Follin has been surrounded by creativity her entire life. Her grandmother was a milliner, her mother is a floral designer, and her father was a carpenter. "There wasn't a moment in my life when I wasn't immersed in the imaginative process," Follin says.  "After high school, I graduated from The School of the Worcester Art Museum in Worcester, MA where I studied drawing, painting, photography, and printmaking. Currently, I find inspiration in landscapes and the complicated life within a garden, weather, birds, and the energy in our everyday natural environment," Follin explains. "I take photos during my walks in the woods and then, back in my studio, my painting process allows me to express the sensations I feel in a colorful abstract way."
"Heide's work is a wonder," Owner/Director Christopher Brescia says. "When I visited her studio, the cacophony of lush color gave me the overwhelming sensation that I was experiencing nature in a totally different way. Heide is so talented that I hope as many people as possible get to see her work in person."
An opening reception will take place on Saturday, February 12 from 5-8 pm to coincide with the Katonah Art Jaunt.
For more information about Heide Follin's "Sensation" show, contact CB Gallery at 917.520.3234.
Walk-in gallery hours are Wednesday through Saturday, 11 am-5 pm or by appointment.
For more information, please visit CB Gallery on Facebook and Instagram @cbartgallery or contact Christopher Brescia at artgallerycb@gmail.com or 917.520. 3234.
#          #          #
About CB Gallery
Named 2019's Best New Art Gallery in Westchester Magazine, Christopher Brescia opened the CB Gallery space in January 2019 in the charming downtown of Katonah, NY.  The mission of the gallery is to offer Westchester and Connecticut residents as well as visitors and weekenders living in the community, something new and different in terms of contemporary artwork unlike anything else being offered in the area.   All artist exhibitions feature paintings, photography, drawings, and sculpture depending on the show.
Brescia believes art truly enhances your living space and gives a home life, personality, and soul, and that just because you have a traditional house, does not mean you have to own traditional artwork!  In addition, CB Gallery offers in-home art consultation appointments to evaluate your current collection and make recommendations on existing and new art purchases.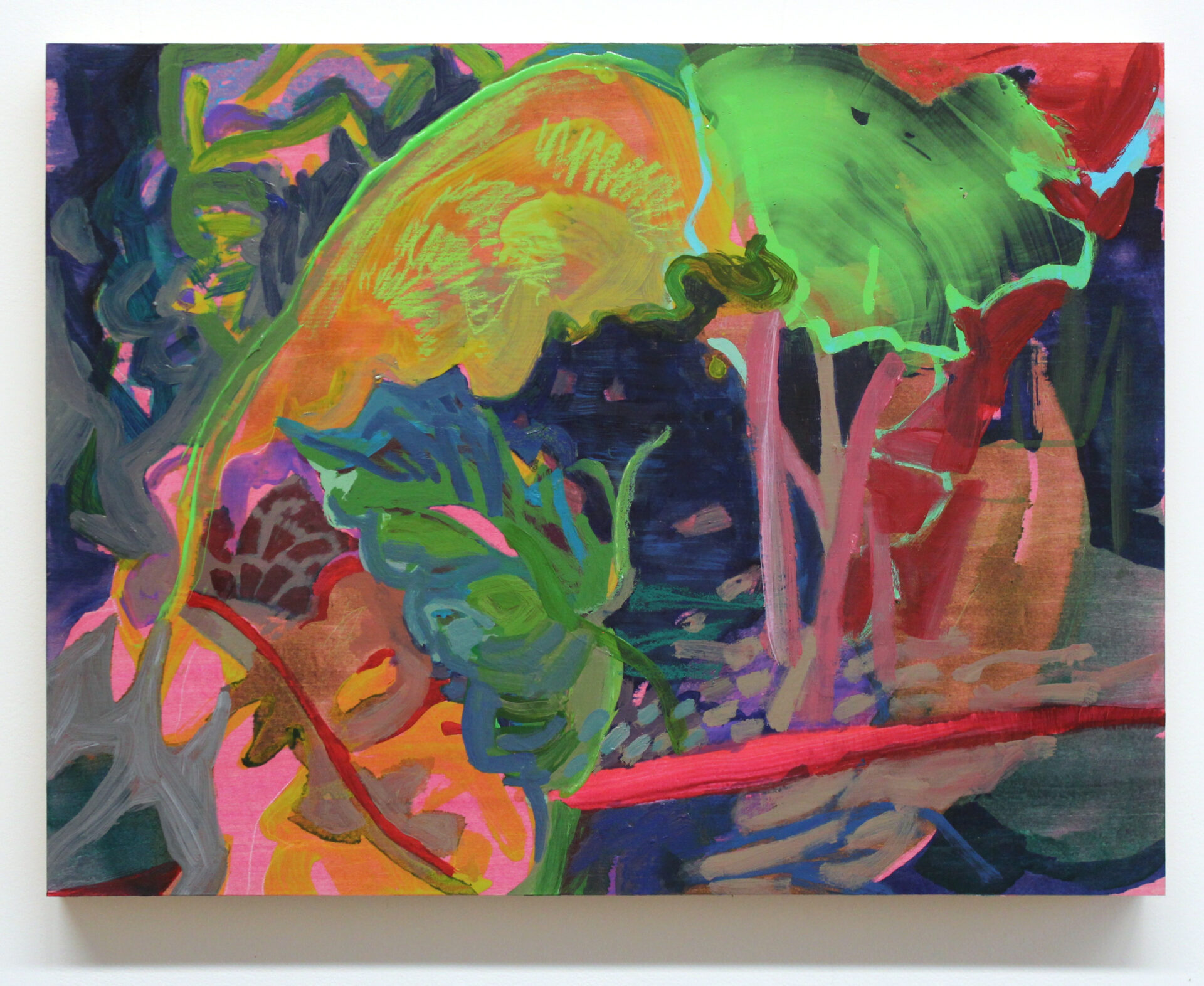 Night Vision
acrylic stain and paint on cradled birch panel
18x24inches
Pink Cloud
acrylic and wax crayon on
watercolor paper
50x 38inche