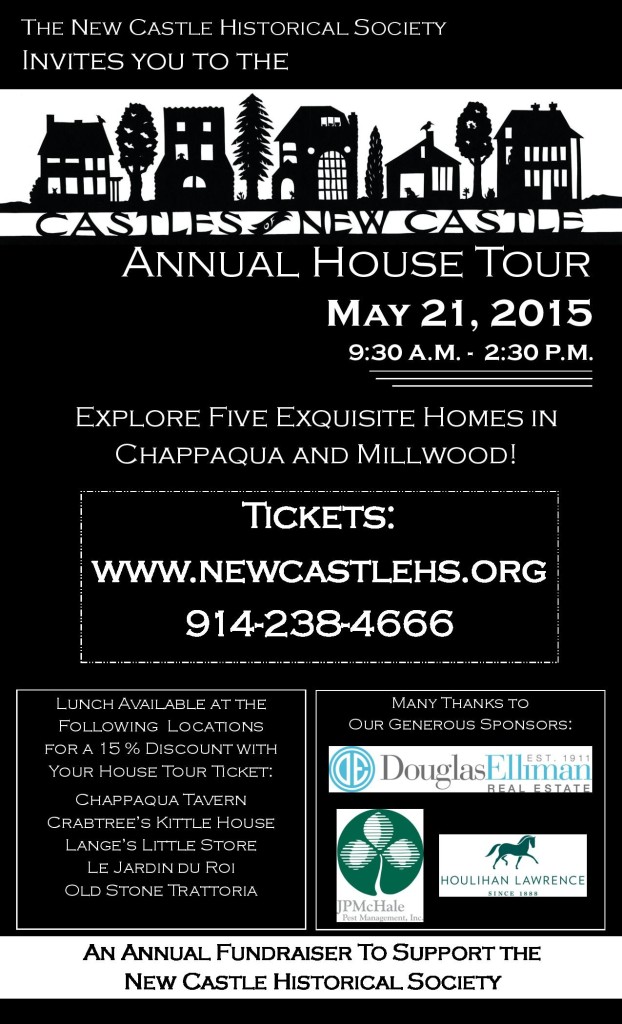 The New Castle Historical Society proudly announces its 12th "Castles of New Castle" House Tour to be held Thursday, May 21, 2015 from 9:30 am until 2:30 pm. The New Castle Historical Society, located in the Horace Greeley House Museum in Chappaqua, is a non-profit organization dedicated to preserving and interpreting the history of New Castle. All proceeds raised from this event help the Society to fulfill its mission of historical discovery, education, community outreach, and research.
"The New Castle Historical Society has a special place in my heart because it is the story of my adopted home..not where I grew up but where I will grow old and where we are raising our family," said Georgia Frasch, the House Tour Event Chair.  She continued, "I have a special affection for the annual Castles of New Castle House Tour because…who doesn't love looking at beautiful homes and gardens?!!?"
While many of the details regarding the homes are kept under lock and key until the day of the tour, a few "teasers" have been revealed. For example, one home was nearly destroyed in a town-wide disaster in 1904 but managed to avoid complete devastation while another home "explores geometry through architecture" and will surely leave you feeling inspired. The homes – varied in their decorative tastes, architectural styles, and histories – will provide visitors with a fun-filled day of curiosity and exploration.
House Tour ticketholders will also have the opportunity to dine at the Chappaqua Tavern, Crabtree's Kittle House, Lange's Little Store, Old Stone Trattoria, Le Jardin du Roi for a 15 % discount with their House Tour ticket. Douglas Elliman, Houlihan Lawrence, and JP McHale Pest Management have generously sponsored this special fundraiser.
Tickets for this year's tour are $50 for members and $75 for non-members of the Society.  Tickets may be purchased on the Society's website at www.newcastlehs.org or in-person at the Horace Greeley House Museum, 100 King St. Chappaqua, New York.
All proceeds from the House Tour will benefit the New Castle Historical Society.  If you have any questions, please visit www.newcastlehs.org or contact Cassie Ward at director@newcastlehs.org or (914) 238-4666.