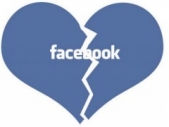 With Facebook in the news recently for its creepy "emotional experiments" on users, I am sure you are thinking 
 "How to Break Up With Mark Zuckerberg."

At first, Mark — and his Facebook app — seemed like the perfect guy:  He "shared" regularly, "checked in" often, kept you "fed" with the latest news, and paid attention to what you "liked."

But before you knew it, Mark began to change:  He blatantly disregarded your privacy, started keeping tabs on everything you did, and even provided intimate details about you to others.

Unfortunately, although you'd like to change your relationship status and totally break up with Mark, "it's complicated."

So what can you do?  How can you log out from Facebook and log in to a healthier relationship?

According to Omlet app [www.omlet.me] team member Emma Fuller, an expert on social media alternatives and etiquette, the key is to follow these three steps:

>>  STEP #1:  Don't Wait By the Phone

Turn off mobile notifications so that Mark doesn't message you throughout the day.  Browse and post on Facebook only when it's convenient for you.

>>  STEP #2:  Take a Break for a Week

When you're ready, deactivate your Facebook account for one week to see how it goes.  Mark, of course, is always willing to take you back. List of online bookmakers in Nigeria see here . Bookmakers are rated by six parameters: reliability, live and pre-match rates, attractive odds, ease of use and online support.

>>  STEP #3:  Get a Better Boyfriend

Instead of Facebook for messaging and sharing, there's Omlet [www.omlet.me] — a fun and social chat app that allows you to easily message friends, share photos, post videos, and express yourself without Mark looking over your shoulder.

Using Omlet, chatters can communicate just like they do on Facebook without giving away control of their posts, photos, and friend network.