Almost every wedding season, you are met with the exciting opportunity of dressing up for the nuptials of a favorite couple or two. Invitations often specify a dress code to help you decide what to wear, so be ready to shop for wedding guest dresses, taking into consideration the dress code, the setting, the season, and your own personal style. Whether a lowkey backyard wedding or a breathtaking destination ceremony, we've put together some outfit inspiration from Alamour the Label to help you on your search for the perfect wedding guest dress for 2023.
Glam Evening Gown for a Grand City Wedding
Whether a black-tie dress code is mentioned on the invitation or the wedding venue is a grand ballroom somewhere in the city, a glamorous city wedding is an ideal opportunity to take it to the next level and dress formally. A floor-length evening gown in a high-quality eveningwear fabric is usually required. Opt for satin, sequins, lace, and embellishments in structured silhouettes. Fit and flare maxi dresses, mermaid-style evening gowns, and long-column dresses are all stunning options. Colorwise, the most popular options for this type of event come in deep jewel tones, metallics, and pastels.
Romantic Look for a Garden or Countryside Wedding
If the wedding takes place in a beautiful garden, backyard, or inside a grand gazebo in the countryside, think of rustic luxury, romanticism, and prairie-chic aesthetics. Look for a long floral dress with a midi hem, tea-length (right above the ankle), or maxi-length. A flowing silhouette made from an ethereal fabric in dreamy pastels or dainty floral prints aligns beautifully with the rustic aura of such an event.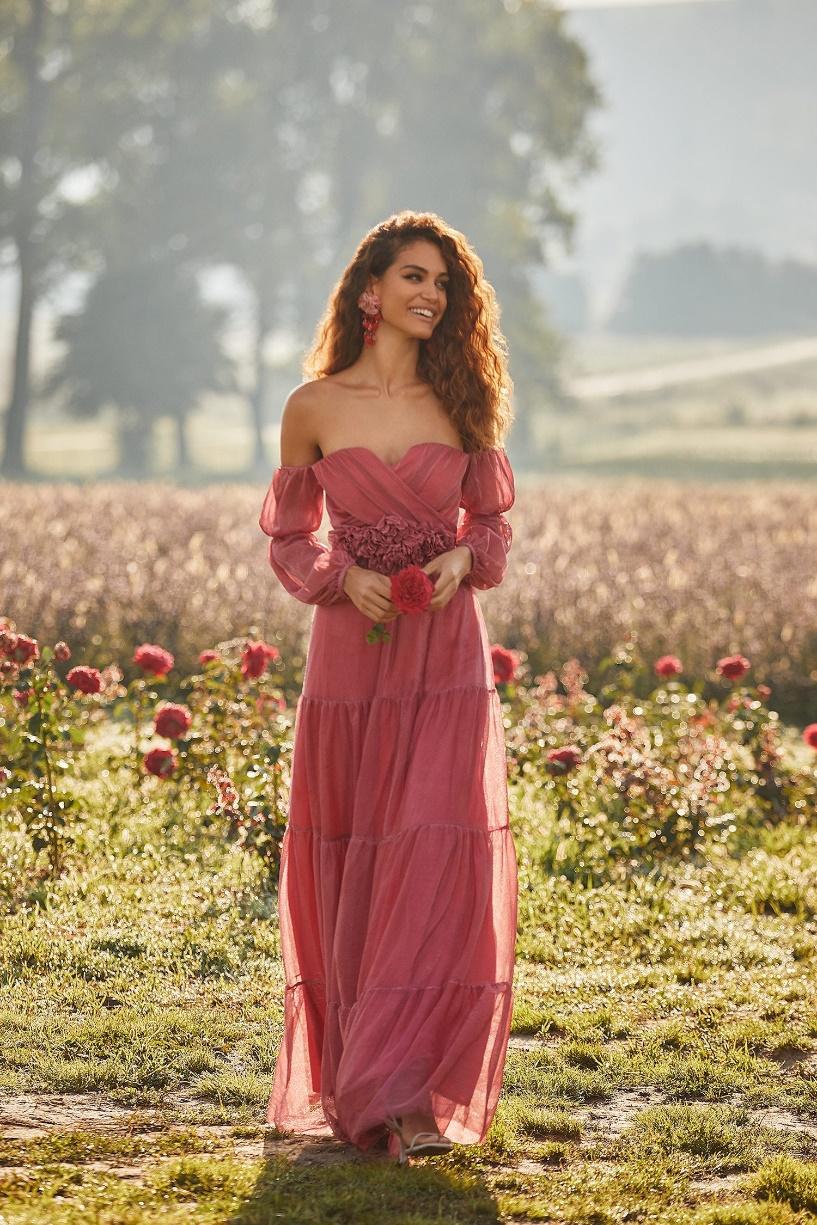 The Aleeza Dress is a romantic tiered maxi dress made of iridescent mesh fabric accented with semi-sheer billowy sleeves and a detachable 3D floral belt. Image: Alamour the Label
Flirty Boho-Chic Dress for a Seaside Wedding
If you attend a wedding ceremony or reception right on the seashore on the stunning Amalfi Coast or French Riviera, dive into the Mediterranean look with an effortlessly-chic dress complete with glam feminine details. A thigh-high hem slit, cut-outs, a plunging neckline, or an open back is the way to go. It will likely be a balmy day or warm evening, so opt for a lightweight, breathable fabric like chiffon or georgette. Such events are usually more laidback, so you can try an asymmetric or shorter hem as long as you keep some of the details of the styling elevated. Some of our favorite picks for this occasion are spaghetti-strap dresses in bright summer hues such as yellow, green, orange, and turquoise.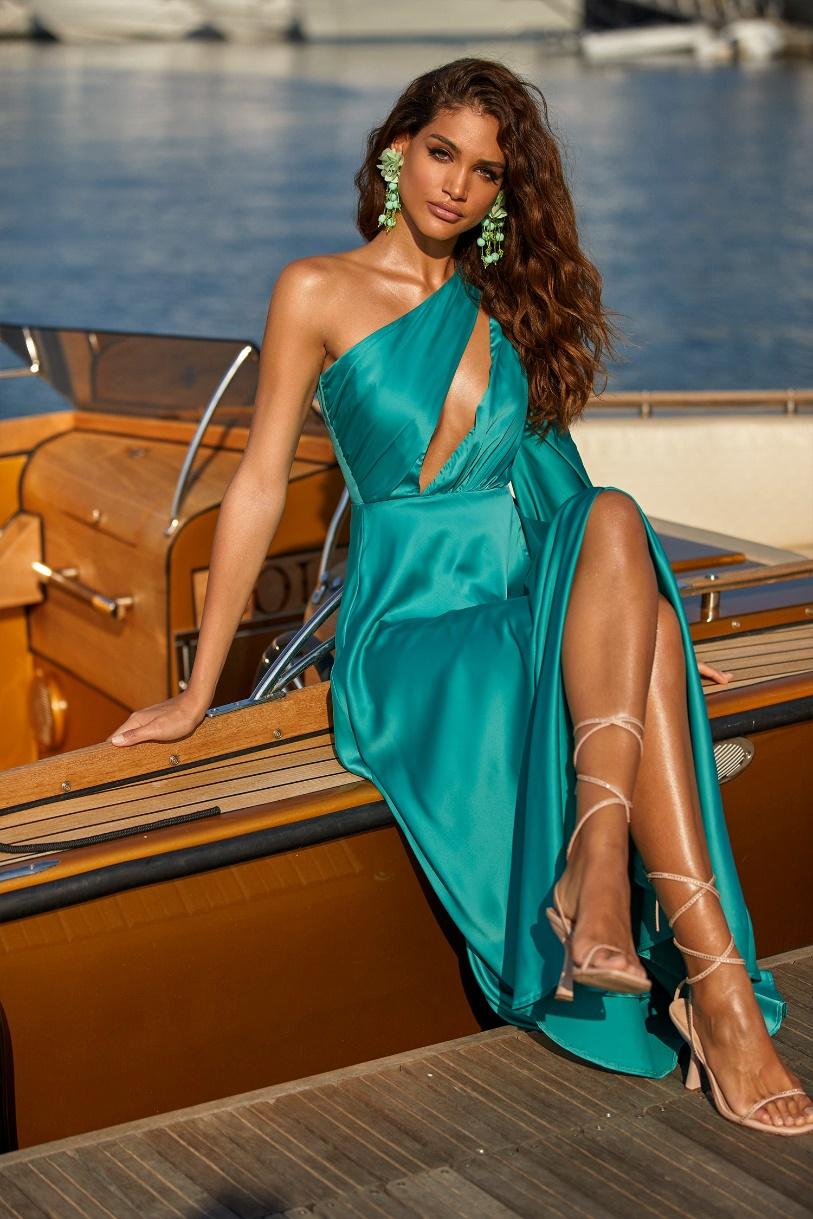 The Naila Dress is a flirty evening look made of flowy satin fabric, featuring a one-shoulder neckline, a cut-out bodice, and one long blouson sleeve.
Cocktail Dress for a Morning Wedding or an Elopement
Some couples do not insist on the dress code or avoid the formalities of a grand reception, opting for an intimate ceremony in the city hall or an elopement followed by a dinner or a dance party. For more lowkey celebrations, feel free to wear a cocktail dress to attend the festivities. With a myriad of styles to choose from, such as bodycon, fit and flare silhouettes, shorter lengths, and flirty accents, there's one to compliment every style. Experiment with bows, draping, or other sculptural details, as seen on the Clementine Dress.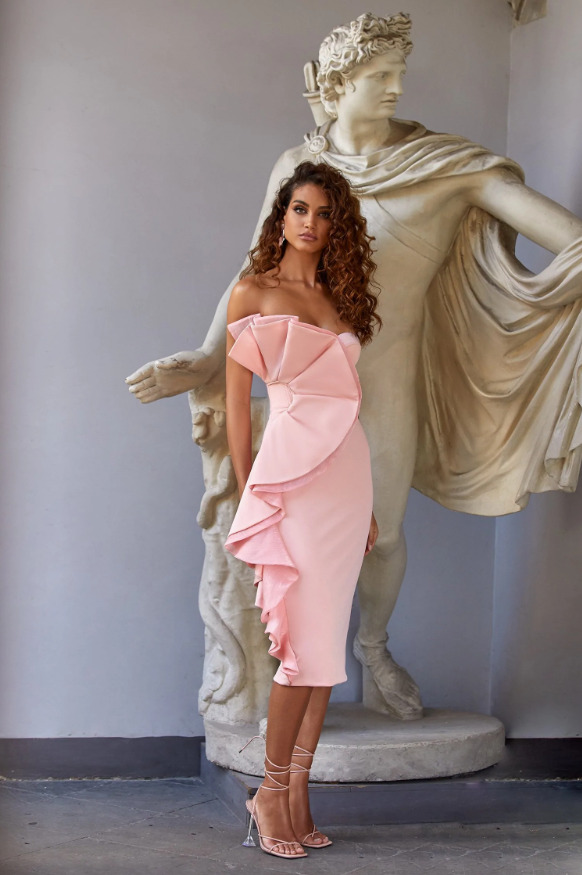 Whether you'll be celebrating love at a glamorous black tie wedding, a breathtaking destination ceremony, or a lowkey soiree, it's the ideal opportunity to dress to impress and make special memories with your nearest and dearest. Explore Alamour the Label's Wedding Guest Dress collection to find the perfect fit for you.