Considering that mothers are the "queens" of a family and Netflix's Bridgerton spinoff "Queen Charlotte" premieres May 4, it was perfect timing for the first New York City "The Queen's Ball: A Bridgerton Experience."
Held in a Regency decorated ballroom on West 37th Street with hired actors playing the Queen, Lady Whistledown, courtiers, and palace dancers, over a hundred paying guests dressed up in ballgowns with Empire waists, tiaras, and long gloves to dance, mingle, drink and giggle. The fun also included having many Instagram moments in an array of Bridgerton-decorated areas with hired photographers.
Alea Friel had just moved to New York from Seattle when she got a notice from American Express about the event, which coincided with her mother Camarie's visit.
"My daughter was feeling a bit homesick and we thought this would be so much fun," said Camarie Fox, since both were fans of the hit series. "We planned what to wear and it gave us something to look forward to. And here we are."
What did they think?
"Immersing ourselves in a world full of timeless and romantic energy is something so different and also so much fun," said Camarie Fox, who did say the bustle of the skirt did take a bit to get used to.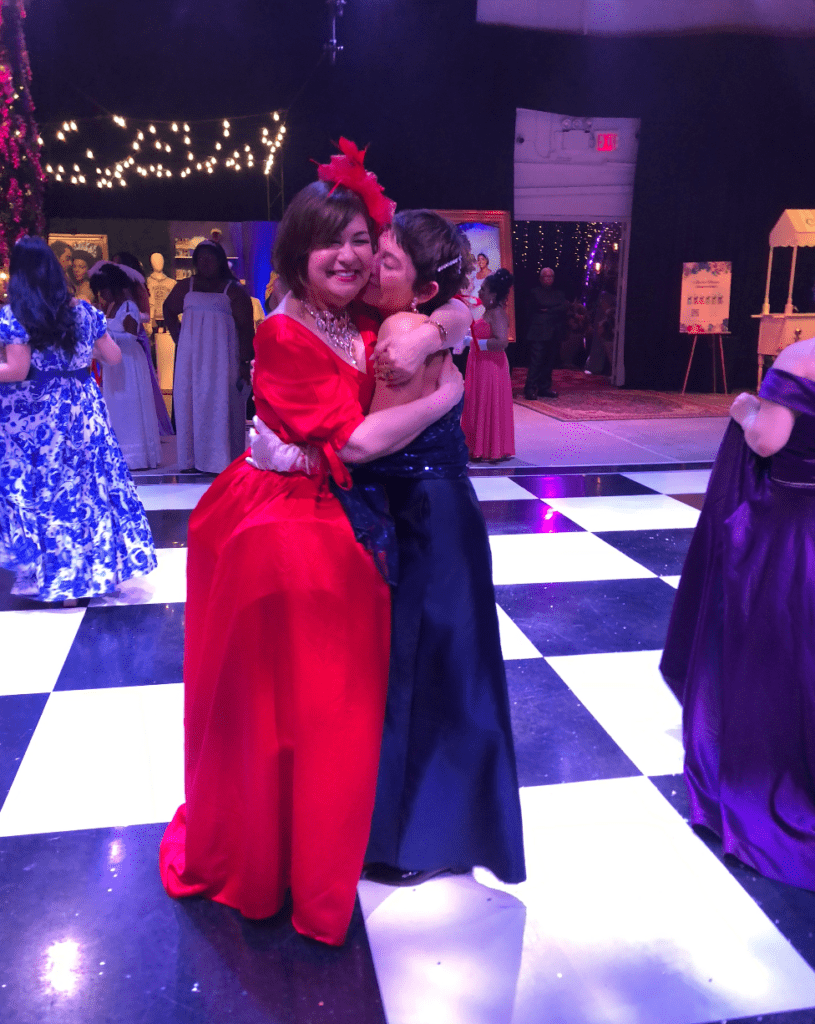 Daughter Alex Friel applauded the creativity of the event. "It was definitely memorable," she says.
My son Parker also took his mother to this grand event as my Mother's Day gift, which included meeting the Queen to be considered the "Diamond" and admiring professional dancers twirling with a touch of Cirque de Soleil talent.
Professional costumed actors also led the crowd to the dance floor where two lines were created and dance instructions given. For added entertainment for the immersive experience, there were live musical performances, including classical covers of contemporary songs.
Although this is an ideal Mother's Day gift, many of those gathered in their regal attire told me they were taking girlfriends for birthday celebrations. In fact, my son was one of the few bachelors there and was asked to be in the photos with some of the eligible ladies.
Of course, the Queen did pick a "Diamond," the chosen one for the evening. But everyone there felt like a princess. It was lovely sight seeing so many ladies -in ages ranging from 21 and beyond – dressed up for the occasion and feeling, as someone told me, "special." Another looking up at all the wisteria and flowers adorning lavish chandeliers and backdrops shared how this may be the only time she would ever dress up as grandly.
An added bonus was that because of the theme of the evening, my son actually wore a buttoned-down shirt and jacket vs. the customary hoodie.   And we got pictures that will be remembered for a lifetime. I also got to wear my favorite Nicole Miller dress that had an empire design before it was cool.
While April 27th was the New York debut, this immersion event has been in 10 different cities, starting in Los Angeles. It is co-produced by Netflix, Shondaland, and Fever, an event-planning company.  It's all part of Shonda Rhimes' Bridgerton empire.
Tickets start at $49 per person. "The Queen's Ball: A Bridgerton Experience" will have performances until July running from Wednesday through Sundays.
This post was first published in Jill Brooke's Flower Power Daily.