Parties, pretty people and events galore. That's Art basel

So much to do, so little time. 
Miami gets busy in the name of art.
My Miami fun-loving friends, there is no deficit of activities for you to enjoy this week.
 I say take the Metro when you can and always talk to strangers.
We have some great suggestions for a fun week ahead, so get to planning if you haven't already begun.

The Heineken House at SCOPE
SCOPE Art Show Miami Beach| 
December 2-7
Serving as a focal point of SCOPE Art Show, the Heineken® Houseis the evolution of the Heineken® Mural Project. It is a multi-sensory experience, featuring a live art pyramid as its core. The massive structure stands at over 35-feet tall, the pyramid encompasses 12 massive live art walls to be painted over the course of six days at SCOPE Art Show. Come see 12 world-class artists bring the panels to life at SCOPE. The artists include: Christina Angelina (Los Angeles), Dulk (Spain), Greg Gossel (Minneapolis), Greg Mike (Atlanta), Hueman (Los Angeles), Look The Weird (Austria), Woes (Hawaii), Tati Suarez (Miami), Taylor White (Raleigh), Derek Gores (NYC), Lauren Ys (Denver) and Sharktoof (LA).
Follow #HeinekenHouse to see it unfold! 
More info.

Eat your art out! 
Art Cupcakes at Bunnie Cakes| 
December 1-7
All that drinking, er, looking at art, requires some sustenance, right? Soak up those champagne dreams with Miami's best vegan cupcakes from Bunnie Cakes! The Cupcake Wars veteran is featuring Art Week Cupcakes with the art of Miami-based prolific artists Trek6, Don Rimx, Kazilla, Luis Valle and Piktorama who have all made the Magic City their canvas with their amazing murals. Catch their art also on display as Bunnie Cakes turns their adorable bakery into a pop-up art gallery. Each cupcake comes in a signed gift box by the artists for that extra artsy touch. These are limited edition and only 10 per artist available daily so get to it! Great way to start your Basel… on a sugar rush!  More info.

There's a new art hub in town. 
Midpoint Miami at Northeast 79th Street and Biscayne Boulevard establishes itself as the newest artist hub in the thriving MiMO district with two group shows. Miami's first mall is seeing a major renovation and setting up pop-up art gallery space for some of South Florida's best artists for the upcoming Art Basel week. The property is hosting a great lineup of local artists in their open retail space in anticipation of their new artist studios and creative suites that will open in 2015 in the property's Midpoint Lofts building. Biscayne Boulevard and Northeast 79th Street just got a little more colorful!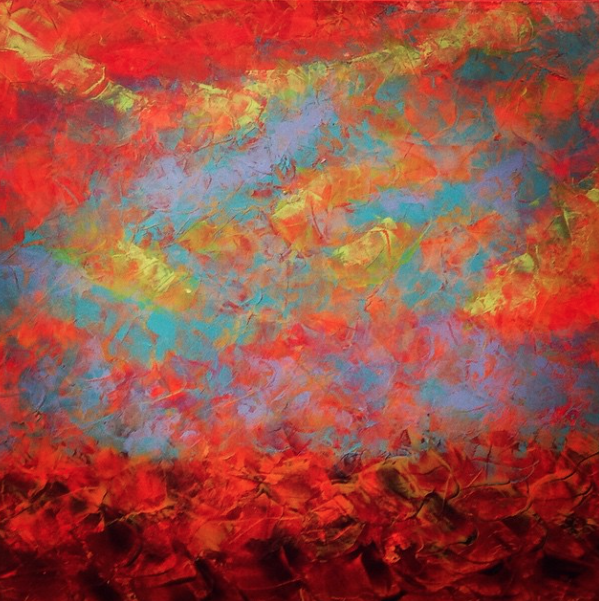 By Eleazar Delgado
North of Modern at Midpoint Miami
Curated by Joshua Kingston|
December 4-6
Miami Mixer's own Joshua Kingston knows how to bring together the community through great art events for artists and art lovers alike. North of Modern will feature some of Miami's most notable artists including Christin Paige Minnotte, Deborah Gray Mitchell, Eleazar Delgado (pictured), Erin Parish, Evo Love, Gianna Di Bartolomeo, Gregorii Trombo, Hilma Koelman, Ivan Castillo, Jonathan DeCamps, ERMAN, Monique Lassooij, MANO, Tracy Cristal and Wesley Alvarez. The goal of this exhibit is to highlight great artists in the new pop-up gallery space at Midpoint Miami. Gallery locations: 553, 557 and 570 NE 81st Street, Miami.
– Open daily (
December 4-6
) from
1 p.m. – 8 p.m.
,
December 4-5
–
Saturday, 1 p.m. – 11 p.m.
,
December 6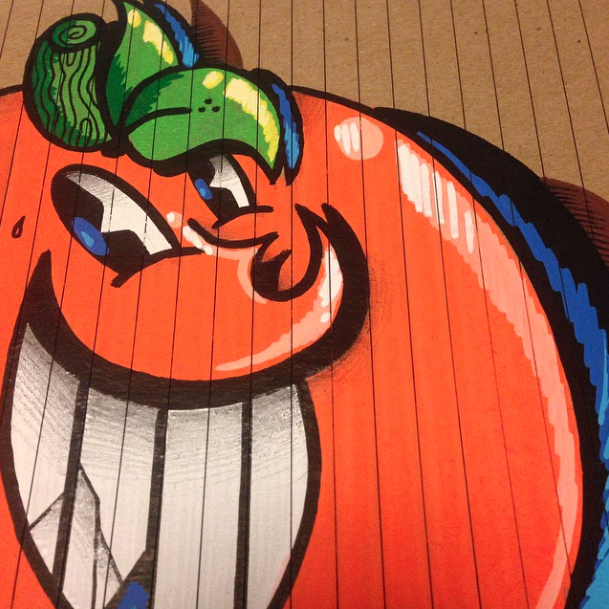 By Atomik
Locals Only at Midpoint Miami
Curated by Jill Weisberg + Omar Khan |
December 4-6
The MSG Crew has been creating large-scale graffiti murals in Miami, Florida for close to 20 years. Artists range from sculptors and bombers to fine artists and illustrators. // LOCALS ONLY // features artwork by 13 MSG members including brand new paintings + ultra limited edition New Era Caps by Abstrk, Atomik, Pucho and Quake. Other artists featured in the show: Arive, Crome, Eson, Five, Gere, Hoxxoh, Hest, Ox and Xeno. Gallery location: 8031 NE 5th Avenue, Miami.- Preview:
Thursday, December 4, 7 p.m. – 11 p.m.
– Release Party:
Saturday, December 6, 7p.m. – 11 p.m.
– Open daily (
December 4-6
)  from
1 p.m.- 8 p.m.

Cine Al Fresco takes it outside. 
O Cinema Wynwood|
December 6
If you're in Wynwood
on Saturday
, make Cine Al Fresco a stop from
7 to 9 p.m.
Cine Al Fresco creates a place for people to come together and enjoy free, outdoor films as a community. Scheduled to launch with fun family films in January, O Cinema's Cine Al Fresco December edition will consist of short films from our friends at Red Chemistry, Inc. ranging in experimental, European, comedic and documentary. Red Chemistry, Inc. is dedicated to promote independent filmmakers and an increased appreciation for European cinema through programming that attracts diverse communities and engages future generations of film lovers. Thanks to the support of Art Place, this event is free to the public and guaranteed to be awesome. Come hang out! 
More info.

Some like it functional. 
RedNoir Launch Event at R House | 
December 6-7
As you make your way through Wynwood, braving the elements to find your next spot to hang, make sure to stop by R House to see RedNoir's new line of functional art. the official red noir launch will feature an exhibit an artistic display of their lavish 2015 spring/summer collection of pillows, rugs and wall art/ The exhibit Installation, designed by RedNoir Co-Founder and Creative Director of Ultra Music Festival, Richard Milstein, will feature an impressive 25-foot wide wall. Get a feel for their boldly designed pillows, rugs & wall art. Event is free, from
4 to 7 p.m.
More info.

G.Love + Special Sauce… mmm, tasty!  
Blackbird Ordinary | 
December 6
Blackbird Ordinary presents 
G. Love & Special Sauce
 live on the outside stage during Art Basel weekend with JUKe warming up the night! "No cover and no bullshit," says Dan the Man. It's going to be a night of hip-hop, blues and harmonica with G. Love direct from Philly. And if you don't know who we're talking about, look them up because they are seriously, seriously awesome and definitely a big deal. And let's not forget Blackbird Ordinary's cocktails who came to win. The new cocktail list launched in October so if you have yet to tantalize your tastebuds, get on it. We recommend "Dem Apples" – Apple Jacks infused Maker's Mark garnished with Apple Jacks cereal. Breakfast is served, yo. 
More info.
Pop-Ups, Parties, And Art Galore
A Private Preview and Pop-Up Solo Exhibition of Smell The Magic hosted by Gucci
Details: The invite only event will feature an exhibition of artist Kris Knight's Smell The Magic.
Death & Co Bar Takeover At The Broken Shaker
Details: New York cocktail bar, Death & Co will be taking over the bar at The Broken Shaker in honor of their book launch, Death & Co: Modern Classic Cocktails. Purchase tickets HERE.
Location: The Broken Shaker at Freehand Miami, 2727 Indian Creek Drive. 7 to 10 p.m.
Tuesday, December 2nd
Breakfast With Harper's Bazaar's Digital Director, Joyann King, and Henri Bendel Creative Director, Pina Ferlisi
Details: Harper's Bazaar's Digital Director, Joyann King, and Henri Bendel Creative Director, Pina Ferlisi kick off Art Basel with an intimate breakfast. Invite only.
Preview Brunch at ShopBAZAAR
Details: Join Harper's Bazaar's digital director, Joyann King along with Sarah Harrelson, Criselda Breene, and Martina Borgomanero for an intimate preview brunch at the ShopBAZAAR boutique. Cointreau will be providing Cointreau Rickey cocktails for guests.
Forevermark "The Diamond Journey" Master Class
Details: Learn about the life of a diamond from the rough form to the final, sparkling finish. Plus, get a chance to try on the Forevermark Exceptional Diamond Collection. Invite only.
Location: ICA Miami, 4040 NE 2nd Avenue, 10 a.m. to 5 p.m.
Forevermark VIP Preview at the Institute of Contemporary Art Miami Opening
Details: Sip cocktails and nibble on hors d'oeurves while perusing the Exceptional Diamond Collection from Forevermark and art by local artists. Invite only.
Location: ICA Miami, 4040 NE 2nd Street, 5 to 7 p.m.
Art Markit's Art Basel Pop-Up Experience Kick-Off Event
Details: Drink to the opening of Art Markit's Art Basel Pop-Up experience. Shop pieces from dozens of artist designed-products, while sipping cocktails from the Baron Von Fancy Bar and enjoying tunes from guest DJs. Plus, score complimentary nail art from your favorite artists at Vanity Projects.
Location: Mondrian South Beach Poolside, 1100 West Ave., 6 to 9 p.m.
ICA/Interview Magazine Opening Celebration
Details: Join Interview in celebrating the grand opening of the Institute of Contemporary Art. Inaugural exhibitions feature Pedro Reyes' "Sanatorium" and Andra Ursuta's "As I Lay Drying." Invite only.
Location: ICA Miami, 4040 NE 2nd St, 7 p.m.
LOGOTV NewNowNext Awards
Details: Celebrate the next up-and-comers at this awards show, featuring performances by Jessie J, Betty Who, and more. Invite only.
Location: Surfcomber Hotel, 1717 Collins Ave, 7 p.m.
An Intimate Dinner With Swarovski Celebrating Thinning Ice
Details: Nadja Swarovski hosts a dinner to celebrate Thinning Ice by Jeanne Gang, inspired by the work of James Balog. Invite only.
Alejandro Ingelmo Collaboration Celebration Hosted by Haute Living and The Webster
Details: Teleport with designer Alejandro Imgelmo, Haute Living, and The Webster as they travel to a different realm. Creations from Dwayne Wade, Li Ning, and Alejandro Inglemowill be unveiled. Invite only.
Location: The Ritz-Carlton Residences, 4701 North Meridian Avenue
Interview, DSquared2, And Thompson Miami Beach Celebrate Performa's 10th Anniversary
Details: Join in the celebration of Performa's 10th anniversary and Ryan McNamara's ME3M 4 Miami with Interview, DSquared2, Maserati, and Thompson Miami Beach. DJ set by Lola Langusta, plus a surprise musical performance. Invite only.
Location: Thomspson Miami Beach, 4041 Collins Ave, 10 p.m. to 1 a.m.
Wednesday, December 3rd
Celebrate The Exclusive Book Release Of W Stories
Details: Join W's Stefano Tonchi, Linda Evangelista, and Salvatore Ferragamo creative director Massimiliano Giornetti in celebrating the release of the book W Stories. RSVP to RSVPWMAG@KarlaOtto.com.
Location: The Miami Beach Edition, 2901 Collins Avenue, Unit 901. 6:30 to 8:30 p.m.
La Perla, Harper's Bazaar and Laura Brown's Intimate Evening of Shopping
Details: La Perla, along with Harper's Bazaar's Laura Brown and Garance Dore will host an exclusive evening of shopping. A portion of the proceeds will benefit the Feed Foundation. Invite only.
Chrome Hearts Miami Store Opening
Details: Celebrate the arrival of Chrome Hearts in SoBe in their unique "factory style" showroom/art gallery/café. Featuring art from The Fahey/Klein Gallery plus photos from Chrome Hearts co-owner and designer Laurie Lynn Stark. Music provided by DJ Atlanta de Cadenet plus a live performance by Lolawolf. RSVP ArtBasel@chromehearts.com.
Location: 4025 NE 2nd Ave, 7:30 to 11:30 p.m.
Artsy Dance Party Featuring Shen Wei
Details: Artsy presents a dance party in the Miami Design District, hosted by Carter Cleveland, Wendi Murdoch, Peter Thiel, and Dasha Zhukova. DJ Sets by Theophilus London andNar. Invite only.
Vanity Fair and Marc Jacobs Host Cocktails And Shopping
Details: Head to The Webster for an evening of cocktail-fueled shopping avec Marc Jacobs and Vanity Fair. RSVP to VFMJWebster@slate-pr.com.
Location: The Webster, 1220 Collins Ave., 7 to 9 p.m.
Bally Presents "Triangle Walks"
Details: In honor of "Triangle Walks," an exhibition held in an original Jean Prouvé House, join Bally CEO Frédéric de Narp, Zak Kitnick, and Kolkoz in a cocktail celebration. Invite only.
Location: Delano South Beach, 1685 Collins Ave, 7 to 10 p.m.
Roberto Cavalli Home Collection Presentation
Details:While Lady Starlight, the official DJ of Lady Gaga provides the soundtrack, take in a presentation of the latest home collection from Roberto Cavalli. The evening will feature the auction of the last three pieces of the Roberto Cavalli silver fish sculpture. Invite only.
Roger Dubuis and Stephanie Seymour To Celebrate The Art Of Haute Horlogerie
Details: Watchmaker Roger Dubuis will celebrate with hosts Jean-Marc Pontroue, Stephanie Seymour and Peter Brant in partnership with Dom Perignon. This exclusive dinner celebrates the trio of watches in the Velvet Haute Couture collection, with an after party to follow. Invite only.
Location: Thompson Hotel, 4041 Collins Avenue, 7 p.m.
Miley Cyrus, Jeffrey Deitch, Tommy Hilfiger, And V Magazine's Art Basel Opening Night Party
Details: Join the star studded lineup of Miley Cyrus, Jeffrey Deitch, and Tommy Hilfiger to officially kick of Art Basel. Invite only.
Thursday, December 4th
Harper's Bazaar Day Of Beauty
Details: Kick off Harper's Bazaar's day of beauty with an intimate class, hosted by Natura Bissé. Via an interactive demonstration, guests will learn tips and tricks of facial techniques. Givenchy beauty will offer makeup applications as well. Invite only.
Roger Vivier Lunch to Celebrate a Perfect Pair: Miss Viv' Meets Ambra Medda
Details: Hosted by Inés de la Fressange and Bruno Frisoni, this lunch will ceelebrate the Roger Vivier and Ambra Medda collab for Misss Viv' L'ArcoBaleno, a new bag designed by Bruno Frisoni. Featuring a DJ set by Nektar De Stagni. Invite only.  
Swarovski Design Talk
Details: Join Swarovski for a talk on Crisis in the Designed Environment. Moderated by Joseph Grima, artistic director of Chicago Architecture Biennial, the talk will feature Jeanne Gang, architect of Thinning Ice for Swarovski and James Balog, photographer of Thinning Ice for Swarovski.
Location: Miami Convention Center, P-Lot, Meridian Avenue and 19th Street, 3 to 4 p.m.
Galleria Ca' d'Oro Presents Ludmilla Radchenko and Ruco Line Collaboration
DetailsI: Head to contemporary art gallery, Galleria Ca' d' Oro for an exclusive look at Ludmilla Radchenko's collaboration with sneaker label Ruco Line. Invite only.
Location: Galleria Ca' d'Oro, 4141 NE 2nd Ave, 4 to 6 p.m.
Bulgari at Bal Harbour Shops Boutique Opening
Details: Join Jean-Christophe Babin, the CEO of Bulgari, along with Veronica Bulgari,Alberto Festa, and architect Peter Marino in the opening of the new Bulgari boutique. The event includes an opening ceremony, ribbon cutting, and a champagne reception.
Location: Bulgari Bal Harbour Boutique, 9700 Collins Ave, 4 to 5 p.m.
"Lanvin Birds Of Paradise" Viewing And Cocktail Party
Details: Celebrate the "Lanvin Birds of Paradise" installation at the brand's boutique in the Miami Design District with cocktails. Invite only.
The Launch of Façonnable x Jean Cocteau Capsule Collection
Details: Join Façonnable CEO Ludovic Le Gourrierec and The Webster's Laure Heriard Dubreuil to celebrate the launch of the Façonnable and Jean Cocteau capsule collection. Invite only.
Bisazza Wear Emilio Pucci in Miami
Details: Join Pucci's Peter Dundas and Laudomia Pucci for the US debut of Bisazza Wears Emilio Pucci. Invite only.
Location: Bisazza Flagship, 3740 N.E. 2nd Ave, 6 to 8 p.m.
Disaronno Terrace With Jeremy Penn
Details: The Art Basel edition of the Disaronno Terrace will be featuring artist Jeremy Penn and his collection, "The Evolution and the Ego." Music will be provided by DJ Christa Marie. RSVP to Yana@kiarahorowitz.com.
Location: Gale Hotel Rooftop, 1690 Collins Ave., 7 to 10 p.m.
Crooks & Castles and Naturel Host Castles In Miami
Details: Join Crooks & Castles as they partner up with Naturel to throw a private party. Music by Va$htie and Heroes x Villains. Invite only.
Location: 740 NW 25th St, 7 to 11 p.m.
ATC/British Knights Basel After Party
Details: Miami footwear boutique is hosting an after party avec streetwear label British Knights. Featuring art by Mwanel Pierre-Louis and music by DJ Daai Lo and DJ Aliyo.
Location: The Freehand Miami, 2727 Indian Creek Drive, 10 p.m. to 12 a.m.
Private Dinner To Celebrate Rizzoli's Publication of JEREMY SCOTT
Details: An invite only dinner will be hosted to celebrate the tome JEREMY SCOTT, published by Rizzoli International. The book features a foreword from Jeffrey Deitch. Invite only.
Jeremy Scott & Moschino Invite You To Party With Barbie
Details: Who better to celebrate Art Basel with than Barbie and Jeremy Scott? Invite only.
Paper's Break The Internet Issue Launch With Kim Kardashian
Details: Take part in the iconic celebration of Kim Kardashian's epic Paper cover, as the magazine continues their quest to Break The Internet. With hosts Kim Hastreiter, David Hershkovits, Mickey Boardman, and Drew Elliott. Invite only.
Friday, December 5th
Laure Hériard Dubreuil And Eres Launch Lunch
Details: To celebrate the launch of the collaboration between Laure Hériard Dubreuil and Eres, a rooftop lunch will be hosted at The Webster. Invite only.
Free Arts NYC Charity Dreamcatcher Workshop
Details: Hosted by Britt MccVicker, make some dreamcatchers and get artsy all afternoon. 100 percent of proceeds will benefit Free Arts NYC, so purchase your tickets HERE.
Location: The Freehand Miami, 2727 Indian Creek Drive, 4 p.m. to 6 p.m.
Tome Hosts Cocktails to Launch Portraits Of Women
Details: Designers Ryan Lobo and Ramon Martin invite you to sip cocktails in celebration of the launch of Portraits of Women. Hosted by Shirin Neshat. Invite only!
Club Monaco's New Lincoln Store Road
Details: Club Monaco is opening up on Lincoln Road, and they're tapped Jeffrey Deitch and street style artist Olek to help celebrate. Stop by for a cocktail or two and take a look at "Endless Outburst," the window display made from 200 pieces of Club Monaco clothing all knit together. DJ Zoel will provide the music.
Location: Club Monaco, 1006 Lincoln Road, 5 to 7 p.m.
Cocktails and Conversation With Laight Sayigh and Anthony Spinello, Hosted by ELLE DECOR
Details: Join ELLE DECOR editor-in-chief Michael Boodro and Fortis Development Group for a chat with Laith Sayigh of DFA and Anthony Spinello of Spinello Projects. There will also be an announcement on the 2015 ELLE DECOR Modern Life Concept House. Invite only.
Location: Shikany, 251 NW 25th St, 5 to 7 p.m.
PHOTO Magazine December Cover Party With Nina Agdal
Details: PHOTO Magazine has partnered with photog duo Markus&Koala to shoot their December cover girl, Nina Agdal. Celebrate the mag's new ownership as well, with Lady Monika Bacardi and David Swaelens Kane. Invite only.
Location: The National Hotel Miami Beach, 1677 Collins Ave, 6 – 9 p.m.
Ocean Drive December Cover Party With Krysten Ritter
Details: Join Ocean Drive and Duke Spirits to celebrate December cover girl, Krysten Ritter. The event will also serve as the premiere of the Hollywood Exposed: American Icons exhibit by photographer John R. Hamilton. Invite only.
Location: W South Beach, 2201 Collins Ave, 8 – 11 p.m.
Paris Hilton Guest DJs at The Wall Miami Beach
Details: Surprise! Paris Hilton is the guest DJ at The Wall, Art Basel Edition. The evening will also feature appearances by Issac Ferry, Mr. Mauricio, and Chicco Secci. RSVP toRSVP@WallMiami.com
Location: W South Beach, 2201 Collins Ave
Acria And Paddle8's Dinner To Honor Ryan McGinley
Details: Acria and Paddle8 are throwing a family-style dinner at The Miami Beach Edition in honor of Ryan McGinley and a handful of other artists who have contributed to Acria. Invite only.
Dinner With Mr. Brainwash and Haute Living For "Time Is Beautiful"
Details: Mr. Brainwash will unveil his latest instillation, "Time is Beautiful" with Eva Longoriaand Hublot CEO Ricardo Guadalupe. The evening will start with a presentation, followed by a private dinner, and an after party DJ'd by Swizz Beatz. Invite only.
Location: Loren Ridinger's Estate de Suenos, 4 p.m.
Saturday, December 6th
Nah/No Magazine Party Launch
Details: Add a new publication to your reading roster, and celebrate the arrival of Nah/No, an international art and culture glossy. Music will be spun by DJ Hurron, drinks and food will be provided by Broken Shaker. Enjoy complimentary Peroni from 2 to 3 p.m. and complimentary Perrier all day long.
Location: The Freehand Miami, 2727 Indian Creek Drive, 2 to 6 p.m.
Celebrating 10 Years of Haute Living With Swizz Beatz
Details: Celebrate 10 years of Haute Living with host Swizz Beatz. Guests will include Eva Longoria and street artists Swoon and Maya Hayuk, with DJ Hannah Bronfman providing tunes. There will be an auction to benefit Alonzo Mourning's Mourning Family Foundation. Invite only.
Location: Dean Estate, 8 p.m.
Sunday, December 7th
The Bon Vivants, Esquire and Imbibe Present First Annual Swig n' Swine
Details: Join hosts The Bon Vivants, Esquire, and Imbibe for BBQ and afternoon drinks. Tickets, which can be purchased for $30 at the door, includes a limited edition Swig n' Swine tank, unlimited BBQ, and punch, plus tunes will be provided by Mia Moretti and Myles Hendrik.All proceeds benefit Miami's Overtown Youth Center.
Location: Freehand Miami, 2727 Indian Creek Drive, 3 to 8 p.m.
PLUS! Pop-Up Shops and Exhibitions To Check Out
The Surf Lodge at Deauville
Details: Montauk makes its way to Miami with a Surf Lodge pop-up with many evenings of dinners, cocktails, and guest DJs including Chelsea Leyland, Mia Moretti, and Alexandra Richards.
Location: The Deauville, 6701 Collins Ave
Art Markit's Art Basel Pop-Up Experience
Details: Check out and shop pieces from dozens of artist designed-products, while sipping cocktails from the Baron Von Fancy Bar and enjoying tunes from guest DJs. Vanity Projects will also be on site with complimentary nail art manicures, so be sure to RSVP to RSVP@Collective-comm.com with your preferred time.
Location: Mondrian South Beach Poolside, 1100 West Ave. Tuesday, December 2 to Sunday December 7 from 12 to 8 p.m.
AD Oasis at The James Royal Palm
Details: Visit Architectural Digest's home in Miami as they pop-up for a three-day VIP Oasis at The James Royal Palm. Designed by Thom Filicia, the space offers art, cocktails, DJs, food, and a mini spa. Invite only.
Location: The James Royal Palm, 1545 Collins Ave. December 4 to 6, from 1 to 7 p.m. daily.
Casa Elyx
Details: Escape the Art Basel madness at Casa Elyx, located at the Miami Beach Edition Hotel. For three days, enjoy the rooftop pool, Absolut Elyx cocktails, and collaborations with Latin American artists including Gaston Ugalde, Cidade Matarazzo, and more. Invite only.
Location: Miami Beach Edition Hotel, 2901 Collins Ave. December 3 to 6, from 3 p.m. until late.
Pop-Up Alley At Freehand Miami
Details: Stop by the Freehand Lobby to shop brands like Vida Kush, Lost Boy Dry Goods, Style Mafia and more!
Location: The Freehand Miami, 2727 Indian Creek Drive, Thursday, December 4 to Sunday, December 7.
ShopBAZAAR Boutique
Details: The pages of Harper's Bazaar come to life at the glossy's Art Basel pop-up shop. Join in the three days of fashion, beauty, and shopping with brands like Vince, Henri Bendel, La Perla and Natura Bissé.
Location: Soho Beach House, 4385 Collins Avenue. Open to the public Tuesday, December 2 from 1 to 6 p.m, Wednesday, December 3 from 11 a.m. to 6 p.m., and Thursday, December 4from 11 a.m. to 6 p.m.
Alchemist 'AIRBALL' Installation
Details: In a carpark designed by Herzog & de Meuron, experience an interactive installation from art and architecture collective Snarkitectures. Limited edition AIRBALL products will be available for purchase, include Del Toro shoes.
Location: 1111 Lincoln Road, December 1 to 7.
Le Baron Pop-up Club at FDR at the Delano
Details: With 10 years to celebrate, Le Baron is back in Miami with their pop-up club. Ready to party?
Location: FDR at the Delano, 1685 Collins Ave, December 2 to 7.