Devera Naturals' Rosewater Cleansing Toner Cleans,
Soothes & Promotes Healthy Skin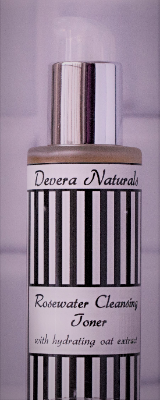 Roses are
the
ultimate symbol of beauty. But did you know they actually provide benefits to those seeking natural beauty solutions for dry skin, fine lines and many other skin conditions? This long-stemmed beauty booster has been used since ancient times to help reduce wrinkles and tighten pores. Cleopatra may have started this trend. Turns out she was a huge rosewater fan and used it
daily
to keep her skin beautiful with a youthful glow. Many women worldwide still use rosewater as a
daily
facial toner.
​
Why Rosewater?
Because it contains antioxidants that help strengthen skin cells and regenerate skin tissue. It's often used as an astringent after facials to close pores and tighten capillaries. Rose water has anti-inflammatory properties that can help reduce
the
redness of irritated skin. Additionally,
the
molecules in rose water are small so they pass into
the
skin easily, making this natural elixir beneficial to all skin types. It can help soothe and cool sensitive and irritated skin, balance and cleanse oily skin, rejuvenate, soften and tone mature skin, revitalize and add beautiful glow to
the
normal skin.
Many Health & Beauty Benefits
Aside from
the
obvious aesthetic and aromatic qualities of this quintessential beauty icon, here's a list of benefits that can last way beyond
the
moment at which
the
last petal falls from
the
beast
's enchanted rose:
It's a great cleanser that aids in removing oil and dirt accumulated in clogged pores.
Rosewater helps maintain

the

skin's pH balance, and also controls excess oil
Rose water has anti-inflammatory properties that can help reduce redness of irritated skin, get rid of acne, dermatitis and eczema
Due to its antibacterial properties, rose water also aids in healing scars, cuts and wounds

The

antioxidant properties of rose water help to strengthen skin cells and regenerate skin tissue
It also helps aging skin, keeping fine lines and wrinkles at bay

The

nourishing and moisturizing properties of rose water enhance

the

quality of hair. It is known to treat mild scalp inflammations and get rid of dandruff. Rosewater works wonders as a natural conditioner and revitalizes hair growth.


Devera Naturals' Rosewater Cleansing Toner cleans, tones, and exfoliates in one easy step. Infused with hydrating oats and willow-bark extract to moisturize, it promotes healthy skin-cell turnover. It's now available on Amazon.com.



About Devera Naturals
Devera Naturals is a woman-owned business created in 2008 by Linda Joffe as a result of a serious bout with breast cancer. Linda is passionate about enhancing the beauty of every woman…naturally. Devera Naturals offers only those products that will benefit consumers according to the company's uncompromisingly high standards, containing only natural and organic ingredients.

Devera Naturals functions to benefit their consumers, employees, community, and brand.
Their eco-friendly packaging comprised of recyclable glass containers and environmentally safe ink labels contribute to the sustainability of our community. A portion of the proceeds is donated to the National Breast Cancer Foundation which helps provide mammograms and follow up care for disadvantaged women throughout the U.S.