Katonah Declared 'Mateus-Free' Zone for
8th Annual KVIS Wine Tasting
WHAT: 8th Annual KVIS Wine Tasting – "Then & Now"
WHEN: Saturday, March 14, 2015, 7:30-10:00pm
WHERE: Katonah Village Library 26 Bedford Rd, Katonah, NY 10536
HOW: $50 per person donation; order online under "donate" at katonahvis.com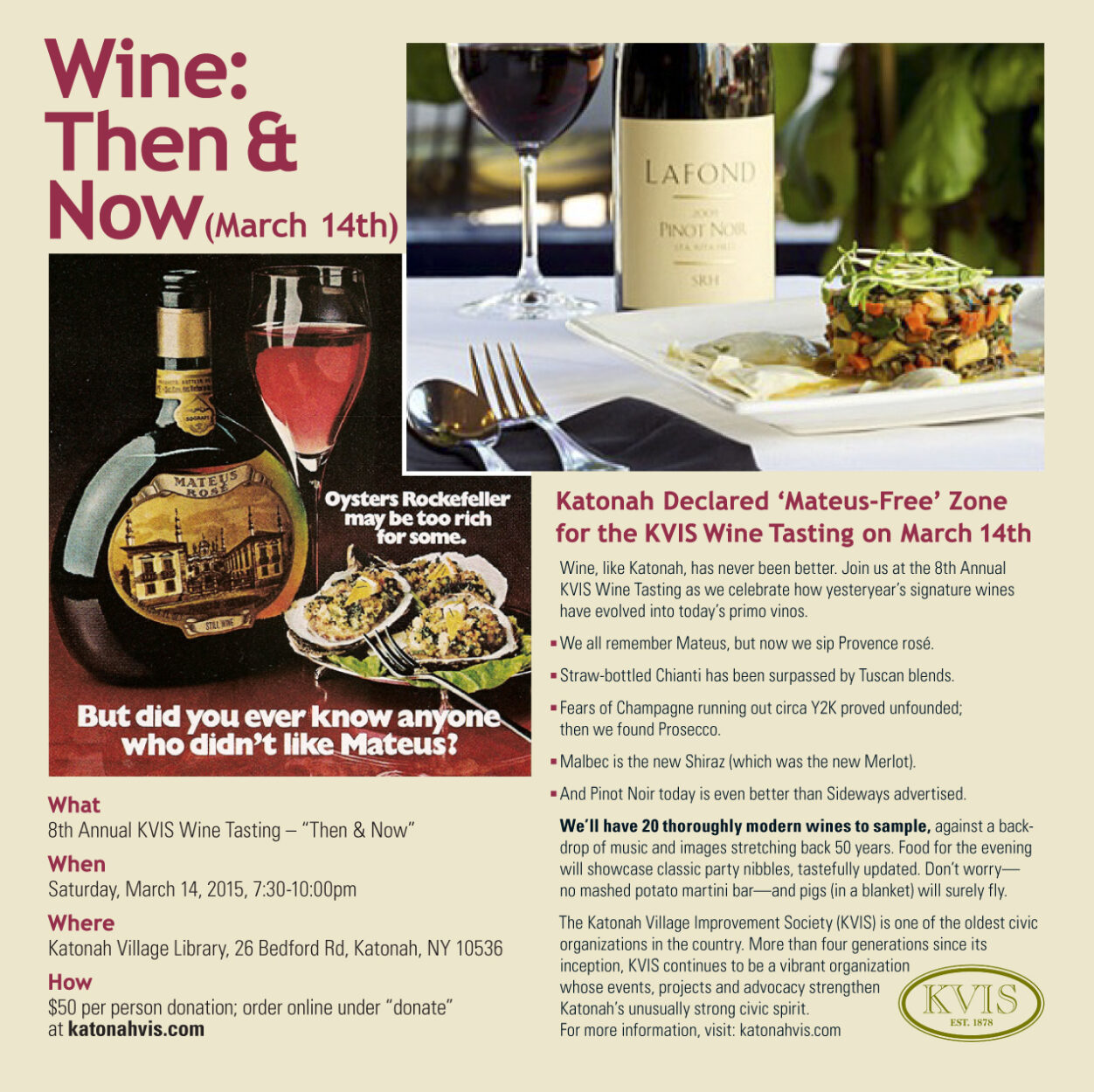 The KVIS Wine Tasting has become a rite of spring in Katonah, and this year guests will be treated—literally—to a taste of progress. "Wine: Then & Now" will feature five decades worth of wine evolution, demonstrating just how far we've come since the days of straw-covered Chianti flasks.
"We will poke fun at some of yesteryear's signature wines," says KVIS organizer Bill "Tish" Tisherman, who will be tapping his experience as editor of the trade magazine Beverage Media to curate the wine selections. "But we will be pouring thoroughly modern alternatives. For example, instead of Mateus, we'll have dry Provence rosé. And to play off the notion that Bordeaux always needed cellaring, we'll have one that is delicious young, and Biodynamic to boot."
This is the eighth annual event, which raises money to fund various KVIS projects (tree replanting is a big one, of late) and basically give the community a good reason to come together to eat, drink and schmooze.
Twenty wines in all will be served at the casual walkaround, including "cultish Cabs" from Napa, Riesling both dry and sweet, "serious" Oregon Pinot Noir, Reserva-level Rioja, crowd-pleasing Moscato and Malbec, and in a tribute to both today's trendy tastes and advanced tech: a smooth red blend in a box.
The wines will be poured at three stations, with the '60s and '70s represented by "Peace, Love & Understanding Wine"; the '80s and '90s by "From Me-Me-Me to WWW"; and the '00s-2015 will be under the banner "Plugged In, But Wireless." (No wines are sold as part of the event.)
For multi-sensory nostalgia, the tasting will also feature a backdrop of music played in sets by decade and images stretching back 50 years. Food for the evening will be a "Tasty Time Warp," showcasing classic party nibbles, tastefully updated. The invitation promises: "Don't worry—no mashed potato martini bar—and pigs (in blankets) will surely fly."