Most of us take pride in our homes and want to make sure they're looking their best for when we arrive home, chill for a rainy Sunday or host people for an epic party. Cleaning the house is one thing, but decorating it to look like no other is one of the best ways to ensure it's looking its best at all times.
There are loads of ways people choose to decorate their house and many of them tend to be quite relaxed but inserting some color and interesting features can really make it stand out.
Here we take a look at 6 different ways to improve the look of your living room.
Invest In Some Artwork
Bare walls are a nightmare. Having a plain-looking room can make it look boring and uninviting. Investing in some artwork for the walls is one of the best ways to instill some personality and a bit of excitement. Large pieces are the best way to catch someone's eye. Look in art galleries, secondhand shops, and even some superstores.
Oversized, attention-grabbing pieces will ensure your room as a nice, relaxed, cool vibe to it. It will also spark conversation with anyone that comes over.
Use Personalized Products
If you're one to have people over on a regular basis then making your living room a fun place to be will not only make people feel excited but it will keep the party out the kitchen. Having some cool personalized pieces around the place will give an amazing vibe.
Ordering something personalized from a Neon Signs Depot will give you a talking piece in the room and give it a new, hip vibe for people to hang around in. If it's done in a nice way it won't be reminiscent of a pool bar off the beaten track, instead, a new vibe club that's opened up in the center of town.
Use Lights To Your Advantage
Most people in their living rooms will have a "big light" and a few others dotted around the room. The placement of lights is important and will give the room a certain kind of feel from large and spacious to tight and cozy.
Lighting is one of the most important things when it comes to creating a trendy space. Having a variety of different lights in different areas will add depth to the room but this doesn't mean you need to rip your arm and leg off to pay for them. There are plenty of shops that have incredible light features at a small price point.
Hanging lights are an amazing feature that can span the entire ceiling. From open light bulbs to spider hanging lights. If you're looking for a speakeasy vibe then look into something that's going to hang from the top.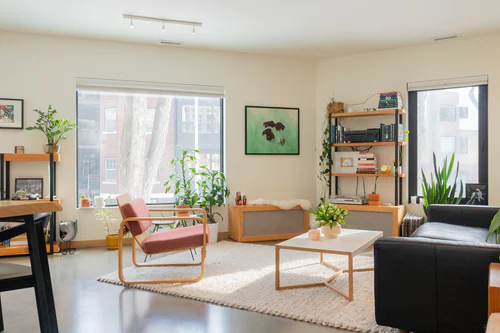 Seating Freedom Is A Must
For your room to be as inclusive as possible to whoever visits, an easy, open, relaxed seating plan must be in place. Providing many different ways of seating so your guests are comfortable is a must. Having one sofa that everyone has to squeeze on is going to be uncomfortable.
It's also important to think about how people can interact with each other when they're around your house. Seating areas are a good way to get people to engage. Stools, chairs, floor cushions, even beanbags, are great ways to get people sitting and talking.
Having a main seating area is also important for when people aren't over. Large sofas are a great center point for the room and can surround anything you want them to, from televisions to music players. Choose what style you want and make sure it's fitting with the rest of the room.
Display Your Interests
Something that's a brilliant talking point is a display of your interests. It's also nice to have them around when it's just you as you'll always be able to see the things you love in life. Do you play a musical instrument? Maybe you collect records and want to display those around the room? What if you're an avid Lego collector and you want your models to be on display?
All of these things are an option and the more out-there, the better! There's something calming about entering a room that's open about the owner. You know what they're about and you'll have something to talk about for the rest of the time you're there.
If you're thinking of redecorating then don't hide your emotions or ideas. Try something new and hit your front room with a splash of creativity. Invest in artwork or just add things you like the look of. Accessorise to complete the room and you'll have the most chilled, vibed living room out of all your friends.