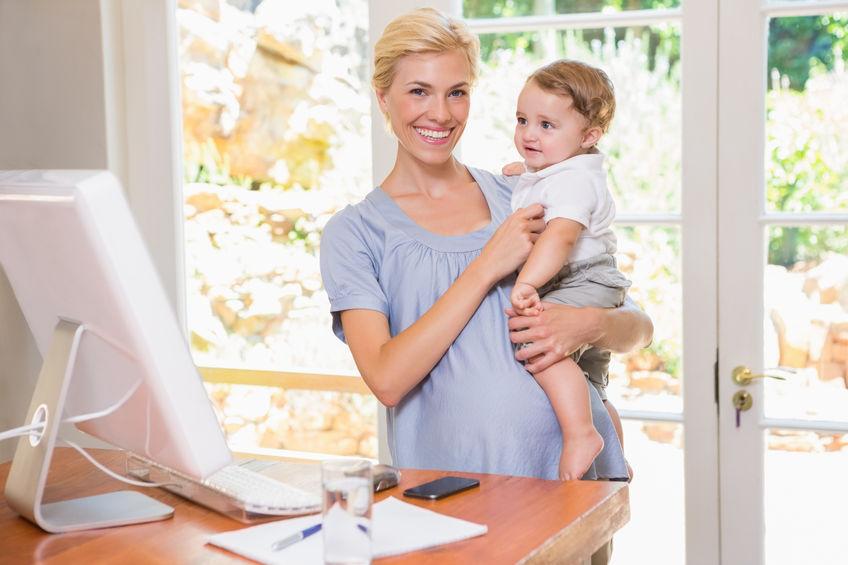 Have you ever had your daily commute and just wish you could cut all that wasted time out? Or just wish you could break for lunch with your spouse?
If you have, you are definitely not alone…
Currently, statistics show that more than 20% of American workers have remote work options (either full time  or part time). For many, one of the best things about working from home is that it gives them much more time to spend with their spouse and kids.
But to have a truly productive work/home balance is to ensure you create a home office that is family friendly while allowing you to get your work done. It is definitely a delicate balance to achieve.
On one hand, you must get your work done and limit distraction. On the other, you need to enjoy your family and you likely have limited space available in your home.
So, is it possible to create a space that does both? I say 'yes' and here are my top 4 easy ways to create a family friendly home office.
Keep it Comfortable
Few things are as relaxing like a big comfy sofa.
It can also serve as a 'magnet' that draws everyone into the office to hang out and bum around. As long as this isn't creating a distraction from your work, this can be very enjoyable. To create a relaxing lounging area in your office, get some comfortable blankets and throw pillows for short naps or cuddling. Invite the family in after school to relax and catch up on their day. If you have pre-school age children, keep some toys and coloring books available to keep them busy while you finish up your work.
In addition to creating a comfortable lounge area in your office, make sure your specific work area is comfortable for you: invest in an ergonomic office chair and have plenty of storage space available around your desk area, add some of your favorite decor (which also improves work productivity).
Create Work Areas for Everyone
Your home office doesn't only have to be a workspace for you: put a small kitchen table and good lighting in your office (which is separate from your work desk) and make this a homework spot or art work area for your kids.
If room isn't available for a table, go on Craigslist and find cheap foldable TV tables for sale in your area. These are ideal little work tables for kids and can be put away when not in use.
Your spouse likely needs his or her own work area too—get yourself a large enough desk that provides workspace area for two people.
Here's another idea: if you have limited space and have thought about doing renovations consider hiring a qualified contractor in your area and have an office space created. This may be an extreme option, but it can be a perfect solution where you can build the ideal area for you and your family.
Have Healthy Snacks Handy
You're going to get cravings or need a snack (or drink) at some point in your day. Kids, once they get home from school, are going to want to have a bite to eat before starting their homework.
Rather than having to leave your home office to get a drink or grab a bite, or make a snack for the kids, have a supply of food and drinks in your office. Even consider buying a small desk refrigerator to keep food cold and convenient.
Set Some Rules (but be Flexible)
Setting up a family friendly home office doesn't mean your work space is a "free-for-all"—to keep productivity up there must be some rules in place.
Working from home, there will definitely be times when you need complete privacy—whether it's for a client call, to have distraction-free work time, or to just buckle down and get work—you need to make this clear to everyone who shares the office space.
Most people enjoy the flexibility of setting your own hours working from home provides, but setting a specific schedule for "private time" will allow everyone to know when they can share the room or when they need to find another space.
For the littlest members of the family, you may set specific rules regarding homework time and play time in the office—this will help create designated "concentration time" and allow you to schedule your more flexible work tasks during those 'family times.'
Just as in a regular office, being clear about expectation and rules helps everyone understand what's acceptable and what's not—it's also helpful to understand that things happen and events change requirements, so always be flexible to adjusting or bending the rules to suit you and your family's needs.
Having a functional home office doesn't mean you create an isolated location that is off-limits to your family—a true family friendly and work-friendly home office makes accommodations for your (and the family's) work and their relax and play needs too.
Follow these easy tips to create a home office that is, at least at times, open for visiting and playing.