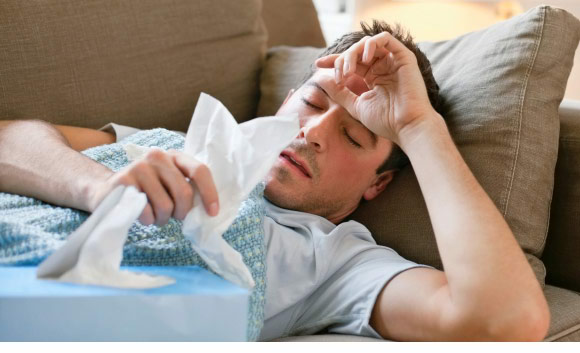 Health officials are urging New Yorkers to take precautions to protect against the flu, which is now present in all 62 counties. In addition to becoming vaccinated, limiting exposure and practicing good hygiene, experts at NewYork-Presbyterian recommend eating immune-boosting foods to help ward off the flu.
Shared below are three immune-boosting recipes from Chef Emilie Berner of the Chef Peter X. Kelly Teaching Kitchen at NewYork-Presbyterian Hudson Valley Hospital.
Chef Berner is central to carrying out the hospital's disease-prevention and wellness initiatives. She is a graduate of the Natural Gourmet Institute for Health and Culinary Arts, as well as New York University's Steinhardt School of Culture, Education and Human Development.
NewYork-Presbyterian Hudson Valley Hospital
3 Recipes to Save You From the Flu – and Help You Should You Get it
By Emilie Berner
Chef, Coordinator
NewYork-Presbyterian Hudson Valley Hospital's Chef Peter X. Kelly Teaching Kitchen
Immune-Supportive Foods
One way of easily supporting immune function involves ingesting immune-supportive foods. This includes sipping a fresh ginger infusion throughout the day for improved digestion and immunity, and increasing the intake of fresh produce in soups and salads. It is suggested that certain varieties of mushrooms, such as shiitake and maitaki, strengthen the immune system, as well as garlic.
Also key are exercise and a vitamin regimen. Consult your physician for information about both.
The following recipes include ginger, lemon, garlic, oranges, spinach, cabbage, sweet potatoes, and more. They are also vegan and gluten-free.
Note: NewYork-Presbyterian Hudson Valley Hospital's Chef Peter X. Kelly Teaching Kitchen is committed to educating the community about the relationship between food and health. Each month a variety of cooking demonstration classes are offered, aligned with healthy eating principles and wellness concepts.
To learn more, call the Chef Peter X. Kelly Teaching Kitchen at 914-734-3780 or visit www.nyp.org/hudsonvalley. Look for upcoming "Physician in the Kitchen" programs, which are free and present a health topic by one of the hospital's physicians and a cooking demonstration by Chef Emilie Berner that focuses on ways to make healthy foods in your own kitchen.
Honey Ginger & Lemon Infusion
2 Servings
Ingredients
2 cups water
2 inches of ginger, sliced
1 teaspoon honey
Juice of 1/2 lemon
Juice of 1/2 orange
Directions
In a small sauce pan, add water and ginger slices. Bring to a boil, then simmer, covered, for 5-10 minutes.
Turn off the heat, and cool slightly, until it is a comfortable temperature to drink.
Add honey and fresh juices.
Note: Do not add honey to hot tea. It alters the beneficial enzymes in the honey.
Nutrition analysis per serving:
Calories: 100
Sodium: 2.5
Sugar: 16.5
Carbs: 18
Fat: 0
Fiber: 0
Protein: 0
Sweet and Sour Red Lentil Soup
Serves 6
Ingredients
1 cup red lentils, washed well
5 cups low sodium vegetable or chicken stock or water, more or less as needed to cover con-tents of the pot
3 cups carrots cut into thick slices
1 cup yam or sweet potato cut into 1 inch cubes
2 onions, about 2 cups cut in chunks and separated
1/2 head green cabbage, about 4 cups sliced into chunks
1 teaspoon garam masala,
1 teaspoon curry powder
2 teaspoons ground cardamom
Juice and zest of 1 lemon
3 tablespoons olive oil
1 bunch cilantro, chopped
Yogurt to serve (optional)
Directions
Bring liquid to boil with lentils, skim foam, and lower to simmer.
Chop veggies into chunks and add to pot, saving 1 onion, all spices, and lemon juice and zest for later.
Simmer all together on low for 45 minutes.
While soup is cooking, in a separate sauté pan, sauté remaining onion in olive oil until fragrant, then add spices.
Add onion-spice mixture to soup pot, along with lemon juice and stir to mix.
Garnish generously with cilantro.
Serve with yogurt (optional).
Nutrition analysis per serving:
Calories: 148
Sodium: 35
Sugar: 4
Carbs: 17
Fat: 4
Fiber: 3
Protein: 4
Chopped Spinach Salad with Citrus Vinaigrette
Serves 6
Ingredients
6 cups baby spinach leaves
1/4 cup sunflower seeds, toasted
1/4 cup chopped parsley
1/4 cup chopped basil
1/4 teaspoon Salt and 1/4 tsp pepper
Vinaigrette
1 tablespoon red wine or sherry vinegar
1 garlic clove, minced
1 teaspoon dried mustard powder
3 tablespoon extra-virgin olive oil
5 scallions, white parts and a bit of the green part, sliced thin
Toppings:
1 orange, sliced bite size
1 grapefruit, sliced bite size
Directions
In a bowl, toss the spinach with the sunflower seeds, parsley, basil, and a pinch of salt and pepper. Set aside.
In another bowl, make vinaigrette: add vinegar, garlic, mustard, and a pinch of salt to the bowl. Whisk to combine. Add olive oil and scallions, whisking well to create a homogenous mixture. Pour over the spinach mixture and toss well.
Add toppings: orange and grapefruit chunks. Toss to combine and serve.
Nutrition analysis per serving:
Calories: 126
Sodium: 100
Sugar: 5
Carbs: 11
Fat: 4
Fiber: 3
Protein: 3