I love no cooking cooking.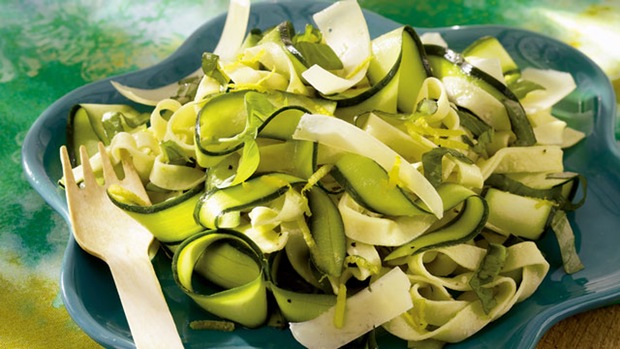 Cut raw zucchini into thin ribbons that are both tender and crisp, and then add tart lemon juice, a punch of mustard and some good-quality olive oil. Finish with a little Parmesan cheese and you've got a meal that's easier–and tastier–than a bowl of pasta
1 1/2

pounds summer squash and zucchini

2

tablespoons extra-virgin olive oil

2

tablespoons fresh lemon juice

2

ounces Parmesan, shaved (3/4 cup)
kosher salt and pepper
2 Tbs. pine nuts, toasted (optional)
.
DIRECTIONS
Cut the squash and zucchini into long, thin strips using a vegetable peeler (discard the seedy cores). Place in a large bowl.
Add the oil, lemon juice, Parmesan, 1/2 teaspoon salt, and 1/2 teaspoon pepper and toss gently to combine. Serve immediately.