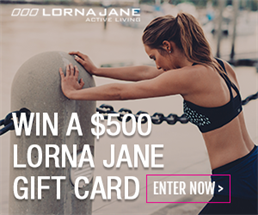 Pretty simple really. You fill out this entry form,
and we'll enter you in for a chance to win a $500 Lorna Jane gift card.
*This contest is open to U.S.A residents 21 years of age and older.
This winner will be selected by Lorna Jane.
Only one entry per person is permitted.
Contest is open as of June 1st, 2015 and closes June 30th, 2015.
Winner will be drawn July 1st, 2015, notified by email
and name published on lornajane.com.
The prize is a $500 USD Lorna Jane gift card,
valid in Lorna Jane USA stores and lornajane.com only.
This prize is nonrefundable and may not be exchanged for cash.
By entering this competition you agree to be contacted by
Lorna Jane for marketing purposes. This may include email, sms,
and other electronic means. You may choose to opt out of communications
at any time, using the appropriate opt out mechanic.
Lorna Jane may modify these terms and conditions anytime, at their sole discretion.
For full terms and conditions visit http://www.lornajane.com/terms-and-conditions.