It's back! Put on your Lederhosen and Dirndls and join thousands of residents and visitors in the heart of Westchester County as we celebrate the return of White Plains OktoberFest on October 9th.
OktoberFest has been a White Plains tradition for over 10 years, and it's finally returning live to downtown White Plains for the first time since 2019! Once again located outdoors on Mamaroneck Avenue between East Post Road and Maple Avenue, this year's OktoberFest will be bringing back live music, German beer, food, and fun to the streets of downtown White Plains.
White Plains Mayor Tom Roach stated, "I am happy that White Plains much-loved special events have returned.  This summer, I have been privileged to welcome back residents and visitors alike to downtown White Plains for enjoyable events that showcase the diversity of its people.  The partnership between the White Plains BID and the City has been a rewarding one which continues to benefit not only the City of White Plains but the region."
White Plains BID Executive Director Brittany Brandwein explains "the community has come together in various ways over the past two years and is ready to celebrate life and all that downtown White Plains has to offer. The White Plains OktoberFest is one of the most recognized and looked forward to events that we do and the BID is happy to bring it back to the downtown."
Seasonal food will be available from Walter's Hot Dogs. For attendees 21 years of age and over, German beers will be available, including Paulaner, Sam Adams, Coney Island Pilsner, Captain Lawrence, Strong Bow Cider and White Plains own brews from Wolf & Warrior. Participating establishments also include Archie Grand, Brazen Fox, Cantina, Freebird Kitchen and Bar, Hudson Grille, Lazy Boy Saloon, Lilly's, Ron Blacks Beer Hall, Sundance Kitchen, Whiskey Lounge, and Westchester staple Walter's Hot Dogs providing the food.
Brian Mahon, co-owner of Hudson Grille and Lilly's recalls the first White Plains OktoberFest hosted by himself and the late Paul Dillane. "It took place with 200 people in the restaurant back patio of the Porter House in 2008. It grew ever since through partnership with the other bar restaurants on the block and the White Plains BID. The 2022 event will bring vibrancy and life to the streets once again."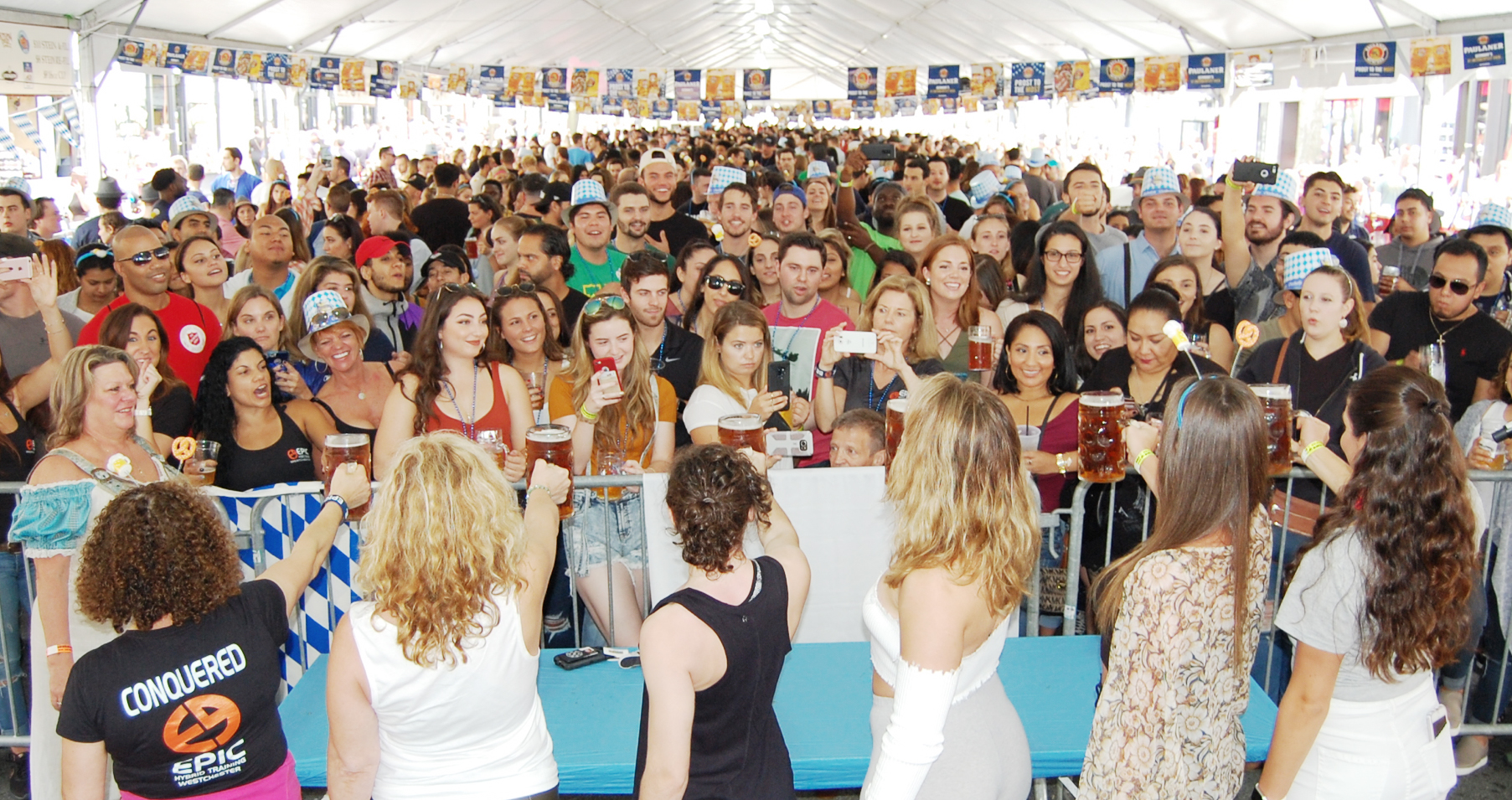 Music will be provided by Melina & the Oompahs! The band puts on a high-energy Oktoberfest show with music from traditional German Oompah to hits from the 50's, 60's, 70's, 80's, 90's through now. Melina grew up in Germany and resides in New York City. Her performance is based on the original Oktoberfest in Munich, Germany, where she has performed. She and her band have also performed at Oktoberfest celebrations throughout New York City, including Central Park Oktoberfest and Oktoberfest at Hudson Yards.
Limited advance tickets for wristbands are available for $11. Wristbands will also be available day-of the event for $15 at the entrances on East Post Road and Maple Avenue, space permitting. Purchase of outside beer will be cash only. Proof of age is required for all to obtain a wristband for the outside purchase of beer and cider.
This year's White Plains OktoberFest festivities will include contests, games, and other family activities early on in the day sponsored by Zeiss.
For more information and tickets visit www.wpbid.com/oktoberfest