Local author Andy Siegel, who also happens to be a friend of mine, is having great success on Amazon with his Tug Wyler Mystery Series. Hanging with Andy is always a good time, as he's just as unpredictable as the story line in his novels. I am not surprised by his success and I am truly thrilled for him.
Andy Siegel, like Tug Wyler, is the kind of street-smart push-it-to-the-limit lawyer you'd want on your side when the worst has happened. Andy and I had a little Q & A session, and this is what I found out …
Stacyknows: I read that you were in remedial reading in high school.  What would you say to your former reading teacher now?

Andy Siegel: Thanks for making us feel special by having in the learning center the only candy vending machine in the entire school. 

Stacyknows :What inspired you to write a book?

Andy Siegel: A nice "baseball mom" at one of my kid's games asked me to tell her about one of my trials. After she said, "you should write a book." 

Stacyknows: How do you find the time to write?

Andy Siegel: I only write when I have a story to tell and then I make the time. Luckily, I don't require much sleep.

Stacyknows: How many unpublished and half-finished books do you have?

Andy Siegel: The only works I ever have unfinished are the ones I am working on. I never abandon a story having felt it was worth telling in the first place.

Stacyknows: Do you view writing as a kind of spiritual practice?

Andy Siegel: Writing is my peaceful place in an otherwise tumultuous and turbulent existence.

Stacyknows: How do you select the names of your characters?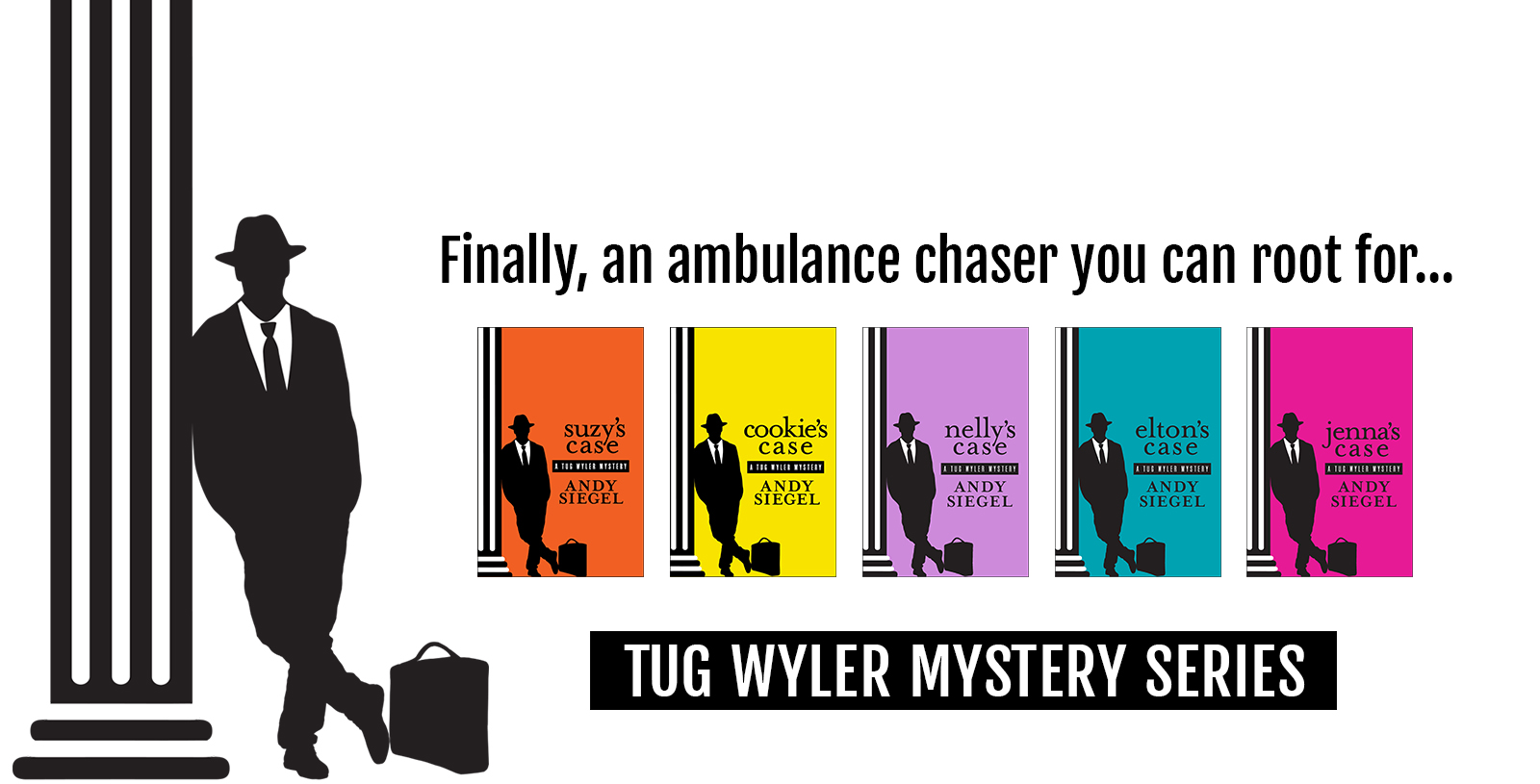 Andy Siegel: I like to have a two-syllable first name to pair with the word "CASE." As you know, my books are named—SUZY'S CASE, COOKIE'S CASE, NELLY'S CASE, ELTON'S CASE and JENNA'S CASE. The only name I ever really thought hard about was Cookie, the beloved exotic dancer who slipped on a banana peel during her signature act at Jingles Dance Bonanza and broke her neck. But if you pay close attention to her operative report on page 4, you'd know her birth name is Claudette Krumke.
Stacyknows: Do you read your book reviews? How do you deal with bad or good ones?
Andy Siegel: I read any and all reviews fully accepting anything anyone has to say. Luckily, I haven't had much negative feedback. But even that guy finished my book. You draw your own conclusion on that one. 
Stacyknows: How is your life similar to a legal thriller?
Andy Siegel: Well, my wife and I are known as Randi and Andy. And in my novels, the protagonist and his lovely wife are known as Tug and Tyler Wyler. The rhyming was not by chance. I will also say that fiction has nothing over fact in my world as an injury trial lawyer. I've seen it all.
For more about the books and series, visit: andysiegel.com