Help
my friend Jodi Nass
 be featured in Bon Appétit Magazine and a portion of the proceeds will be donated to Feeding America®, a hunger relief organization with a nationwide network of …
Chefs from around the globe are invited to compete in an exclusive online competition to be named the world's Favorite Chef, receive $50,000, and be featured in a two-page advertising spread in Bon Appétit announcing the winner.
Who is Jodi Nass?
I'm a retired 25 year Wall Street veteran who has always cooked as a hobby and used cooking as a form of relaxation since a was a little girl.
What inspired you to enter the contest? 
I was inspired to enter the contest because I've been serving healthcare and frontline workers food, along with my daughter '
Chefanie
', since the beginning of the pandemic and thought that if I won I could use the revenue and the publicity to enhance this effort.
What is your favorite dish to cook and why?
In the summer, I love serving a large Paella, it's an easy full meal that simply needs to be paired with a delicious salad, maybe some seasonal vegetables, and a sangria.
Paella – Rice with Chicken & Seafood 
·        8 chicken pieces- Everyone in my family prefers white meat so I split the breasts in half, when I have the time I debone the breasts and leave the skin on.  
·        4 Chorizos, cut in 1/4 inch slices  
·        1 medium onion, diced  
·        1 green pepper, diced  
·        8 cloves minced garlic  
·        3 cups Goya Paella Rice  
·        5 cups water 1 tsp. salt  
·        3 packets Goya Cubitos En Polvo – AKA Chicken Bullion  
·        2 packets Goya Sazón with Azafran  
·        16 littleneck clams, rinsed  
·        16 mussels, scrubbed and bearded  
·        1 lb. medium shrimp, peeled and deveined  
·        1 lb. medium-size scallops, muscle tab removed  
·        1 8 ounces can tiny peas, drained, or 1/2 cup frozen peas (can leave out f you would like)  
·        1/4 cup Goya Pimientos, diced, for garnish (optional)  
2. In a paella pan, or large casserole, heat oil on medium. Brown the chicken on both sides. Add the chorizo when the chicken is half done. When both are browned, remove them and keep warm.  
3. In the same pan stir in the onion, pepper, and garlic. Cook until onions are translucent.  
4. Stir in the rice and cook for 2 minutes, coating the rice with the oil. Stir in the water, salt, Cubitos En Polvo and sazón. Return the chicken and chorizo to the pan. Bring to a boil, cover tightly, and place in the oven.  
5. After 15 minutes, stir in the clams, mussels an scallops. Cover and return to oven for 10 minutes  
and after the 10 minutes add in the shrimp, stir. Cook for ten minutes longer and then remove from oven and check for doneness of all the ingredients. Return to oven if it needs more time. Otherwise, sprinkle the pimientos over the top, cover, and let the dish rest for 10 minutes in a warm place.
Everyone makes mistakes while entertaining. What was yours?
I think a very big mistake I used to make was to follow every recipe to a T. I think great dishes come from individual tweeks of a recipe. Baking modifications can be a bit tougher, but cooking modifications can be easy. Especially with Covid, use what you have, use what you like! I've been known to take 4 different recipes of the same thing and modify those recipes to create my own recipe.
If you invited me to dinner at your home, what would you serve?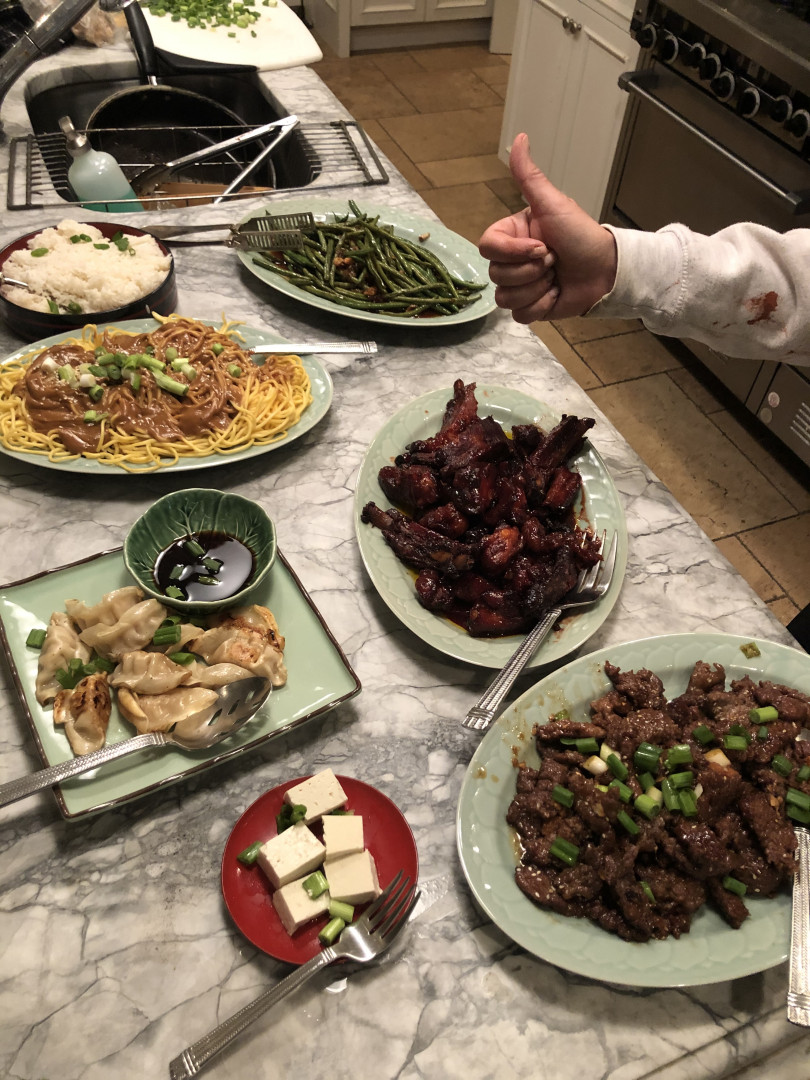 If you were to come over to my home for dinner I would first ask you if you had any dietary restrictions and move on from there. I always serve a clean salad and an array of seasonal vegetables.
I am a very easy hostess, but do get annoyed and insulted when I'm sent a grocery list of foods my guest can't or won't eat. If a guest is on a very, very restricted diet, they should bring their own food!
HOW LONG HAVE YOU BEEN COOKING?
50 plus years. I've been cooking and writing recipes my whole life. I use cooking as a way to relax and to bring people/family together! I love helping people develop events and recipes.
WHAT IS YOUR SIGNATURE DISH?
I have many signature dishes from Chicken Matzoh Ball Soup to Paella, Duck Confit, to Tiramisu. My cooking has been influenced by my ethnicity and travel. I love to make meals and send guests home with 'Doggy Bags" I'm also known for cooking an incredibly delicious turkey, that has turned turkey haters into turkey lovers! My signature dish is making everyone (who walks into my house) smile and never want to leave.
WHAT WILL YOU DO WITH THE $50,000?
Cook, and cook some more! All the money I get I will put into food to cook for the Covid Frontline workers. My daughter and I have been feeding the frontline workers (hospitals, police stations, etc) all over the Tri-State area. Nothing gives us more pleasure and joy!