Ales, Lagers, Schnitzel and Bratwurst
Village Beer Garden Takes up Residence at the Rails
In the Village of Port Chester, New York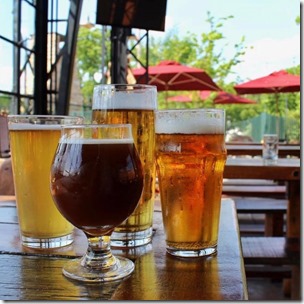 The Village Beer Garden makes its debut this weekend at the Metro-North Train Station in Port Chester. Our House Hospitality, whose eating and drinking establishments include the Rye House in Manhattan and Port Chester, and Sala One Nine, Tapas Bar & Restaurant in the Flatiron District of New York, has created an open-air urban retreat reminiscent of a German Biergarten – only now with the whistle and hum of a north and south bound locomotive in the background.
Steeped in history, the Port Chester tracks were laid circa 1840, coinciding with the originating Munich beer gardens which have since inspired decades of beer halls and breweries around the globe. Village Beer Garden paints the picture of one such gathering place, filled with communal butcher block tables with seating for 200, dotted with red patio umbrellas, and wrapped in steel-glass framing and green shrubbery. Overlooking an active downtown retail, dining, and entertainment district, Village Beer Garden is at the center of a historic town which continues to evolve.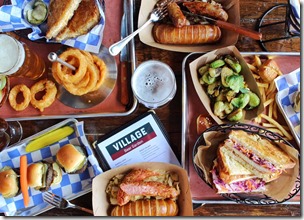 An extensive local craft and imported beer list and creative cocktails mark their territory, complimented by an authentic-meets-A-typical Oktoberfest style menu. Bar pickins include house made pretzel nuggets, sweet/spicy/dill pickles, German meatballs, and fried cheese curd. Lighter fare comes in the form of chicken or salmon Niçoise, chilled shrimp cocktail, and German cucumber salad. A sausage menu of kielbasa, bratwurst, sweet and hot Italian sausage, and boudin blanc share the plate with krauts and slaws. Crispy chicken schnitzel, juicy burgers, and frankfurters round out the food offerings, with added tater tots, sprouts, spaetzli, and fries.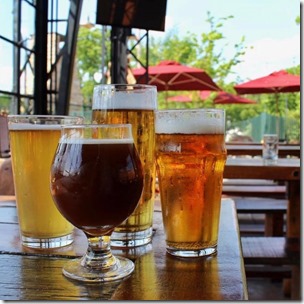 Thurs & Friday from 4pm
Sat & Sunday from 12pm
@VillageBeerGarden
@PCBeerGarden
Facebook
3 Broad Street
Port Chester, NY 10573
(914) 481-8771
https://www.villagebeergarden.com