One of the most exciting aspects of becoming an adult is owning your very own house. Once you settle in and take care of the interiors, you should turn your attention to the outdoors and the endless possibilities that exist when it comes to decor. If you are somebody who loves connecting with nature and enjoys spending time outdoors, the best feature you can add to your home is a patio. From summertime barbeques and garden parties, there are many ways that a patio is a perfect way to entertain your family and friends when the weather is right.
While the idea of a patio sounds exciting with several perks for your house, you might be wondering whether or not to go for it. Since the project is an investment, you need to be sure before moving ahead. To put aside your worries, we are here to tell you that a patio is just what your house needs, and this article will tell you why. Let's talk about the top reasons why you should consider installing a patio in your house.
To Increase The Value Of Your Property
When you own a house, you might consider selling it off at some point, which is why you should consider adding features that increase your property's value. A patio is a perfect addition to a house that is a guaranteed return on investment. Because they are very hot in the market right now for the immense curb appeal they offer, having a well-built patio is ideal for attracting buyers. All the money you put into building the deck will come back in full or even more once you sell the house, so it's definitely worth it to lay a new patio. You will get an even higher return if you go for a DIY journey with the installation, but it's best to involve professionals who can get the job done perfectly.
A Patio Will Expand Your Living Space
If you live in a smaller house or one that is too full of your belongings, you could be looking for ideas to create an illusion of extra space. Because patios are built on the same ground level as the rest of your property, they are the perfect way to extend your indoor space. If you have a dining table, you can build a porch upfront to make the entire room feel more connected to the outdoors. This way, a patio will make you and your family feel like the space available to you is much bigger. Having a properly built setup creates extra room for your kids to play around in, as you keep an eye on them from the indoors. You could even create a reading nook or an area where you can practice a hobby you don't have space for inside the house, such as growing plants or vegetables.
You Will Have More Space For Guests And Entertainment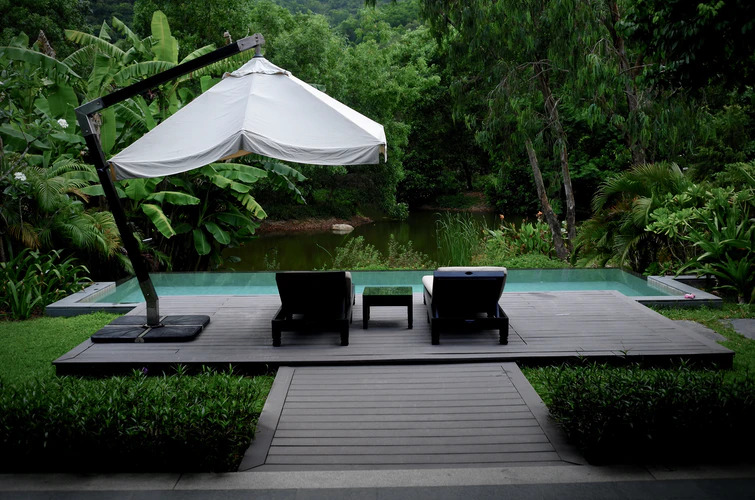 Are you in need of the perfect spot to kick back, relax, and soak in the sun? Or do you host parties often? Then a patio is going to be a true value add to your home. By building an extremely functional, sturdy outdoor space, you will have created the perfect spot for lounging in with your friends and family. You can install grills or brick ovens to enjoy a good summer barbeque. Also, consider installing a small swimming pool or jacuzzi to beat the heat. By building a versatile and functional space, a patio can surely turn into a favorite hangout space for your family. You also don't need to restrict its usage to just summers by building in a fire pit. This feature will keep the space usable all year long. Imagine backyard parties in the summer and cozy nights around the fire in the winter, sounds ideal, doesn't it? If you're looking to build a designated space for leisure, then go for a patio. The Best way to put in a patio is the outdoor offset patio umbrella, which surely keeps the people relax and chill in with the weather.
A Patio Is Easy to Maintain
Whenever you think about constructing an add on for your house, you think about the cost and frequency of upkeep. We often look for easy to manage, quick solutions that don't require too much of our time and attention. A patio is one such feature that, once built, requires bare minimum maintenance, let alone extra money post the initial spend. If you go for good quality concrete to pave the patio floor, you will find that it is sturdy and durable against outdoor weather conditions. Even if they need the occasional repair, which is rare, a section of the flooring can easily be replaced. They also require minimal cleaning but doing a good sweep once in a while will keep the patio neat and tidy from dirt and debris. Because they are a semi-indoors arrangement, the process of cleaning and repairing is much easier as opposed to having an entirely open area or garden to manage.
Key Takeaway
If you're looking for ways to increase the value of your house and lifestyle, we suggest you consider installing a patio. By having a well-built space, you will enjoy the luxury and comfort of an indoor setting close to nature and all that it has to offer. If we have convinced you on the matter, then you should start planning your ideal patio now. Think of what you want it to look like and what purpose it will serve. Once you know that, you can set aside a budget and get to it. Trust us; the end result will leave you satisfied for years to come.
Do you own a patio? What is your favorite feature of the setup? Let us know in the comments below.