If you're lucky enough to have a room with high ceilings, you know that it can be a challenge to decorate it in a way that feels cozy and inviting. Whether you're looking to add a little bit of personality or make the space feel more intimate, there are plenty of ways to dress up those bare walls. Read on for tips on how to decorate a room with high ceilings!
Add Mirrors To Make the Space Feel Bigger
Mirrors are a great way to make your high ceilings feel more intimate. They also act as a focal point without overwhelming the room with color or texture. Look for mirrors that fit your style preferences and that coordinate with the color scheme of the room. You can also use them as a way to balance out all those chandeliers you might be adding!
Opt for Ceiling Fans to Keep the Room Cool, Stylish, and Comfortable
If you're looking to add some decorative elements, consider installing modern ceiling fans with light kits to compliment your room's decor. If you already have a ceiling fan in place, consider adding some decorative light bulbs to the fixture for an eye-catching touch of style.
Ceiling fans are available in a wide range of styles and sizes, many designed to complement the style of any room's decor. Some ceiling fans feature traditional-style designs, while others are more modern with curved blades. Modern ceiling fans with lights can be great for bedrooms and living rooms, as they create a comfortable environment that's ideal for cooling down on hot summer days.
Hang Tapestries and Wall Hangings
Tapestries and wall hangings can add dimension and color to an otherwise unadorned space. This is especially effective in bedrooms with high ceilings that feel too bare sometimes. Look for tapestries with bold colors or patterns that can draw the eye upwards. You can also use wall hangings to make the space feel more dynamic and interesting.
Add A Chandelier To The Ceiling For An Eye-Catching Feature
If you want to add a focal point in the room or want to make a bold statement and draw the eye up, why not try hanging a chandelier from the ceiling? Just remember that lowering the ceiling isn't an option in this case! Keep things simple by choosing a chandelier with clean lines and neutral colors so it doesn't overwhelm the space.
You can design yours however you like; whether it's with simple wire or ornate ironwork, there are plenty of ways to make your fixture stand out. Don't be afraid to add more than one chandelier to your ceiling; it's a great way to add visual interest without making the room feel cluttered.
Add Floating Shelves For A Modern Feel
Float shelves are another great way to add visual interest to a high ceiling. Since they're typically streamlined and minimalist, they complement modern design very well. Rather than adding more wall space, why not go for floating shelves instead? This is a great way to add some character and style without making your room feel busy and full of stuff. Again, the best idea here is to keep things modern by choosing clean lines or geometric shapes. You can also try building them yourself! That way, you know they'll fit right in with the rest of your decor.
Hang Curtains From The Ceiling To Make A Room Feel More Spacious
If you feel like your space is too tall for curtains, try taking them up to the ceiling instead of stopping at the top of the windows. It adds an interesting touch to any room! You can opt for floor-length or tailored panels if you want a more modern look. No need to drill into any beams for this simple way to dress up a room – just hang curtains from the ceiling! To make the most of all that height, opt for floor-length drapes that stretch to the ground. You can even tie them back with a sash or piece of rope for an effortless look.
Make Your Ceiling Feel Cozy With Pendant Lighting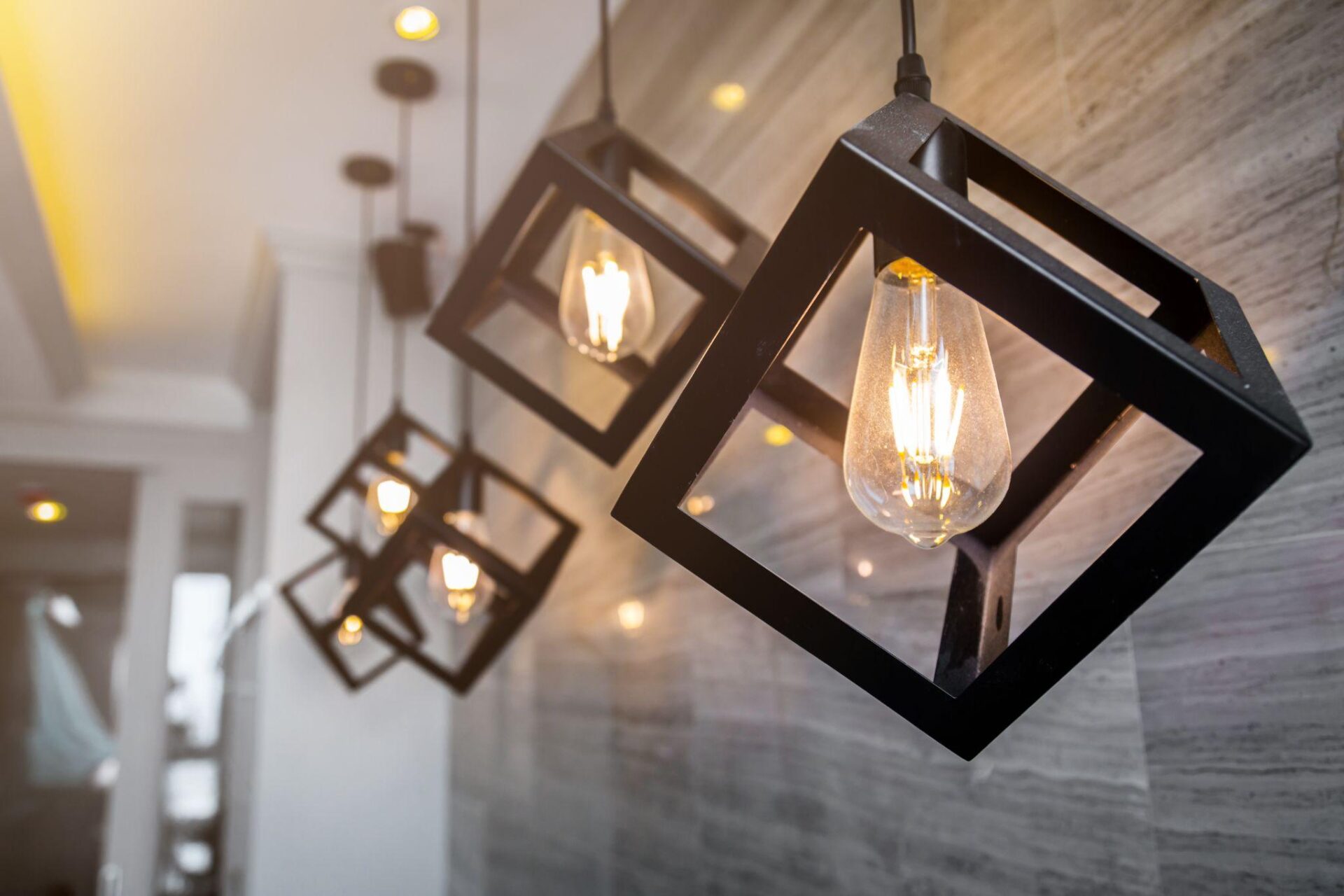 Pendant lighting is a great way to add some atmosphere and interest to a room; it will also help the ceiling feel cozy and inviting rather than lonely and bare. Start by choosing something like an exposed bulb or drum shade that will provide plenty of illumination. If you want to add more personality, choose a pendant with an interesting shape or color. A mixture of different types works perfectly for this, so don't be afraid to get creative!
Add Artwork To The Walls For A More Intimate Feel
Adding artwork to the walls is another way to decorate high ceilings without making the room feel cluttered. The best idea here is to keep things simple with one or two pieces at most unless you have a really large wall that can fit more! You can choose traditional paintings or contemporary art depending on your style preferences, but just remember to avoid too much color and detail. Keep it simple so the focus stays on the ceiling.
Add Area Rugs To Ground The Space and Warm It Up
Small area rugs can do wonders for a high-ceilinged room. Not only can they add some color to the space, but they'll also help showcase your unique sense of style. The best thing about rugs for high-ceiling rooms is that you can go bigger than usual; this will make your room feel cozier and warmer without making it feel cluttered.
Just remember that high ceilings don't have to be an eyesore! With these tips in mind, you can add plenty of character and style to your living space without compromising on height. From bold colors to simple accents, there are lots of ways to make a room with high ceilings feel inviting and cozy!