Creating an Instagram account is only a small part of the complex and painstaking work to promote your brand on the social network. For good reach and high engagement, you need to work on content, communicate with subscribers, and attract new audiences. How to do it? We've compiled a selection of 20 helpful tips for you to help your account target your audience.
The most popular Instagram post was a photo of a regular chicken egg. In 9 days, the post broke social network records, overtaking a photo of Kylie Jenner's daughter. As it turned out, the post with the egg was an advertisement for psychological help for people with mental disorders. So far, the photo has received more than 54 million likes, which is, to put it mildly, an amazing reach.
Let's say right away that the tips will be useful for those who are familiar with Instagram for business. If you are just starting your social media exploration or haven't created an account yet, then it's best to start with a simple guide.
Instagram has a daily audience of over 500 million people. Let's talk about how to attract users to become followers to your Instagram account.
Join some plan to increase Instagram Post Engagement
There are some plans that can help you increase Instagram engagement in an easily way
I have tried an app named GetInsta. Here you would like to try, here is the introduction on how to use it:
Step 1: Download GetInsta and sign up an account for it
Step 2: Add your Instagram account and you will get many free digital coins
Step 3: With the coins, you can publish task to get free likes and followers for your Instagram account.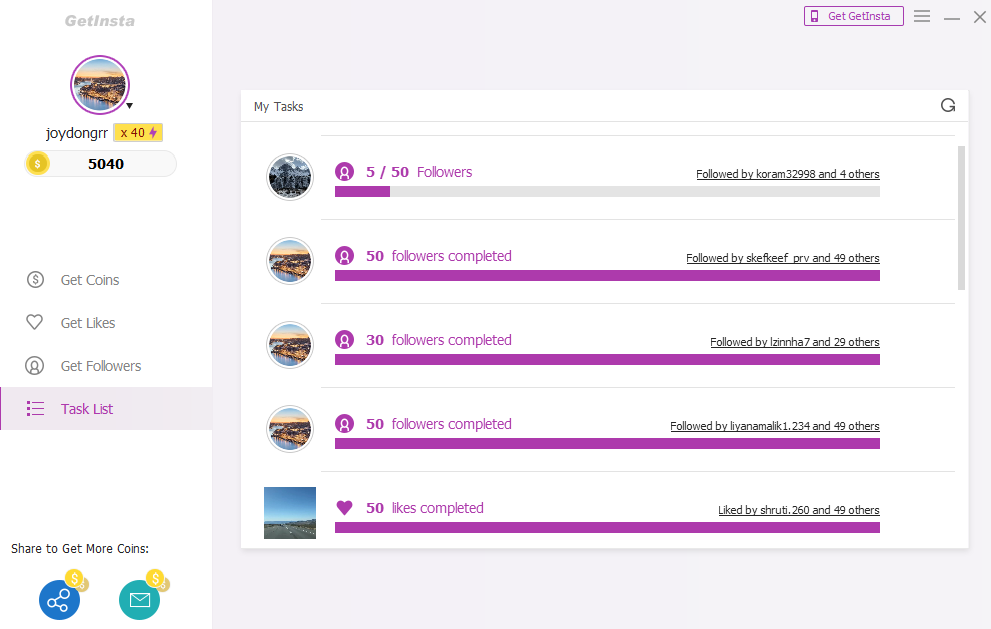 If you need more free Instagram likes and followers, you can get more coins by liking and following other Instagram account
Communicate
Communication on social networks is very important! Subscribers love it when real people are visible behind the face of the company, ready to answer comments and questions. We recommend leaving comments under the posts of opinion leaders (preferably in your area) – this is how subscribers of a popular Instagrammer will visit your page.
Do not ignore questions in the directive and comments under your posts. The more likes and opinions, the more coverage of the post that Instagram will show to the audience.
Share your emotions
Continuing the idea that live communication is always pleasant and interesting, do not hesitate to share the opinion of your subscribers in Stories and posts. To see who mentioned you and where – just follow the notification that appears in your account. You can share stories of your subscribers, add GIFs, text, answers to questions and words of gratitude to them. And subscribers, in turn, will be pleased to participate in the life of their favorite brand. Share subscribers' emotions in our stories and posts
Calculate the best time
Using simple tests, posting posts at different times, figure out when the audience is most active. It's better than targeting others – each account's audience is unique and active at different times.
After testing, you can create an individual schedule, covering more people than with random publications.
There are many open source applications that are useful for this. For example, you can use Preview to check engagement and find out when your audience is most active.
Here's a hint: the best day to post is Thursday.