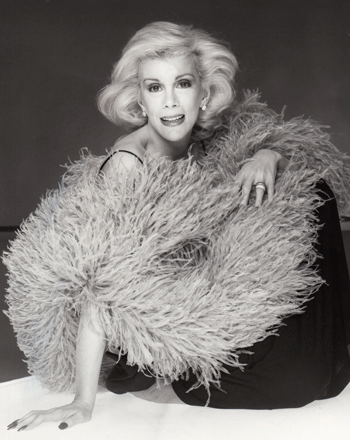 This upcoming auction in New York will encompass the breadth of the late entertainer's exceptional and eclectic taste, including decorative arts, paintings, fine French furniture and Fabergé. Coinciding with the live auction, extravagant costumes made by Bob Mackie, couture and personal jewelry spanning esteemed design houses such as Cartier, Van Cleef & Arpels and Harry Winston, will also be sold in an online auction held on June 16–23.
With more than 200 lots offered in the live sale on June 22 and approximately 80 lots in the online auction, estimates will range from $500 up to $200,000. Among the personal objects, which reflect Joan's connoisseurship of fine and decorative arts and her sense of wit and humour, include a beautiful Edouard Vuillard painting, Dans L'Atelier, painted circa 1915, a jewelled nephrite study of a Lily of the Valley leaf by Fabergé, and a silver Tiffany & Co. water bowl engraved 'for Spike'.
A portion of the proceeds will benefit both God's Love We Deliver and Guide Dogs for the Blind.
New York & Online | 16 – 23 June 2016
Contact:
Client Service
+1 212 636 2000
info@christies.com