It's no secret, elderly people are pretty hard to please, which often turns the lofty idea of gift-giving into a nightmare. You can rack your brain for days trying to figure out what to give your mum or dad for their wedding anniversary or birthday, spend a lot of money on that brilliant (in your opinion) present but as the final result just hear something like "What am I supposed to do with this thingy?".
We bet you've already heard a similar question at least once and perhaps even tried another approach, asking your parents directly what they would like to get, naturally without success because your mum and dad "have everything" including such a great son or daughter as you are. Chances are you might be disheartened but here comes the good news: it is too early to be desperate.
Today, we give you a hand and share some perfect gift ideas (for every budget) to get for your aging parents – the result will exceed your bravest expectations!
Mini Vehicle
It's not true that elderly people do not fancy gifts – they do but only if they are useful and practical. If your parents are not that strong anymore and find it more and more difficult to walk for a longer time, even if it is just a walk across the shopping mall, you can help them return the joy of freedom. Many people with aging parents who have decided to buy mobility scooter swear that it was one of the smartest moves they ever made. Indeed, those hi-tech wonders are unrivaled when it comes to providing seniors an exciting and fulfilling life and letting them avoid all the downsides of being stuck at home.
Family Name Art
If you would like to give your parents something really special, think of a unique piece of artwork replenished with a surname, or even better – a family tree. Lucky for you, nowadays the offering of such items is truly rich and diverse, delivering plenty of opportunities to choose the perfect gift that your mum or dad will gladly hang on the wall in the living room.
Shopping Cart With Seat
Another great idea is to buy a quality shopping cart enhanced with a built-in seat. Intended to make a lot of things much easier, this item will likely get you the title of a son or daughter every parent can hope for. If your mom or dad gives preference to local shops, ignoring huge shopping malls and supermarkets, they will appreciate your present because it makes everyday life more convenient.
Coffee Machine
If your parents love coffee but still make it the old way, buy them an automated coffee machine or a single-serve coffee maker. They will be grateful for being able to enjoy their favorite beverage without all that hassle of grinding beans and changing filters. Whenever they will relish a steaming cup of coffee, they will think of you – and isn't it amazing?
Pill Organizer
Even though it may sound like an ordinary thing, which is too "small" to become a gift, believe it or not, a sophisticated pill organizer is anything but ordinary. Equipped with a display that shows the current time and date, a special reminder system strengthened by a talking alarm, and a heck of a lot of other useful functions, it will become the favorite item of your mom or dad. Pill organizers come in a wide variety of sizes and designs but it's a good idea to look for models that are easy to open because those so-called child-proof versions drive the majority of seniors crazy.
Sleep Machine
Does this sound weird? Well, surely not to your parents who are likely to have problems with both falling asleep and staying asleep. It's common knowledge, quality sleep is of utmost importance for people of all ages, therefore when thinking about your next gift, consider getting a sleep machine. Designed to mask the disturbing sounds, this tiny and light device is a great performer when it comes to helping people fall asleep even in a noisy environment. Rest assured, your parents will say thank you thousands of times.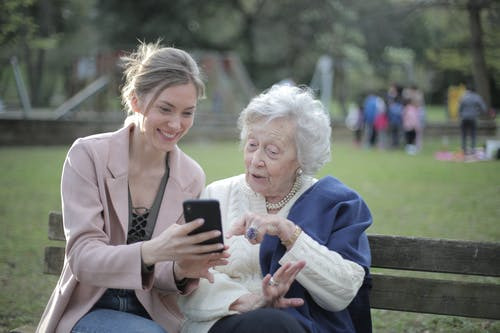 Thanks to a myriad of interesting and useful things available in the market, today, you have more opportunities to please your aging parents than ever before. Of course, this list of gifts is far from being complete but we sincerely hope it will help you find the perfect gift for your beloved mom or dad.