A night on the town may be hard to find these days, but the Jewish Center of the Hamptons can do one better.  Join us for our fun-filled event, A Virtual Evening with Isaac Mizrahi and Friends.  This unprecedented, exclusive show will engage and entertain audiences of all ages.  
Don't miss Isaac Mizrahi, Chief Designer of the Isaac Mizrahi brands, personal, one-on-one interviews with celebrity guests:
·         Bob Balaban – Academy Award-nominated actor, author, producer, comedian and director.
·         Sandra Bernhard – Actress, comedian, singer, and author, currently starring in the Emmy nominated and Peabody Award-winning show, POSE on FX Networks.
·         Andy Cohen – American radio producer, writer, television talk show host, and executive producer of Bravo's late-night talk show, Watch What Happens Live with Andy Cohen. 
·         Henry Winkler – Actor, comedian, director, producer, author and Emmy Award-winning actor, recipient of the Order of the British Empire award (OBE)
We invite you to join us on Zoom from the comfort of your home on Sunday, August 9 at 7:30pm. Pre-registration is required to join this private show. Go to https://jcoh.org/evening for more information.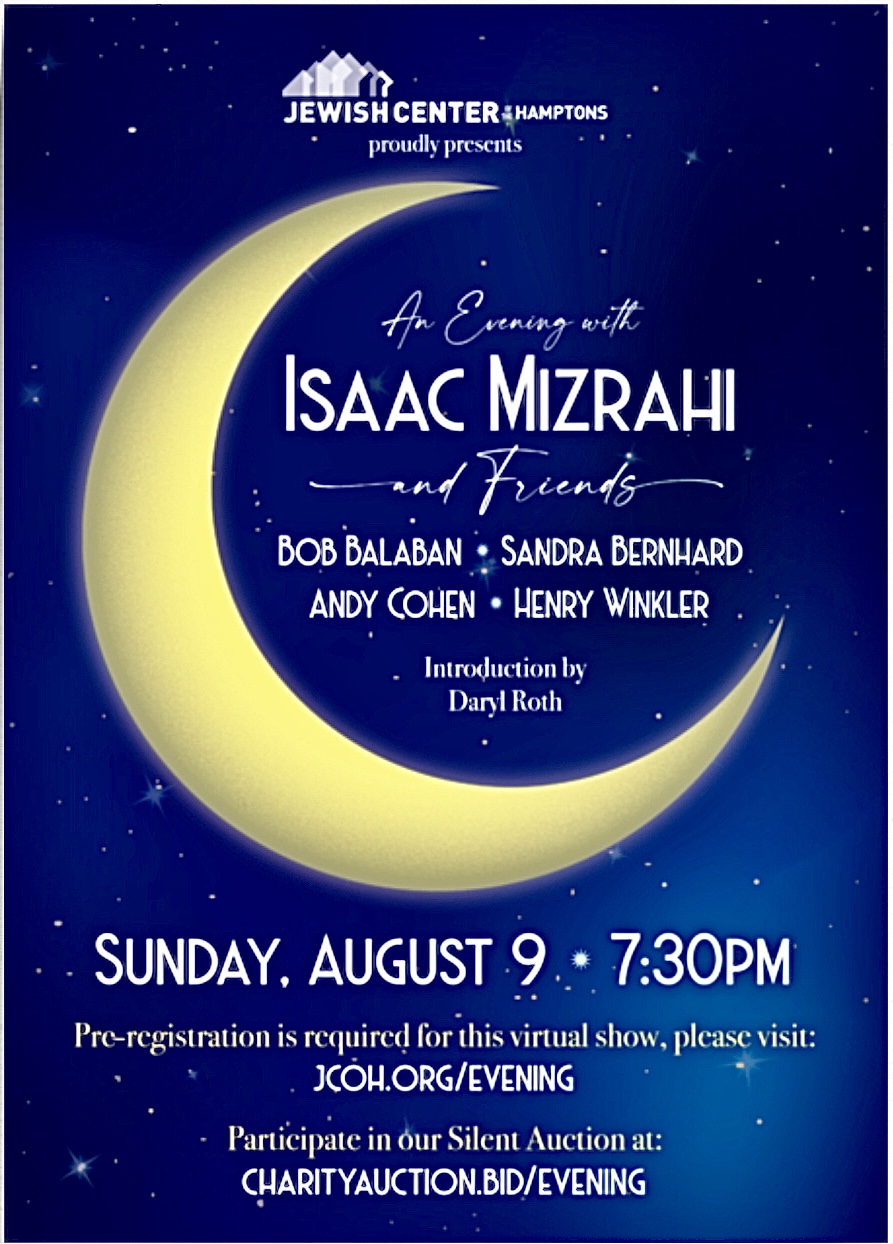 A silent auction will be held in conjunction with the show featuring fabulous prizes and experiences from the New York Yankees Home Game, East Hampton Golf Club, Candice Bergen's Bergen Bags, and Carissa's. Bidding opens on Monday, July 27 and the auction winners will be announced live at the conclusion of the show! 
JEWISH CENTER OF THE HAMPTONS: WHO WE ARE
Jewish Center of the Hamptons is a post-denominational synagogue serving as the Jewish spiritual and cultural oasis on the East End of Long Island, in Manhattan, and beyond. Rooted in Torah, prayer, and acts of loving kindness, the Jewish Center of the Hamptons shares the joy of Jewish traditions and deepens our connections to a rich heritage through Jewish values and a diversity of Jewish voices. In our many avenues of learning, we seek to bring relevance and meaning to our daily lives. We are a center without walls, connected to Israel and the Jewish people wherever they might dwell. We welcome each person regardless of gender, sexual orientation, and race, embracing anyone who chooses to join us on our Jewish journey. As a socially conscious congregation, we dedicate ourselves to mitzvot, fulfilling our obligations to God, and to one another.