"Playing for the Playhouse" was  an incredible evening of performances by local celebrities.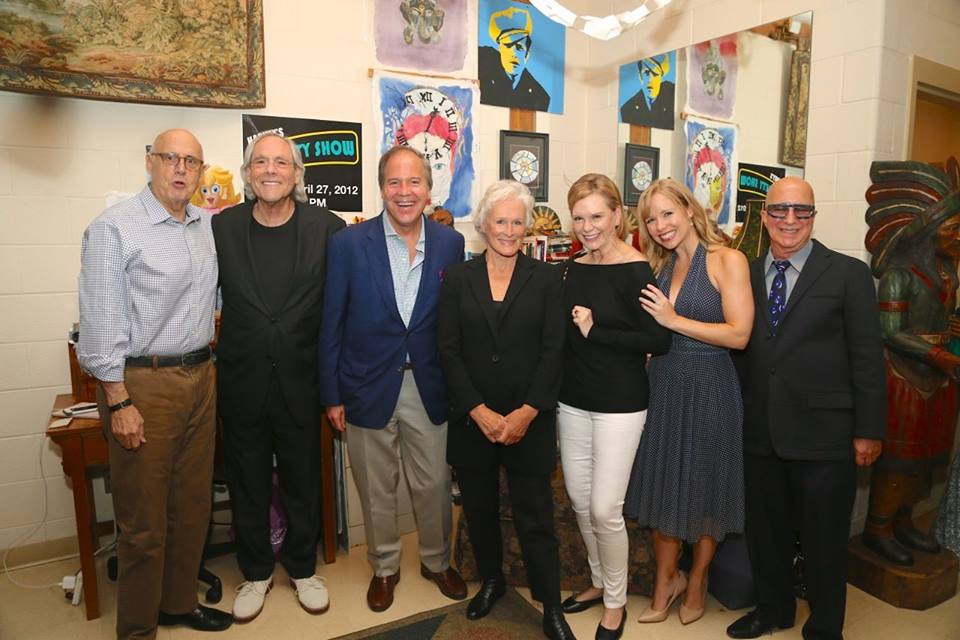 The Bedford Playhouse not-for-profit entity dedicated to transforming the historic cinema
in Bedford into a vibrant art house cinema, cultural center and community hub for
local residents and neighbors in surrounding communities like Armonk, Pound Ridge,
Greenwich and New Canaan.
On Friday, August 26, the Playhouse presented a benefit show, Playing for The Playhouse, A Celebration of Movies and the Performing Arts at Harvey School's Walker Center for the Arts. Local area residents Glenn Close, Paul Shaffer, Jeffrey Tambor, Chazz Palminteri, Terre Blair (Mrs. Marvin) Hamlisch, singer Marissa McGowan, and comedian Robert Klein were all on hand to perform, donating their time and talents to support the Playhouse renovation.
The show, directed by Sarah Long, Playhouse Board Chair, with President John Farr as host, attracted rave reviews. It was a huge assemblage of talent and an ideal combination of music, comedy, and spoken word, giving the residents a flavor of the type of special programming the Playhouse might provide. "It was an unforgettable evening," said Farr.
Many local businesses supported the event with donations: Bedford 234, Bedford Gourmet, Bivi Sicilian Vodka, Conte's Market and Grill, Key Foods Marketplace, Mitchell Gold + Bob Williams Home Furnishings, Mulino's of Westchester, Sweatshop Studios, Truck restaurant and Wade & Clark Wine Imports.
Photos of the event may be viewed and downloaded from facebook.com/BedfordPlayhouse/photos
"The Bedford Playhouse will be an amazing cultural and social destination, but more funds are needed to make it a reality," said Farr. The Playhouse has raised nearly $3.8 million to-date, but needs at least $1.3 million more to start construction in late November. "We feel confident that area residents and businesses will step up now to help us close the gap. The Playhouse represents a solid investment in our community and quality of life, and it's an opportunity we must seize now," said Farr.
Many people helped make this event possible, including:
Sarah Long, Board Chair
John Farr, President
Dan Friedman, Director of Development
Annie Dance, Associate Development Manager
Beth Blatt, Volunteer
Deirdre Breen, Volunteer
Katie Butler, Volunteer
Jenny David, Volunteer
Jamie Edgar, Videographer
Nancy Evans, Volunteer
Danielle Galland, Interior Designer
Julie Kaprelyants, Assistant to Sarah Long
Nancy Fried-Tanzer, Volunteer
Donald Fried-Tanzer, Volunteer
Elizabeth Kemler, Volunteer
Courtney McGinnis, Board Member
Darren Mercer, Architect
Diane "Pink" Pincus, Volunteer
Margot Racano, Outreach Manager
Cathy Shaffer, Cultural Advisory Council Member
Stephanie Small, Professional Advisory Council Member
Kim Speegle, Board Member
Marylou Tortorello, Volunteer
Audrey Zinman, Professional Advisory Council Member
The Harvey School, Vinny Alexander and the Walker Center staff
Shaul Dover and Sweatshop Studios
Elaine and ChiChi Ubina, Fairfield County LOOK
About The Bedford Playhouse
The Bedford Playhouse is an historic cinema located in Bedford, New York which first opened its doors in 1947. In early 2015, the theater closed and a grass roots organization was formed under the leadership of Bedford-based film curator John Farr. The goal was to transform the theater into a not-for-profit arts house cinema, cultural center and community hub, serving local residents and our neighbors in Pound Ridge, Armonk, Greenwich, New Canaan and beyond.
Plans call for three state-of-the-art theaters to feature new independent films, documentaries, classics, speakers' series, small musical/theatrical performances, and educational programs. There will also be an intimate cafe serving delicious light fare at breakfast, lunch and dinner, and a bar serving beer, wine and spirits. Currently, the Playhouse continues a capital campaign to complete the renovation for a targeted Summer 2017 opening.
The Bedford Playhouse is led by a committed Board of Directors, and other area artists and professionals who serve on Advisory Councils. For more information and to make an online donation visit bedfordplayhouse.org.