While it is great to make your own anti-aging products whenever possible, this isn't realistic 100 percent of the time. If you want to reduce the signs of aging with an affordable drugstore product, these are going to be great options for you.
Garnier Ultra-Lift Sleeping Cream


This anti-aging product is usually less than $20 and available at most drugstores. Garnier makes an excellent line of skin treatments, including the miracle sleeping cream.
This is a night cream you can keep by your bedside table, so that all you need to do is apply it around your eyes and on your skin before bed, then it helps to tighten and tone your skin. It will also make your skin much softer and soothe it, thanks to the lavender in the sleeping cream.
RoC Retinol Sensitive Night Cream


Another fantastic night cream with anti-aging benefits is the Sensitive Night Cream by RoC, which also happens to be under $20.
The cream has retinol in it, which is often a leading ingredient in anti-aging products since it helps to tighten and tone your skin to reduce lines and wrinkles, but it is often harsh for people with sensitive skin. However, this has retinol in it, but is made specifically for people with more sensitive skin.
Yes to Blueberries Face and Neck Oil


Here is something a little different that can help with anti-aging. Yes to Blueberries is a type of oil that you apply to your face and neck in order to leave behind a more youthful appearance. It contains lipids that can help to restore fatty acids back into the skin, along with argan oil, and avocado.
It looks like you just had a restful sleep regardless of what your night was like when you apply the oil to your face and around your eyes early in the morning.
Simple Revitalizing Eye Roll-On
Lastly is this roll-on for around your eyes if you are suffering from crow's feet. Crow's feet simply occurs because of aging, but it can happen prematurely due to squinting your eyes a lot, sun damage, or from not taking good care of your skin.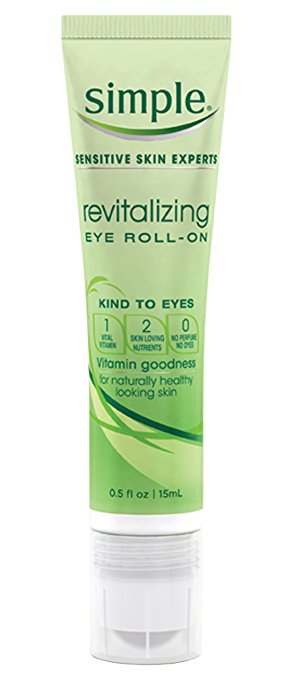 Luckily, this Simply Revitalizing roll-on is super easy to apply and can help tighten the skin around the eyes in order to reduce those wrinkles. It is also going to help reduce the puffiness early in the morning and help with dark circles under your eyes.