A few swipes can kill a relationship before it even starts. While cellphones have become important tools in igniting a romance, a new survey says it's probably best to keep them away during the pivotal first date.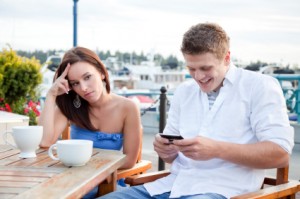 The first date is pivotal for any budding romance, and according to a new survey, certain actions may be preventing many singles from getting past the first meeting.
Dating site WhatsYourPrice.com polled its members to find their biggest first date pet peeves. More than 108,000 singles responded to the question: "What actions would make you forego a second date?"
According to results, cellphone use during the first date is the biggest peeve among singles. Americans may be spending an average of two and a half hours on their mobile each day, but to garner a much-coveted second date it might be best to keep the phones away. Among a myriad of choices, WhatsYourPrice ranked the "Top Five Biggest First Date Pet Peeves," for both men and women.
For Women (based on responses from 63,460 members)
1 Cellphone use – 30%
2 Inappropriate touching – 28%
3 Rudeness to waitstaff – 14%
4 Negativity – 11%
5 Excessive drinking – 6%
For Men (based on responses from 45,349 members)
1 Cell phone use – 25%
2 Rudeness to waitstaff – 21%
3 Unengaged in conversation – 16%
4 Negativity – 14%
5 Excessive drinking – 11%
"Cellphones are now a natural part of modern relationships," says Brandon Wade, founder and CEO of WhatsYourPrice. "They play an important part in building connections, but are proven to distract from quality face-to-face interactions. The phone may have helped you get the date but it has no place at dinner."