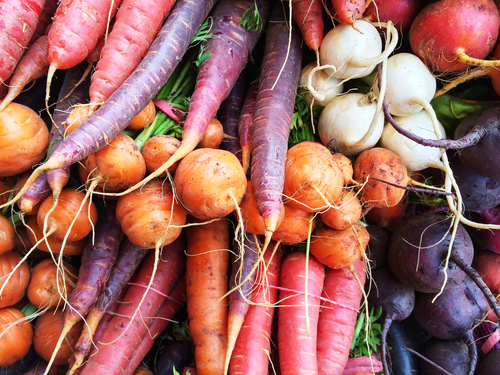 It is starting to get chilly around here on the east coast. As the seasons change, so does our taste palate for different foods than what we crave during the warmer months. Think about it; are you still craving berry salads and watermelon? Or do you find yourself thinking about soups and vegetables that are more grounding and warming? This is our body's natural way of nudging us to eat healthily within the cycles of the seasons!
So what is in season now that you should be eating?
There are plenty of root vegetables and blossom vegetables that are in season on the east coast right now. Brussel sprouts, parsnips and pumpkin are all a rich source of nutritious non starchy complex carbohydrates. Instead of upsetting your blood sugar like refined sweets do; they help regulate them.
Are your fingertips starting to get cold already? Ground vegetables help improve circulation in the body which aids in keeping you warmer during the cooler months! Isn't nature amazing? It provides for you exactly what you need to keep yourself nourished and healthy!
Next time you are craving something sweet, instead of picking up a refined sugar treat; which will ultimately leave you hungry and tired; think about how naturally sweet vegetables might satisfy you instead!
Some sweet veggies in season NOW on the East Coast:
Beets contain an abundance of antioxidants and are highly detoxifying
Onions are rich in antioxidants and other phytonutrients, known for strengthening the immune system
Parsnips which look like giant carrots have plenty of fiber, Vitamin C, folic acid and magnesium (which is essential in aiding for weight loss!)
Pumpkin is loaded in Beta Carotene and potassium making it excellent for your eyes and helping to support heart health
Brussel Sprouts are loaded in Vitamin K amongst other nutrients which is essential for bone health and protecting against osteoporosis.
Some other sweet veggies that are available right now that help satisfy your sweet cravings and can also nourish you from the inside out!
Jicama is crunchy and refreshing and a great vehicle for dips! Generous amount of Vitamin C to help ward off cold season.
Sweet Potatoes contain unsurpassed levels of beta- carotene and are also rich in vitamin C and fiber.
Diana Schiro
Health Coach Corner
I look at how all areas of your life are connected. Does stress at your job or in your relationship cause you to overeat? Does lack of sleep or low energy prevent you from exercising? As we work together, we will look at how all parts of your life affect your health as a whole. It's easy to overlook all of the things that contribute to our sense of nourishment and fulfillment. As a Health Coach, we work together to devise the exact plan that works uniquely for your needs and goals.
Diana Schiro is Certified Health Coach and holds a M.S.Ed. A lifelong interest in food, health and wellness practices has led her to professionally pursue a career in educating others about how to truly be healthy through food and balance. Diana advises lifestyle changes by emphasizing strong core nutritional values and simplifying how to add them to your life regularly.
For Health Coaching Diana can be reached at www.dianaschiro.com
Excited to add more roots to your diet? Here's a fun, easy recipe:
Roasted Root Vegetables
Prep time: 10 minutes
Cooking time: 25-35 minutes
Serves 4 to 6
1 sweet potato
2 parsnips
2 carrots
2 cups of diced beets
2 cups of Brussel sprouts (or substitute/add in other favorites, like squash)
extra virgin olive oil
salt and pepper
herbs: rosemary, thyme or sage (fresh if possible)
Preheat oven to 375 degrees.
Wash and dice all vegetables into bite-sized cubes.
Place in a large baking dish with sides.
Drizzle with olive oil; mix well to coat each vegetable lightly with oil.
Sprinkle with salt, pepper and herbs.
Bake uncovered for 25-35 minutes until vegetables are tender and golden brown, checking every 10 minutes to stirand make sure veggies are not sticking.