This past weekend, inside the Marriott Hotel in New York City, personal trainers spin instructors, and health professionals from all around the country participated in a three-day fitness fest, courtesy of ECA World Fitness.  This annual trade show is where the latest and trendiest fitness brands, apparel companies, and health minded organizations come together, to show off what's new and hot in the fitness landscape around the world. Fitness fanatics travel from all over the globe to get a taste of what's new, and what's soon to come, in health and wellness.  Years ago, presenter Beto, and a Latin rhythm based exercise program presented at ECA, and then burst onto the wellness scene. Millions of people around the world continue to dance to this program we now call Zumba.
This year ECA provided a surplus of talent, but the one taste that the people couldn't get enough of, came fresh, and organically grown, right out of Westchester County.
Skinny Buddha Organic Kitchen, based in Mount Kisco, NY, was the talk, and the taste of the town.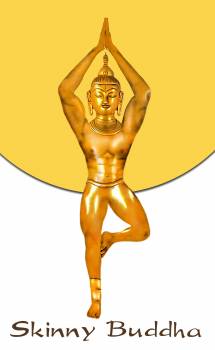 "We are still reeling from the response to our business", said Head Chef/Co Owner Elyce Jacobson.  "We were tucked in a back corner of the trade show, on the fifth floor, and we thought nobody was going to get to see what we had to offer.  Lo and behold, the people followed their noses straight to us, and word spread like wildfire."

"We sold out of everything!"  said Head trainer/Co owner Shaka Taffawa.  "Pounds of quinoa salad, pounds of kale salad, buckets of vegetarian chili sold out.  Hundreds of our signature Peanut Buddha Bars, all of our soups, went fast.  Initially we thought we had made too much food for the event.  In hindsight we couldn't have made enough, they wanted whatever we had.  Our organic food was flying! One customer said, "I'll take all the quinoa salad you have left, just load me up."
"People were coming back two & three times each day, dragging their friends over" said Chef Elyce.  "Vendors were leaving their booths.  Mothers were taking pictures of our menu, and our Vegan Creamy Kale soup, and sending them to their kids, to find out how much they wanted them to bring home for dinner.  It seemed like everyone that came to the table for the first time made a comment about how ridiculous it was that we were stuck in the back corner.  They wanted to protest to get us moved up front.  We thought there was going to be a revolt when we had 15 super-fit women in front of our booth yelling that they were going to tell management that they just wasted their money on a rotten banana and an overpriced sandwich.  They were furious that they didn't know that Skinny Buddha was there."
"Its great to be around such a fit, trendy, health conscious group of people, and see them embrace our business" said Shaka.  "All along we have believed in our product, but to see this response on such a big scale was very pleasing."
Looks like Buddha just got Skinny! 
For more information on Skinny Buddha Organic Kitchen visit their website at
Related articles across the web