May Is Lyme Disease Awareness Month……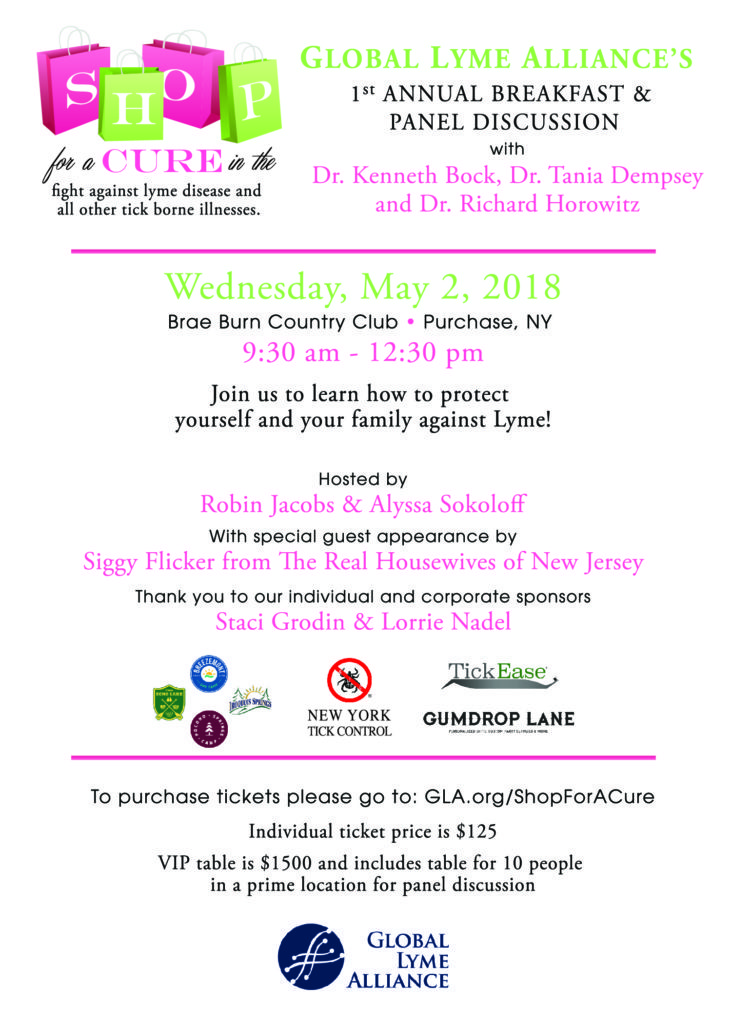 The Global Lyme Alliance (GLA), a leading tick-borne disease organization dedicated to supporting Lyme and tick-borne disease research and education, will be hosting its sixth annual Shop for a Cure event on Wednesday, May 2, 2018 from 9:30 a.m. to 12:30 p.m. at Brae Burn Country Club in Purchase, NY. Motivational speaker and television personality, Siggy Flicker from the "Real Housewives of New Jersey," will be making an appearance at the event and showing her support for the cause.
This year, the event is bringing together three of the most renowned authorities on Lyme and tick-borne diseases for a panel discussion over breakfast. Dr. Kenneth Bock, Dr. Tania Dempsey and Dr. Richard Horowitz, will discuss the latest in the fight against the debilitating disease as well as how to prevent it and the associated co-infections associated with Lyme.
As in previous years, the Shop for a Cure event will feature women's, children's and home vendors, who will be donating a portion of proceeds to GLA in support of its research and education initiatives. In addition to the merchandise that will be for sale, attendees can also take part in a silent auction for a variety of great prizes.
"For our sixth Shop for a Cure event, we're bringing some of the most well-known and respected Lyme-literate doctors together for an informative discussion about the disease," said Alyssa Sokoloff, event organizer and GLA Board of Directors member. "While I have personally suffered from this terrible disease and the myriad of Lyme disease's debilitating symptoms, it is the hope of preventing anyone else from facing what I have that drives me to raise awareness of Lyme and all tick-borne illnesses."
For more information about this year's Shop for a Cure event, or to purchase tickets, visit GLA.org/ShopForACure
About Global Lyme Alliance
Global Lyme Alliance (GLA) is the leading 501(c)(3) dedicated to conquering Lyme disease through research, education and awareness. GLA has gained national prominence for funding the most urgent and promising research in the field, while expanding education and awareness programs for the general public and physicians. Learn more at GLA.org.