Stephen Antonakos: Proscenium 
+ 
Bending Light: Neon Art 1965 to Now 
ON VIEW FROM JANUARY 28 THROUGH JUNE 24, 2018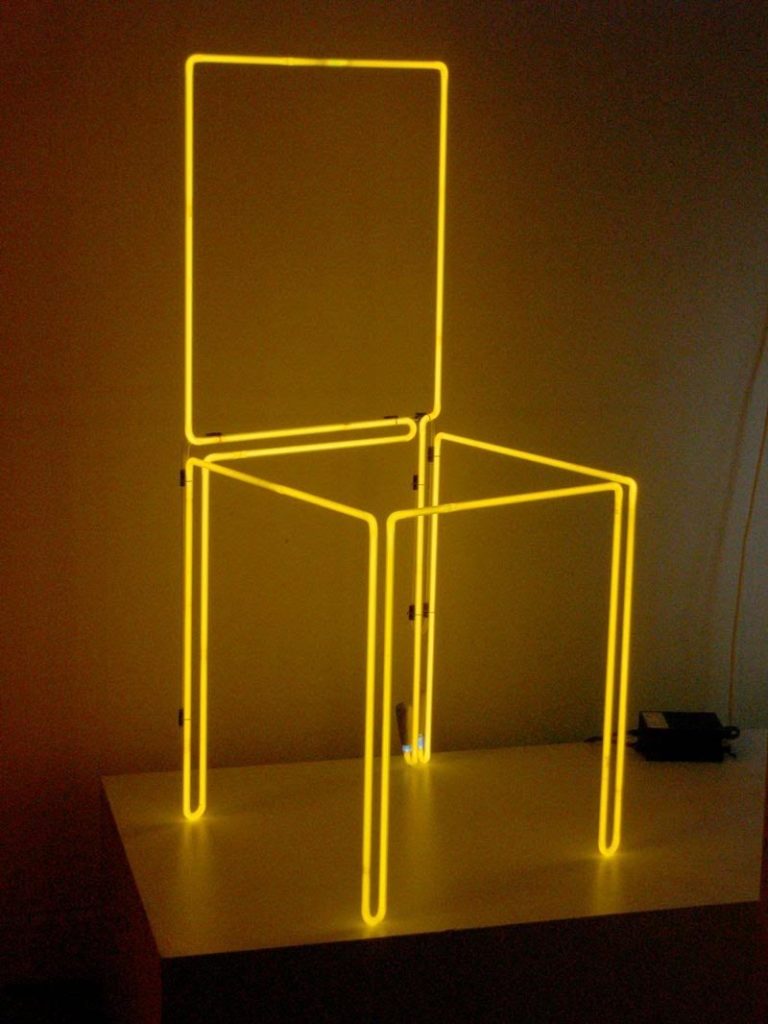 Neon signs are an iconic part of the urban American landscape; they have been illuminating brands for nearly a century.brands for nearly a century.–It's something that we have gotten used to seeing all around our neighborhoods. We also see neon business signs all around, these are meant to enchant us to enter the shops we see. It's a great tactic to attract customers and to make the shop have more appeal. But neon also has attracted artists who have realized its potential as vehicles for expression and commentary. Beginning January 28, 2018, the Neuberger Museum of Art at Purchase College will shine a new light on neon as an art form, presenting two illuminating exhibitions: Stephen Antonakos: Proscenium + Bending Light: Neon Art 1965 to Now. 
Proscenium, curated by Helaine Posner, Chief Curator, features a monumental, site-specific work, originally created in 2000 for the Neuberger Museum's vast Theater Gallery. Named for a type of Greek stage, Proscenium wraps and brilliantly illuminates the Gallery's perimeter walls, animating the darkened space with vibrant color, glowing light, and calligraphic line. A pioneer in the use of neon as a fine art material, Antonakos (1926-2013) created "luminous environments that are both tangible and transcendent," notes Ms. Posner. "His neon installations are classic studies in light, space, and form." She points out that the formal radiant beauty of Proscenium "evokes a mystical relationship, for the essence of this experience is light, which from time immemorial has been associated with spirituality and the divine presence." As Antonakos once described it: "For me, neon is not aggressive but it has certain powers. I simply thought so much more could be done with it abstractly than with words and images. I had a feeling it could connect with people in real, immediate, kinetic and spatial ways."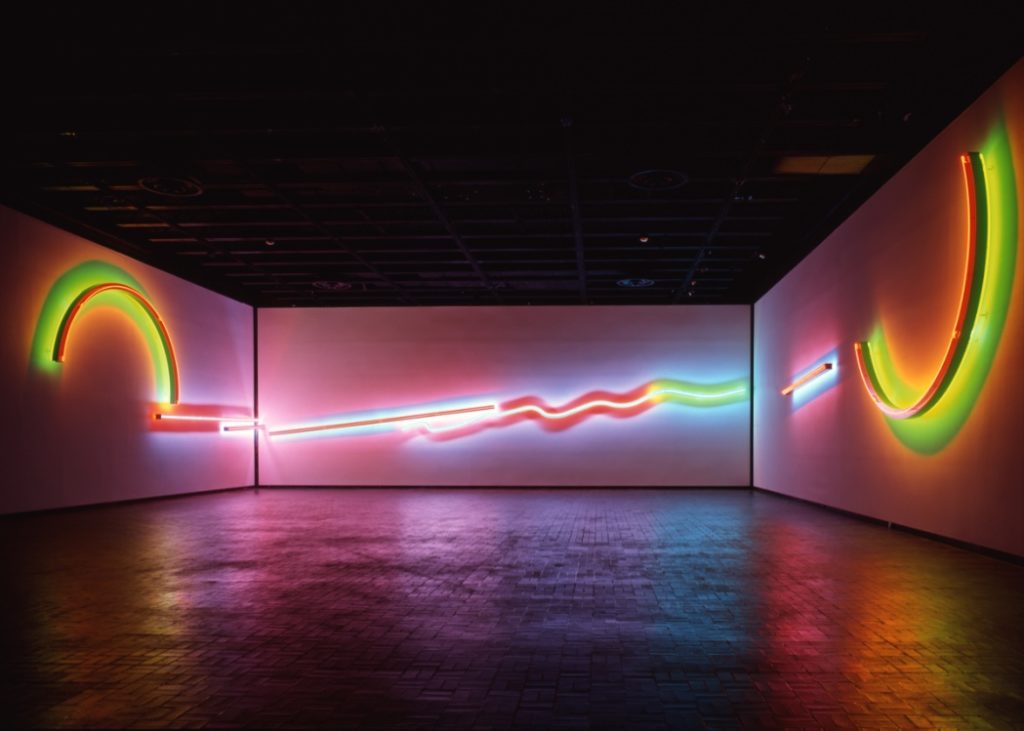 Bending Light: Neon Art 1965 to Now presents the work of twelve artists who explore the use of this versatile medium as well as their close collaboration with skilled glass-benders. The exhibition will focus on the oft-blurred lines between commercial and fine art, and consider the complicated interplay among light, chemistry, and artistic vision. Featured are iconic works from the Neuberger Museum's permanent collection as well as works on loan from public and private collections. Curated by Avis Larson, Assistant Curator, the exhibition highlights the work of Stephen Antonakos, Sarah Blood, Chryssa, Agnes Denes, Tracey Emin, Cerith Wyn Evans, Glenn Ligon, Kadir López, Ivan Navarro, Paul Seide, Keith Sonnier, and Rudi Stern. Works on view include Chryssa's Ampersand V (1965), Keith Sonnier's Chila (2016), Stephen Antonakos's Untitled (For Sally Yard) (1985), Tracey Emin's The Kiss Was Beautiful (2013), and Glenn Ligon's Warm Broad Glow (2005).
In Bending Light: Neon Art 1965 to Now, artists use neon to expand concepts of language and message, light and line, technology, and the ethereal materiality of the trapped gas. Beginning in the 1960s, artists and fabricators alike experimented with traditional techniques in new and inventive ways. Whether capturing the gesture of a handwritten word, the precise geometry of a drawing, or a sketch drawn on a napkin, the benders helped transform neon from an advertising tool into an art form. The exhibition includes work fabricated by the following studios: Let There Be Neon, Lite Brite Neon, Spectrum on Broadway, and by the artists.
Stephen Antonakos: Proscenium + Bending Light: Neon Art 1965 to Now is organized by the Neuberger Museum of Art, Purchase College, State University of New York, and curated by Avis Larson, Assistant Curator and Helaine Posner, Chief Curator. Generous support for this project is provided by the Friends of the Neuberger Museum of Art and by the Purchase College Foundation.
Special events
Exhibition Opening Reception
Wednesday, February 14, 4:30 to 7:30 pm
Love the Neuberger Museum on Valentine's Day! Join us for the opening reception of
NEON:  Stephen Antonakos: Proscenium; and Bending Light: Neon Art 1965 to Now, and From Motherwell to Hofmann: The Samuel Kootz Gallery.  RSVP: nma.rsvp@purchase.edu.
In Conversation
Wednesday, February 28, 4:30 to 6 pm
In conjunction with NEON:  Stephen Antonakos: Proscenium + Bending Light: Neon Art 1965 to Now, the Neuberger Museum of Art will present "In Conversation: NEON", a discussion with Thomas Rinaldi, author of New York Neon; Jeff Friedman, owner of Let There Be Neon studio, and Sarah Blood, contemporary mixed-media artist. Avis Larson, Assistant Curator at the museum will be the moderator. This event is free for Neuberger Museum Members, Purchase College Students, Faculty, & Staff, and $5 for non-Members.
RSVP: nma.rsvp@purchase.edu.
—
The Neuberger Museum of Art opened on the campus of Purchase College, SUNY, in 1974 with a core collection donated by one of the greatest private collectors, philanthropists, and arts advocates of the twentieth century, Roy R. Neuberger. Today, the Neuberger is more active and vibrant than ever.  Critically acclaimed exhibitions and a wealth of educational tours, lectures, and interactive programs engage the many parts of our broad community.  The Neuberger is a center of teaching and learning for all stages of life.
 The Museum is located at 735 Anderson Hill Road in Purchase, N.Y.  (Westchester)
(tel)  914-251-6100    www.neuberger.org
Museum Hours
Wednesday to Sunday: noon-5 pm
Wednesday: noon-8 pm*
Monday: Closed
*Labor Day to Christmas and MLK Day to Memorial Day
Closed major holidays
Group tours by appointment only on Tuesdays through Fridays, 10 am to 12 noon
For persons with special needs, designated parking is available at the south end of the Museum building. Call ahead for wheelchair accommodations.
 Guided Tours
 Docent-led tours are available by appointment. Fees are $8.00 per person. For more information or to book educational tours, please contact the Museum's Education Department at nma.education@neuberger.org
Museum Store                                                                                                       
Open during Museum hours. The store features a broad selection of art books,
art cards, handcrafted jewelry, children's items and one-of-a-kind limited edition gifts.
Admission
$5.00 General Public
$3.00 Seniors 62+
$3.00 Students
Free admission for Museum members, children 12 and under, and Purchase College students, faculty, and staff ; FWMA institutions
FREE to all on the first Saturday of every month; Wednesdays 5-8 pm
 The Museum is located at 735 Anderson Hill Road in Purchase, N.Y