Has your dog charmed you?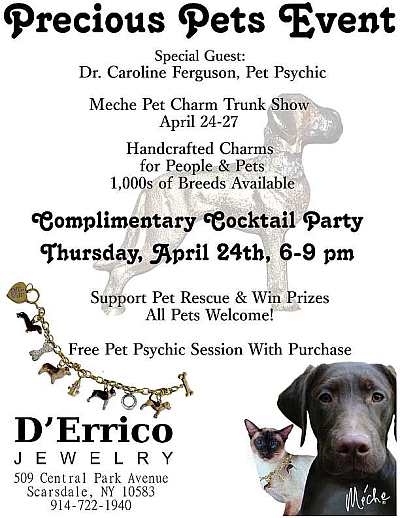 D'Errico Jewelry putting pets and fine jewelry together in its upcoming Precious Pets event.
There's a kickoff party from 6-9 pm, Thursday, April 24th at D'Errico's 509 Central Avenue store in Scarsdale, and a trunk show lasting April 24-27th.
It's working with the Pets Alive Westchester, the Westchester ASPCA, and world-recognized pet charm maker Meche Jewelry to do an event which will give you a chance to get stunningly beautiful pet charms and help out animals in need. Pets Alive's shelter recently had to be evacuated because of structural problems, which makes this event especially important.
There will even be a pet psychic at the kickoff. Everyone who buys a charm will get a reading. Call 914-722-1940 for more information.