Not only is the weather prefect for a BBQ, but National Grilling Month is coming to an end and what better way to celebrate then with tips from a seasoned chef on cooking the perfect steak. It is no secret that many of us wish our steaks tasted more like a "steakhouse steak" after coming off the grill and with these step by step tips from Chef Arturo McLeod of Benjamin Steakhouse Westchester both you and I have the ability to make just that. So in honor of National Grilling Month, heat up that grill!
Grilling Tips from executive Chef Arturo McLeod of Benjamin Steakhouse Westchester
Choosing the Meat
 For grilling, the best cuts are those with more marbling, for example: New York strip, rib-eye and skirt steaks. You also want more marbling in the meat you use for your burgers, so that they don't dry up or fall apart. Steaks should also be evenly-cut, so they come out evenly-cooked.
 USDA Prime meat is ideal. However, if you're using a lesser-quality steak, you can tenderize the meat by punching holes in the surface with a large fork; this will also help to cook the meat faster.
Setting up The Grill
 Get the grill temperature to above 500 degrees. If you don't think your grill is hot enough, put some fat on it to bring the flames up and increase the heat.
 If you can, use natural hardwood charcoal to grill. It gives meat a beautiful, smoky flavor that you don't get with gas or electric grills. Do not use lighter fluid; your meat will come out tasting like it!
Cooking the Steak
 Before putting your steak on the grill, brush on our signature Benjamin Steak Sauce to give it a light sweetness without overwhelming the natural flavor of the steak.
 When making shish kebab, coat the wooden sticks with vegetable oil first, so that the meat and veggies slide off more easily.
 All you need to cook a steak is Kosher salt! It is thicker, has more flavor, and holds better to any meat when you're grilling. Sprinkle it on for a few minutes before you grill and let it marinade.
 If your steak is about 1 inch thick, grill for about 5 to 7 minutes on each side for medium rare. For medium, it will be approximately 8 to 10 minutes, and 11 to 13 minutes for well done.
 Serve immediately. Remember, cold meat loses flavor!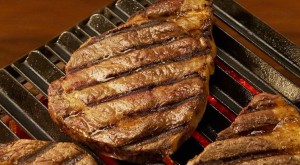 Benjamin Steakhouse Westchester is located at 610 West Hartsdale Avenue, White Plains, N.Y. The restaurant is open Tuesday- Thursday from 4P.M. to 10P.M., Fridays and Saturdays from 4P.M. to 11P.M., Sunday from 12P.M. to 10P.M., closed on Monday. Phone: 914-428-6868, www.benjaminsteakhouse.com.