BLT Deviled Eggs-A light appetizer I learned this From Rachel Ray
Turkey With herbs de Provence – This is Giada De Laurentis's Recipe.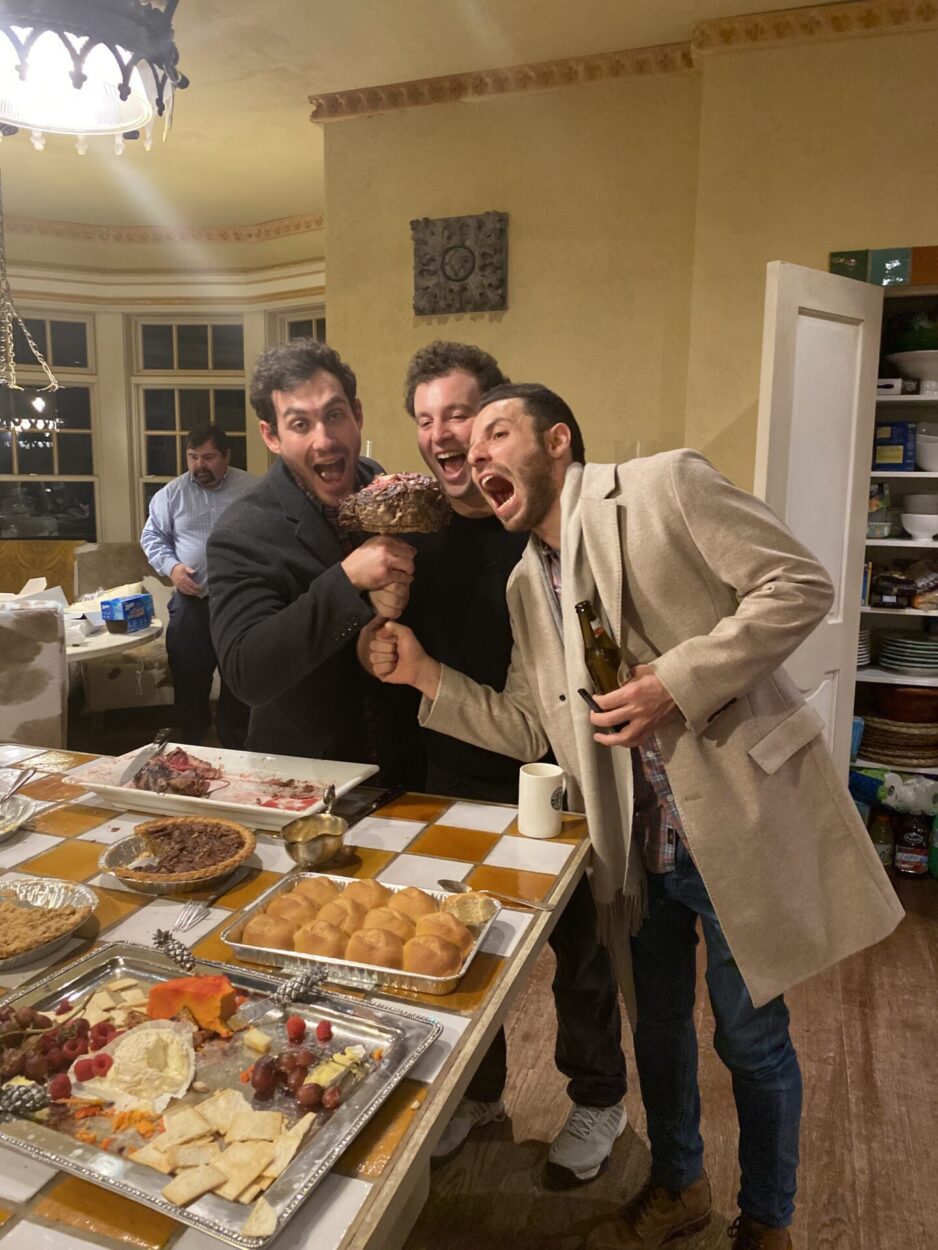 This cranberry sauce is  simple but delicious. If there were one thing I could eat at Thanksgiving, it would be this cranberry sauce.
Ingredients
1 cup sugar
1/2 cup water
1/2 teaspoon cinnamon
1/4 teaspoon allspice
1/4 teaspoon ginger
Two peeled and chopped pears
12-ounce bag of fresh cranberries
Directions
Dissolve the sugar, water, cinnamon, allspice, and ginger items over low heat—about 5 minutes, depending on the heat. Then add the two peeled and chopped pears. Simmer for 5 minutes. Add fresh cranberries and bring to a boil. Turn off the heat when the cranberries begin to pop.
Standing Rib Roast– The Barefoot Contessa


Spinach Gratin–The Barefoot Contessa


Macaroni and Cheese–The Barefoot Contessa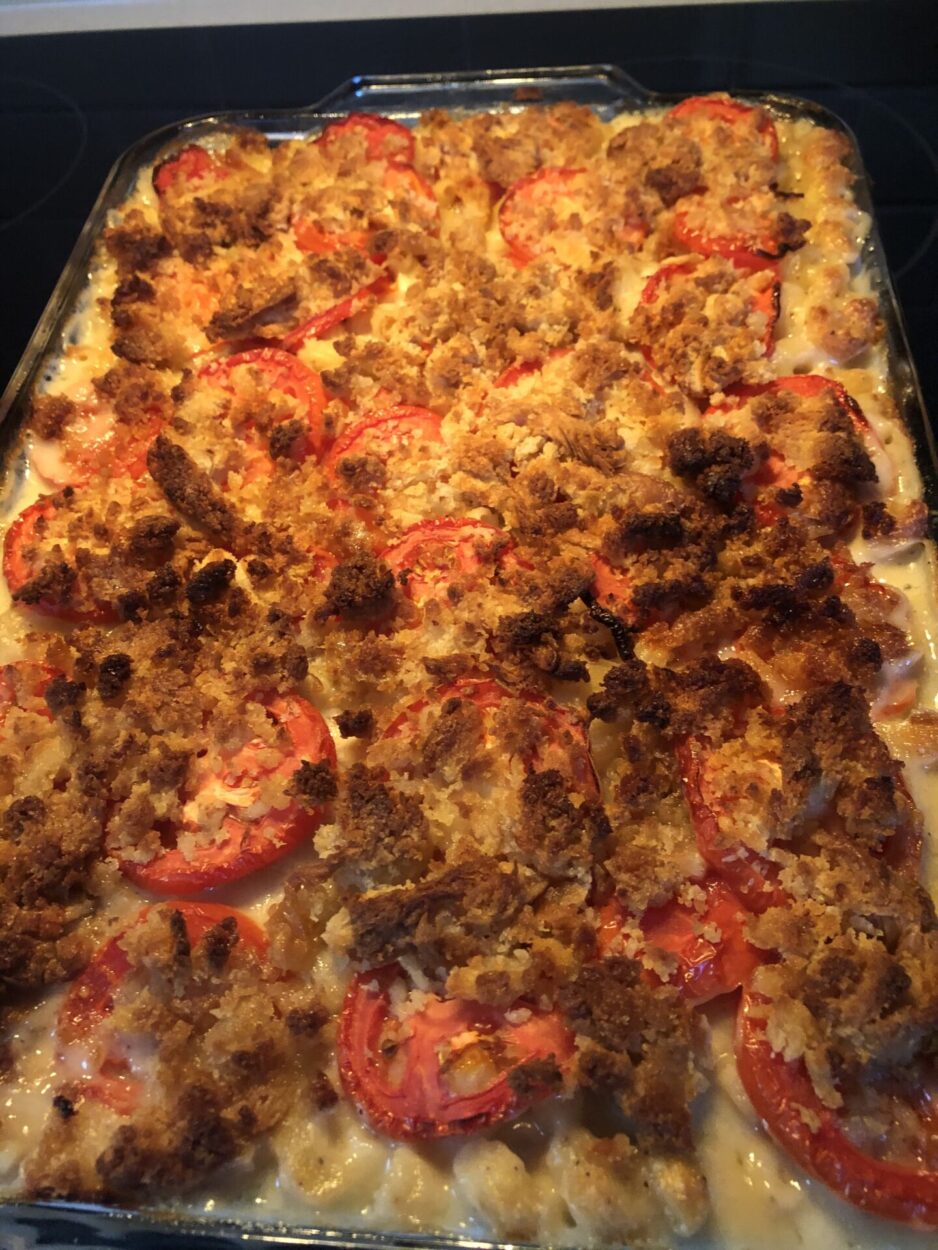 Stuffing
Pick your favorite bagged stuffing at the market, I usually picked herb . Prepare according to the directions, I like to use chicken broth instead of water.
Saute a choppedo nion, chopped mushrooms, chopped garlic, chopped celery, and diced pancetta.
Add a chopped apple, raisins and chopped walnuts
Mix it all up
Serve Warm
Enjoy
Wild Rice–
Buy some pork sausage , brown it and added to the recipe below:
1/4 cup (1 stick) butter
1 large onion, chopped
1 garlic clove, minced
3 1/2 cups canned low-salt chicken broth
1-2 cups wild rice
1 cups dried cranberries
1/2 cup chopped fresh parsley
2 tablespoons chopped fresh thyme
1 cup pecans, toasted & chopped
1/2 cup chopped green onions
Melt butter in heavy large pot over medium-high heat. Add onions and garlic and sauté until tender, about 4 minutes. Add chicken broth. Bring to boil. Add wild rice. Reduce heat to medium-low. Cover and simmer 30 minutes. Cover and simmer until rice is just tender and most liquid is absorbed, about 30 minutes longer.
Stir cranberries, parsley and thyme into rice (this is where I add the browned sausage). Cover and cook until liquid is absorbed, about 5 minutes longer. Mix in pecans and green onions. Season generously with salt and pepper.
__________________
Yams
Made  canned yams and topped with marshmallows, this recipe for candied yams is a Thanksgiving favorite.
Prep Time: 15 minutes Cook Time: 30 minutes Total Time: 45 minutes
Ingredients:
1 can yams OR 4 fresh yams
1/4 cup butter
1/2 bag miniature marshmallows
1/2 cup orange juice OR 1 orange, sliced
1/4 cup brown sugar
Preparation:
Drain yams and discard liquid. Arrange in baking dish. Pour orange juice over yams. Sprinkle liberally with brown sugar. Dot with butter. Sprinkle with marshmallows, if desired. Place orange slices on top.
Bake for 30 minutes at 350 degrees or in any oven temperature (for example, along with the turkey) until marshmallows melt and liquid is bubbly.
Serves 6.
Yorkshire Pudding The perfect side dish to a Standing Rib Roast
The Best, Quick and Easy Yorkshire Pudding Recipe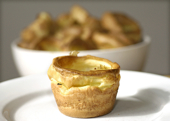 A classic Yorkshire Pudding is quick, easy to make and with this, my best Yorkshire Pudding recipe, guarantees success every time. A traditional Yorkshire Puddings fresh from the oven should be well-risen, golden brown with a crisp exterior and soft middle.
Yorkshire Puddings are one of the major components of England's national dish, Roast Beef and Yorkshire Puddings, a regional dish with national (and international) appeal.
Watch A  Video of How to Make Perfect Yorkshire Puddings
Prep Time: 15 minutes  Cook Time: 25 minutes Total Time: 40 minutes
Ingredients:
4 large, fresh eggs, measured in a jug
Equal quantity of milk to eggs
Equal quantity of all purpose/plain flour to eggs
Pinch of salt
2 tbsp lard, beef dripping or vegetable oil
Preparation:
Serves 6
Heat the oven to the highest temperature possible, however, do not exceed 450F/230C or the fat may burn.
Pour the eggs and milk into a large mixing bowl and add the pinch of salt. Whisk thoroughly with an electric hand beater or hand whisk. Leave to stand for 10 minutes.
Gradually sieve the same volume of flour (as the eggs) into the milk and egg mixture, again using an electric hand beater or hand-whisk to create a lump free batter resembling thick cream, if there are any lumps pass the batter through a fine sieve.
Leave the batter to rest in the kitchen for a minimum of 30 minutes, longer if possible – up to several hours.
Place a pea-sized piece of lard, dripping or ½tsp vegetable oil into your chosen Yorkshire pudding tin, or a 4 x 2″/5cm hole tin or 12-hole muffin tin and heat in the oven until the fat is smoking. Give the batter another good whisk adding 2 tbsps of cold water and fill a third of each section of the tin with batter and return quickly to the oven.
Leave to cook until golden brown approx 20 minutes. Repeat the last step again until all the batter is used up.
*** Cold left-over Yorkshire Puddings make a lovely snack with a little jam or honey.
Pumpkin Cheesecake Squares–

Thanks to fellow blogger and tweeter

janaemonir.

Check out her beautiful blog  for more delicious recipes.
Be thankful for what you have.  Happy Thanksgiving.