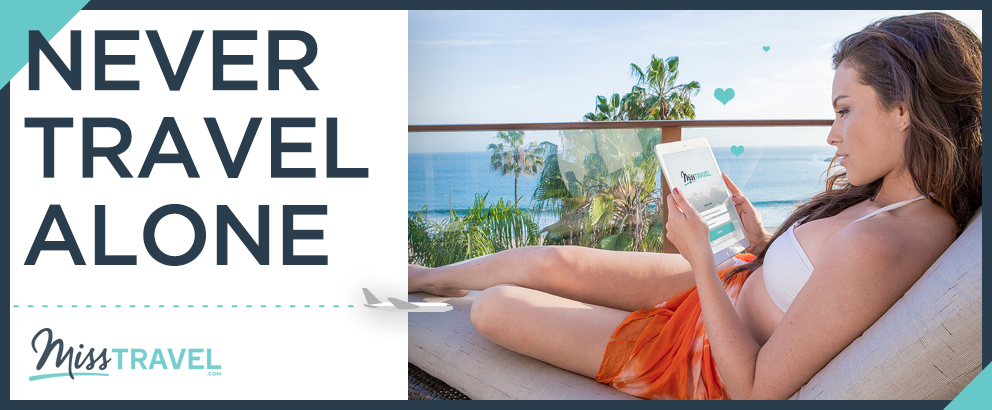 Scoring a date in a foreign country just got a whole lot easier. Three years ago, MissTravel.com pioneered the concept of travel dating to the world, and now it is taking its business model to mobile.
The MissTravel app breathes new life into the mobile dating industry with innovative features such as trip offers, allowing users to invite others on first dates to explore far-flung destinations in the hopes of finding romance. The mobile app is built with frequent travelers in mind, as well as daters who are interested in finding love outside of their city's dating pool.
MissTravel.com was recently featured on a Nightline special: Going on a Free Romantic Getaway With a Stranger. Tulane University student, Kesslynn, wanted to take a trip for spring break, but could not afford to do so. She logged on to MissTravel.com where she met Dave, a 26 year old computer programmer, who was planning a weekend getaway to Miami. Kesslyn accompanied Dave on an all-expense-paid trip as she agreed to a destination first date.
To inspire trips around the world, the site created a suspenseful trailer inviting users to get taken…on the trip of their dreams!
Travel-Dating Site Launching Mobile App
Traveling together is the one of the biggest test of a relationship — but why wait?  MissTravel.com is releasing a new travel-dating app that let's singles get past that pivotal milestone during the very first date. The new app will be released in summer 2015.
With just a few swipes and taps on a screen, travelers can arrange everything they need for the perfect trip. There are apps for booking plane tickets, hotels, cars, cruises and even for planning a romantic date. Now, finding a travel partner abroad meets the ease of mobile online dating with the launch of a new travel dating app.
Mobile now accounts for 27 percent of all digital consumer travel transactions. In response to this growing market, MissTravel.com, the world's first travel-dating site, is launching its very own app.
MissTravel.com connects adventurous people with a passion for travel and new experiences. Instead of dinner and a movie, singles who meet on the dating site fly to new and exotic destinations for a first date. The new app will bring this service to users' fingertips.
In addition to simply browsing singles in certain geographical areas, MissTravel users can also browse trip types. Whether it's luxury, romance, adventure or a foodie trip, the website provides a way for like-minded travelers to connect with those who share their interests.
"Connecting people who want to experience the world together is our main focus." said Brandon Wade, founder and CEO of MissTravel.com. "With the launch of the MissTravel app we are making the site accessible to even more singles who want to experience the thrill of travel dating."
The MissTravel app is slated to launch in summer 2015.
Related articles