Although Mint Juleps can be enjoyed year round, arguably the best time to savor this delicious cocktail is leading up to and throughout Derby weekend!
To help you prepare for race day celebrations, Bulleit Frontier Whiskey has been working with some of the top mixologists in the nation to develop recipes inspired by different regions of the country.
Representing the Southeast, Charlotte-based mixologist Bob Peters created "The Queen's Julep" cocktail as every Carolinians go-to cocktail on May 2nd
Dubbed as "King Cocktail", Dale DeGroff knows a thing or two about making cocktails as he's pioneered many new mixology trends over the past 25 years
Chicago mixologist Adam Seger created "Windy City Julep" cocktail including ingredients made in the Chicago area
Whether you are hosting a viewing party or stopping by your favorite spot to watch the fastest two minutes in sports, these three recipes are unique and flavorful.
Southeast
The Queen's Julep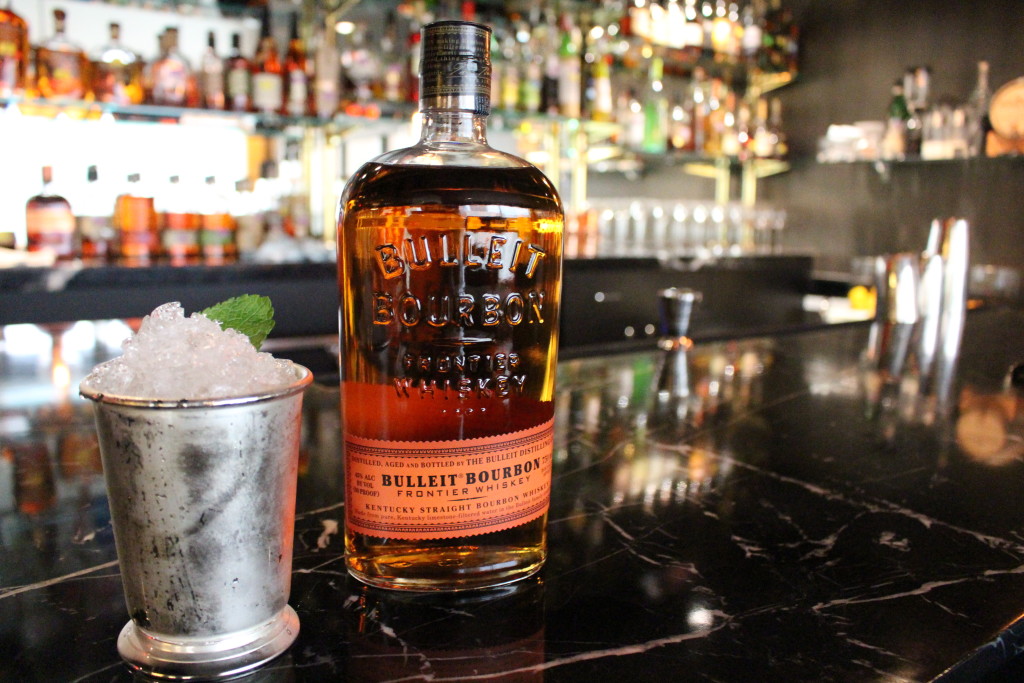 Recipe by Punch Room Head Mixologist Bob Peters
Ingredients:
1.33 oz. Bulleit Bourbon
0.5 oz. simple syrup
0.5 oz. Fernet Branca Menta
8 fresh mint leaves, muddled
Muddle mint leaves in a shaker. Pour Bulleit Bourbon, simple syrup and Fernet Branca Menta into shaker with ice and shake. Double strain and pour over crushed ice in a julep cup. Garnish with fresh mint sprig.
Northeast
Modern Mint Julep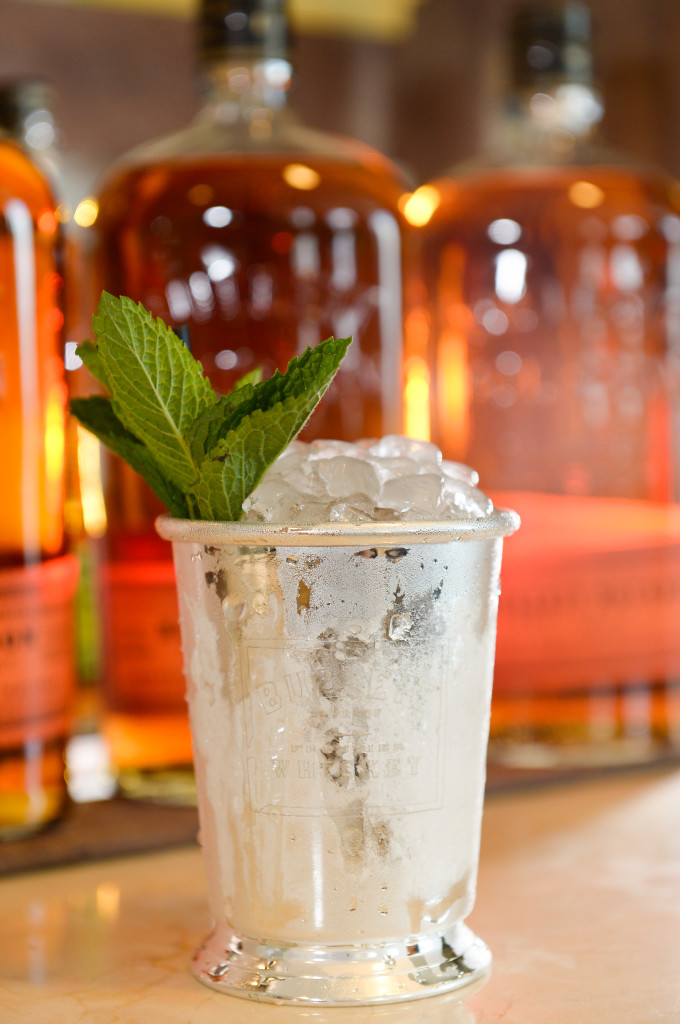 Recipe adapted by King Cocktail Dale DeGroff
Ingredients:
1.33 oz. Bulleit Bourbon
0.75 oz. simple syrup or 1 tsp. sugar
4 fresh mint leaves and a sprig of mint (use tender, young sprigs which last longer and look better)
Preparation: Prepare some very cold, very dry powdered ice by crushing chunks of ice inside a canvas ice bag. Bruise the mint leaves in the bottom of a julep cup with simple syrup or sugar. Add ice to the three quarter mark and add half of the bourbon. Stir to chill the julep cup. Top off with more powdered ice and the remaining bourbon. Continue to stir until the outside of the cup begins to freeze. Garnish with the mint sprig and set aside to rest while the julep cup freezes over on the outside. Pick up carefully to imbibe.
Midwest
Windy City Julep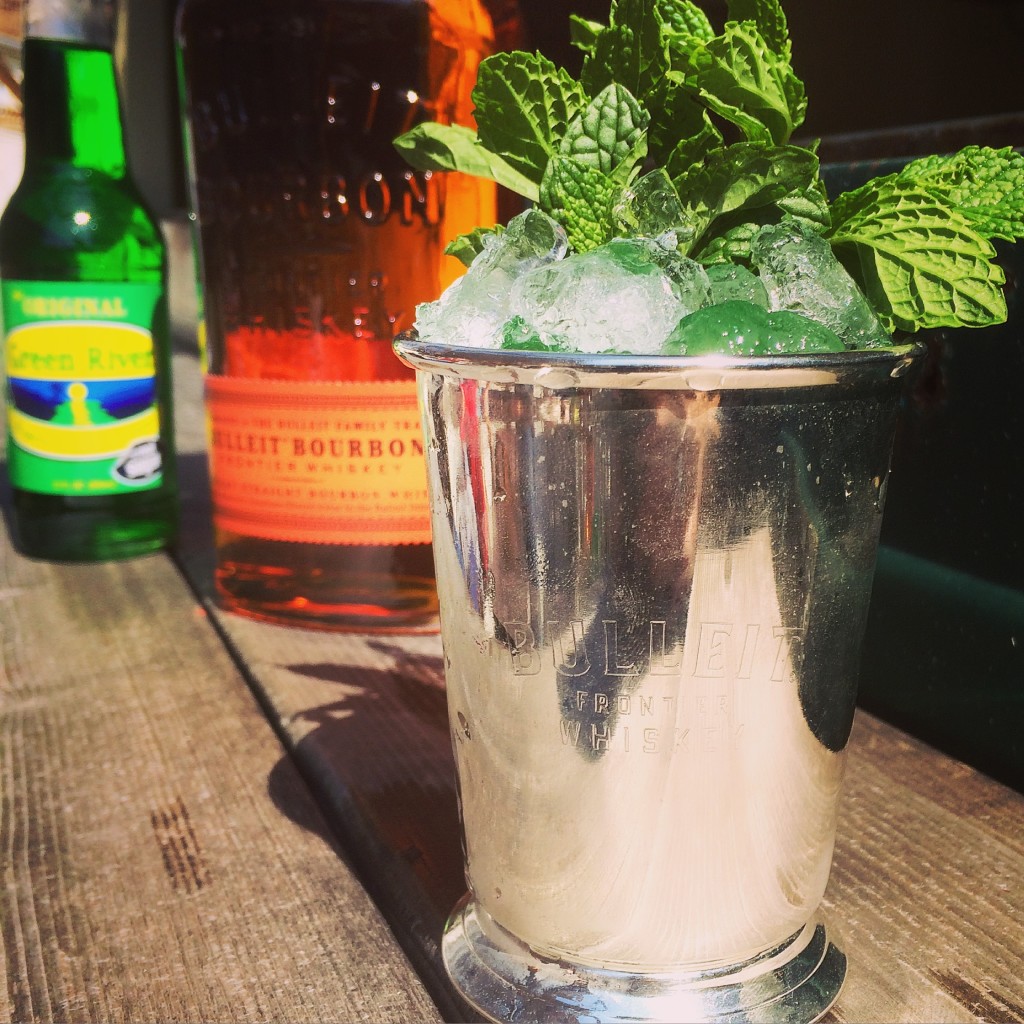 Recipe by Renowned Chicago Bartender, Adam Seger
Ingredients:
1.33 oz. Bulleit Bourbon
6 oz. chilled Chicago Green River Pre-Prohibition Soda
Generous bouquet of slapped fresh mint
Preparation: Fill a julep cup with ice cubes to chill. Fill a clean towel with ice and smash the crap out of it to crush the ice. Discard the ice cubes from the cup and fill with the crushed ice. Fill cup 3/4 full with Chilled Chicago Green River Pre-Prohibition Soda. Top with Bulleit Bourbon and a generous bouquet of slapped mint.  The carbonation will naturally rise since the bourbon is heavier and the drink will naturally mix. Cut your straw short so you smell the mint. (Optionally add a splash of maple syrup if you prefer your julep sweeter.)