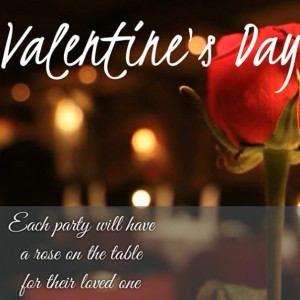 Raise your glass during a champagne toast and celebrate this Valentine's Day with that special someone at Benjamin Steakhouse Westchester. The restaurant will be open for Valentine's Day dinner from 4p.m. until 11p.m. Join acclaimed Chef Arturo McLeod while he prepares a scrumptious dinner that will make this Valentine's Day one to remember.
Benjamin Steakhouse Westchester has created a delectable menu specifically for Valentine's Day dinner. For appetizers, guests can choose between various seafood plates including Blue Point Oysters (half dozen on the half shell), Jumbo Lump Crab Cake, Jumbo Shrimp Cocktail with Arturo's delicious cocktail sauce, or Baked Clams. For those that are not seafood lovers, other options include a seasonal Greens Salad of organic mesclun greens and fresh tomatoes or a Valentine's Day favorite of sweet and smoky Canadian bacon served with Chocolate-Cayenne dipping sauce.
Entrée options will please both meat lovers and seafood enthusiasts. Guests can choose between the Dry-Aged USDA Prime, Chef selected Porterhouse Steak, Filet of Chilean Sea Bass, USDA Prime Filet Mignon, Dry Aged USDA Prime Rib Eye Steak or Surf and Turf that includes Lobster Tail paired with USDA Prime Filet Mignon. Diners can also choose one scrumptious side per person. Choices include creamed spinach, broccoli, Benjamin home fries, mashed potatoes, onion rings, cottage fries or asparagus.
Make sure to save room for dessert with freshly brewed tea and coffee. Make this Valentine's Day dinner one to remember with someone special at Benjamin Steakhouse.
The cost for the dinner is $79.00 per person not including tax and gratuity. Benjamin Steakhouse Westchester is located at 610 West Hartsdale Road in White Plains, N.Y. To make reservations, please call (914) 428-6868.