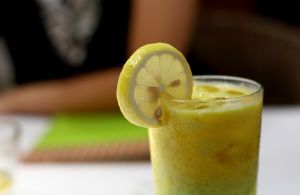 If done correctly, juicing can be an incredibly effective way to lose weight. However, most fruits contain a lot of natural sugar, which can make weight loss difficult. Therefore, you'll want to be sure to use juicing recipes that include lots of nutritious vegetables and only a little fruit for added sweetness if weight loss is your primary goal.
Most juicing recipes that are designed for weight loss are very nutritious and satisfying. After all, if your weight loss-juicing regimen doesn't fill you up, you are more likely to reach for less healthy food choices to chase away those hunger pangs. You may to experiment a bit to find combinations that work best for you, but that's half the fun of becoming a juicer!
When selecting ingredients for your juicing recipes, be sure to use fresh produce that has been cleaned thoroughly. Whenever possible, buy organic locally grown fruits and vegetables. Produce is at its healthiest when it is right off the plant. Buying locally grown foods that are currently in season means it won't spend days in transit to your local grocery store. Although organic items cost more, taking that extra step will limit the amount of harmful chemicals and pesticides you consume.
Weight Loss Juicing Recipes:
Citrus Mint Juice
1 grapefruit, peeled
2 oranges, peeled
20 stems lemon mint (use regular if you can't find the lemon variety)
1 large seedless cucumber
Cucumber and Tomato Juice:
4 medium ripe tomatoes
2 medium seedless cucumbers
1 stalk celery with top
½ lime
¼ teaspoon cayenne pepper.
Green Pineapple Juice:

1 cup fresh pineapple chunks, core and skin removed
5 stalks celery with tops
1" piece of ginger
1 large bunch kale leaves
Gingered Pear Juice:
1" piece of ginger root
2 large ripe pears, stems removed
1 large seedless cucumber, peeled
1 lime, peeled
1 bunch baby spinach
For all recipes, thoroughly wash and juice all ingredients. Serve immediately.