Every time I see a post on Instagram from Jessie Rubin Studio I can't help but give it a like.  Her vibrant colorful hearts always makes me smile.  When I found out she was from Westchester I knew I had to meet her.  Due to Covid-19 we still haven't met in person, but I am sure you will love her too.
Where did you grow up?  Where do you live now?
I grew up in Chappaqua, NY — and now I live, with my husband and two boys, in Chappaqua! Guess I didn't make it very far from home! Ha!
What was your career path after college?
I was a Government major at Cornell University and then went off to law school at Washington University in St. Louis, MO.  Despite my absolute love for the Midwest, after law school, I came back to NY and practiced law at a firm in Manhattan. I worked as a litigator for a decade until I moved to the suburbs, went part-time, and made some room for art back in my life.
How did you get from attorney to artist?
We moved to Westchester when I was very pregnant with my second son and my older son was around 2. It was a period of change for us – both personally with our growing family, and professionally, having gone part-time and remote for my job. After I had my second son, I became further entrenched in my role as mom and (to be completely honest) felt that I really lost touch with myself/my identity.  I felt a little bit alienated in the suburbs and with little kids, a little bit overwhelmed about what the future would hold…. and I turned to my most honest roots, my art.
How did you decide to start JessieRubinStudio?
I never intended to make a business out of my passion and joy for art. My first few paintings were basically my version of love letters to my kids. Bright, happy, colorful, layered, and literally full of hearts and love. Friends would come over (back in 2018/19) and ask me about the artwork they saw in my playroom, entryway, etc. I would admit to making them (I felt very self-conscious)! Friends began asking if I would make art for their homes, then friends of friends, and then strangers, and then stores! I realized I needed to get organized if I was going to pursue this path.
How do you juggle making art, children, and husband?
Depending on the day, not particularly well! LOL. I do my best to communicate with my husband, my kids, and my clients on the regular and to prioritize each hour of each day. I drop a lot of balls (but haven't dropped my kids yet, so that's good), but consider myself a work in progress!
There is so much love 💗 in your work.  We love a good love story. How did you meet your husband?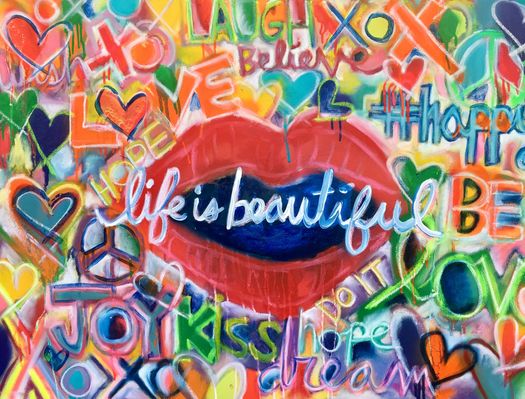 He was in the same fraternity as my cousin at Michigan. Go Blue! We met on a road trip to Lenox, Mass (a place that's near and dear to my heart).
What kind of advice can you tell people who want to find true love?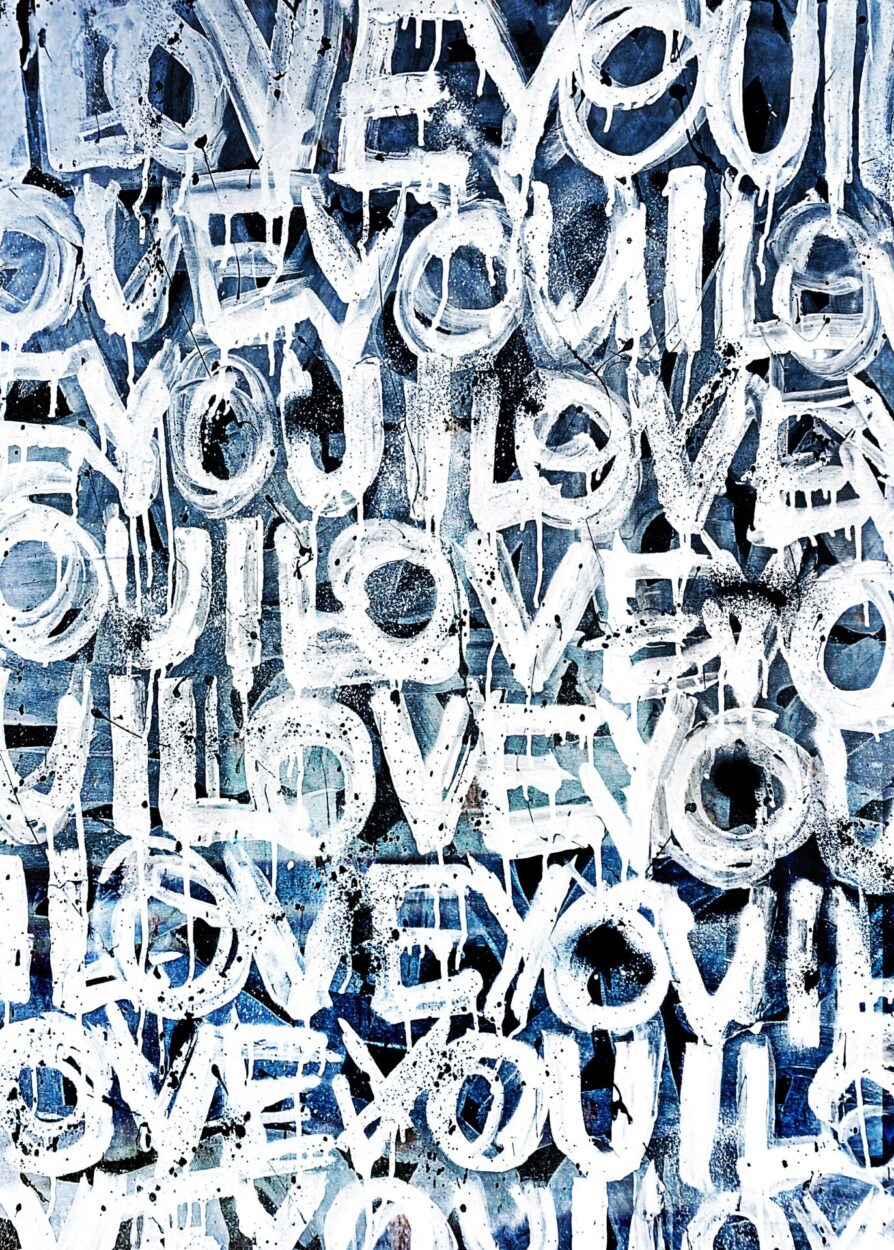 I am no relationship guru, but I believe that it's essential to be true to yourself and trust your instincts! Love yourself first and foremost.
What inspires you?  What connection do you have to your art?
I've always been inspired by bright colors and the freedom to get messy on a canvas! I rarely have a sketch or set plan when I start painting. So much of life requires planning and organization and all the stress that comes with those things; when I paint, I lose track of time and everything around me. I get lost in it in the best way possible.
What does your work aim to say?
I think my art is open for interpretation because there's typically a lot going on between color, shape, and layers. But ultimately, it truly is all borne from love and a desire to translate that love and happiness out into the world.
Who are your biggest influences?
Back in the day, my mom was an assistant to Robert Motherwell and Sol le Witt, she also taught art. I grew up around really stunning art. She has always encouraged me to pursue my passion for art (but is always sure to be 100% honest about what she loves and loves slightly less). My dad loves everything I do no matter what, haha! He's definitely my biggest fan!
I love that your art is just not for walls. You have so many products.  Tell us more about it. What's next?
I've had so much fun putting my art on acrylic trays, coasters, and other home decor accessories. It's been an absolute joy to see the different ways in which I can utilize my art in products that bring color and joy to different parts of people's homes. I have some really exciting collaborations coming up in 2021, as well as some new products I'm developing as we speak!
I found you on Instagram. Where else can I find your work and how can
I purchase it?
I recently launched a fun and easy to navigate e-commerce website,
www.jessierubinstudio.com
– there you can find small gifts starting at $25, acrylic and framed prints reproductions of my original work, and even available original work! Tons of great gifting options for the holiday season!