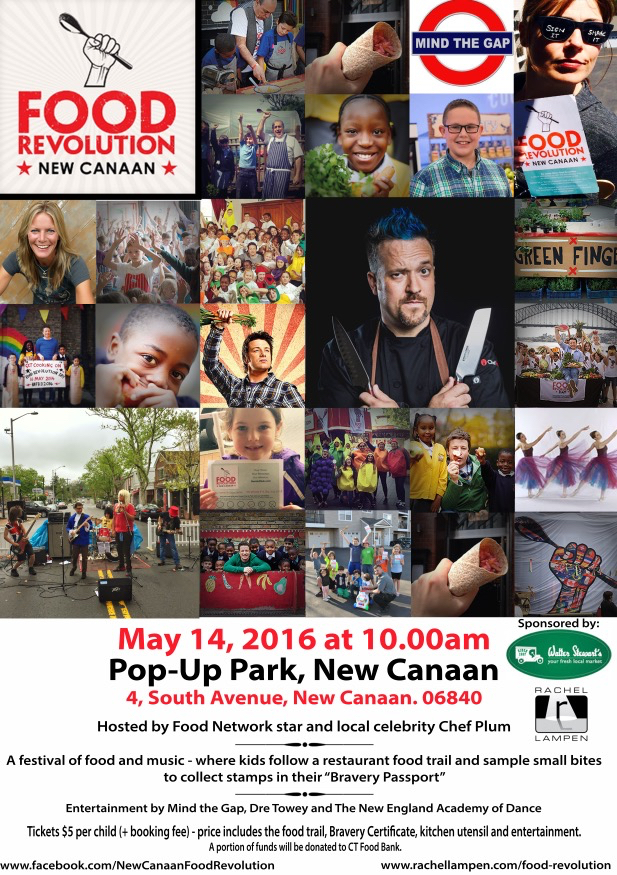 The Jamie Oliver Food Revolution returns to the Pop Up Park in New Canaan, Connecticut for its 3rd year on Saturday, May 14th between 10am – 12.30pm.
The event centers around a "Bravery Passport" – designed to encourage children of all ages to walk a food trail of local eateries and sample small bites – breaking down barriers about food they 'think' they may not like or even want to try. This was to reinforce Jamie Oliver's wish 'To create a strong sustainable movement to educate every child about food, inspire families to cook and empower people everywhere to fight obesity' in a fun and memorable way.
This year, the event will be hosted by Food Network star and local celebrity, Chef Plum – who will be joined with Teen Chopped champion Hunter Zampa. There will be live entertainment with Dre Towey, who recently released her children's album In a Pickle. The 15-catchy and fun songs all reference food, to encourage a healthy and fun conversation between parents and their children. Local band Mind The Gap will be rocking out and the New England Academy of Dance will be performing the latest from Cinderella.
Food Ambassador Rachel Lampen says: "The event has become a Fairfield family favorite and it's the feedback from parents which is so encouraging. One Mom wrote the following on our Facebook Page:
'I posted here just after your event, but I had to come back to say that a month later, we are still enjoying the success of the Food Revolution. I was at my wits' end before the event; maybe 5 nights out of 7, my 4-year-old would refuse to eat dinner or wouldn't eat more than a few bites. I was doing everything I could think of: shopping together, meal planning together, cooking together, food in the shape of Frozen characters. But if it wasn't tacos or pizza, he wasn't interested, and I refused to let him subsist on nothing but carbs and sugar. Since the event, he has embraced the idea of being "brave" and taking an "adventure bite" of a new food. In the last few weeks he has happily eaten everything from Thai coconut curry to parts of a cioppino and even an apple-turkey burger with (gasp) cheese on it! This is huge. Thank you for bringing this event to New Canaan'.
It is such a joy to see the kids really enjoy themselves and the certificate leaves them feeling empowered. We are very grateful to Walter Stewart's Market for their ongoing support in printing these."
Tickets are $5 per child (plus booking fee). In addition to their 'Bravery Passport', participating children receive a bravery certificate and kitchen utensil at the end of the trail. A portion of funds from ticket sales will be donated to CT Food Bank and participants are being asked to drop off non perishable foods. Purchase online tickets HERE.
Special thanks to Edible Nutmeg for media sponsorship. The official Food Revolution is a global annual event – for more details visit: http://www.jamiesfoodrevolution.org
For further information please contact Rachel Lampen at rachel@lampen.co.uk or call (203) 970 8432
Participants include: FT (part of Food Trail)
Alphabet Academy (Pop Up Park FT)
Baldanza Market Café (FT)
Cava (FT)
Chef Marlon Alexander (Pop Up Park FT)
Dayebar (Pop Up Park FT) Seared maple ginger salmon/ over a spicy orange juice, ginger & dill dressing
Elm restaurant – BBQ Beets (FT)
Fishtales Seafood – Crab and corn fritters (FT)
Fjord Fish Market – Salmon in phyllo pastry cups with creamy dill sauce (FT)
Gates (FT)
Green & Tonic (FT)
INDIA New Canaan (FT)
Kaahve Coffee (FT) Baklava
Locali (FT)
Green's Market (FT) – Guinep
New Canaan Olive Oil – Basil Lemongrass Olive Oil (FT)
Rosie – Tomatillo Salsa on a Corn Tortilla Chip (FT)
UNcorked (FT)
Walter Stewart's Market (Pop Up Park FT)
Oui Charcuterie (Pop Up Park) Vida Salami tasters
Churncraft (Pop Up Park) Homemade Butter tasters
CT Food Bank (Pop Up Park) Truck
New Canaan Healthfare (Pop Up Park)
Edible Nutmeg (Pop Up Park)
Venture Photography (Pop Up Park)
New England Dance Academy (Pop Up Park)