Barnes & Noble Eastchester Presents RHRC Live! On The Road With Imbolo Mbue Tuesday, August 10th at 7:00 PM
"It's a book to read right now."
Oprah Winfrey, announcing her Summer 2017 book club selection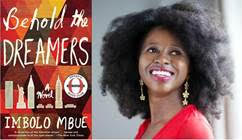 Follow in Oprah's footsteps and read Imbolo Mbue's PEN/Faulkner Award–winning novel BEHOLD THE DREAMERS, the Oprah's Book Club selection for summer 2017! Plus, grab your friends and join Imbolo for a Random House Reader's Circle Live! event at Eastchester's Barnes & Noble concept store on Thursday, August 10, at 7:00 PM.
Enjoy wine and hors d'oeuvres with fellow book lovers as Imbolo shares the events in her life that shaped her critically acclaimed debut novel, which weaves together the story of a Cameroonian immigrant and a Lehman Brothers executive during the 2008 financial crisis. She'll also talk about her writing process, her experiences in publishing, and what it's like to be an Oprah's Book Club selection.
BEHOLD THE DREAMERS is Imbolo Mbue's compulsively readable debut novel about marriage, immigration, class, race, and the trapdoors in the American Dream. Jende Jonga, a Cameroonian immigrant living in Harlem, has come to the United States to provide a better life for himself, his wife, Neni, and their six-year-old son. In the fall of 2007, Jende can hardly believe his luck when he lands a job as a chauffeur for Clark Edwards, a senior executive at Lehman Brothers. Clark demands punctuality, discretion, and loyalty—and Jende is eager to please. Clark's wife, Cindy, even offers Neni temporary work at the Edwardses' summer home in the Hamptons. With these opportunities, Jende and Neni can at last gain a foothold in America and imagine a brighter future. However, the world of great power and privilege conceals troubling secrets, and soon Jende and Neni notice cracks in their employers' façades. When the financial world is rocked by the collapse of Lehman Brothers, the Jongas are desperate to keep Jende's job—even as their marriage threatens to fall apart. As all four lives are dramatically upended, Jende and Neni are forced to make an impossible choice.
Imbolo Mbue is a native of Limbe, Cameroon. She holds a B.S. from Rutgers University and an M.A. from Columbia University. A resident of the United States for over a decade, she lives in New York City. BEHOLD THE DREAMERS is her first novel.