Special Event
Not to be missed!!!
Redefining Muscle Sculpting @PRIMARY AESTHETIC SKINCARE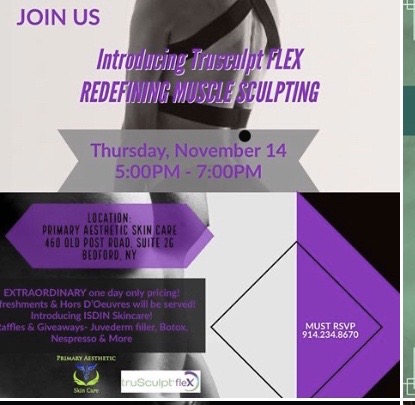 New body, new year, new technology!
Come Thursday Nov 14th
All attendees will  have a chance to win Free Botox for 1 year.
There will be giveaways of Fillers. Espresso Machines, and Free Treatments on the Truflex Machine and BTL
Also, all attendees will have very Special pricing packages. This is only going to be available Thursday Evening November 14 for 5-7 om
You must attend to win.
————————————-
intoducing trusculpt flex!
Redefining muscle sculpting
————————————-
Wednesday, November 14
5:00 pm – 7:00 pm
PRIMARY AESTHETIC SKINCARE
460 Old Post Road, Suite 2G, Bedford, NY
JOIN US! ——–


Must RSVP
914-234-8670
EXTRAORDINARY One Day Only Pricing!
Refreshments will Be Served!
Introducing ISDIN Skincare!
Amazing Raffles & Giveaways!
LIVE TruSculpt Flex Demonstration!
TruSculpt Flex is a personalized muscle sculpting treatment that adjusts to your fitness level, shape and goals to strengthen, firm and tone your muscles!
Get the Workout without the Work!
Kick Start Your New Year Goals & Be Bikini Ready!