When it comes to weddings, women are naturally more excited about the whole idea of walking down the aisle than the man. The dress, the ring, bridal team, reception, conveys, and the vows! Despite the difference in glamour, one of the things that the couple desires most is to make their big day the talk of the town while making the event memorable. Interestingly, weddings are jolly and energetic if well organized. With some creativity and an eye for glamour, there are various ways you can make the jamboree more sensational, colorful, and entertaining. Whether you're a wedding planner or you're organizing your event, here are some tips on how to make a wedding livelier and more fun.
1. Consider Everyone's Comfort
It doesn't matter if you're surrounded by fun people if they're not comfortable at the reception, such as heat and lack of basic facilities. Consider the location and choose somewhere you'll have both a little privacy and a whole lot of comfort. If you plan to have a program after the ceremony, make sure the place is of the right size and amenities to hold your reception. Everyone knows it's your wedding and all but you don't have to make them suffer because you didn't think of how they'd feel.
2. Dig For an Entertainment DJ
This is a major factor when it comes to the reception and determines how long your guests will stay. It might stab your wallet a little deep paying for a Disc jockey for the wedding reception, but it will be a worthwhile investment in the end. Sam Brown says that when getting a DJ for your next event, it is important to pick one with a good reputation. They should also be experienced enough and their style should be in line with the wedding theme. Get a DJ who will work with you and play your preferred playlist at the event. On the same note, you will also want to get an MC who will blend well with both the crowd and the DJ. With the right DJ, the big will be livelier for both the couple and the guests. As the couple, you'll be a step closer to having the best moment of your life on the big day once you've hired a good event DJ.
3. Spice Up With Unexpected Entertainment
It is more than usual that the guests expect the ordinary at any wedding: Food and dance. You need to keep it real and burst the bubble by spicing up your wedding reception with the unexpected. For instance, you can get salsa dancers, a live band, or a magician to bring up the oomph factor. Unexpected entertainment brings out the best in an event. You can go the extra mile by adding a tasting station with wine, whiskey, vodka, rum, and gin. A mixologist can kill the party by serving the best of cocktails, and your guests will walk away, hurling praises to the party for the free cocktails.
4. Sort the Kids Separately
Many have fallen victim to the "children" excuse while at parties. Since you want a memorable day and you want all your guests sorted comfortably, inform them early that the kids will have their corner with a babysitter at their service. For instance, you can get toys, coloring books, crayons, and games to occupy the kids as the parents have a good time and reminisce about the good old days as they shake things up with dances.
5. Get a Spacious Venue
In many parties, movement is limited, and guests forego some things for the lack of enough space. Especially if you're expecting a lot of guests, consider getting a spacious venue to make the event more comfortable for you and your guests. Enough space is needed for dancing, mingling, and snacking. In addition to this, proper air circulation is a key factor when organizing an event. It is constructive, not destructive to divide your reception into distinct areas of drinking, dancing, and chatting. A lounge area is also a plus for those who will choose to have one or more for the road. Especially in these times of the pandemic where social distancing is a requirement at events, a spacious venue will do you more than good.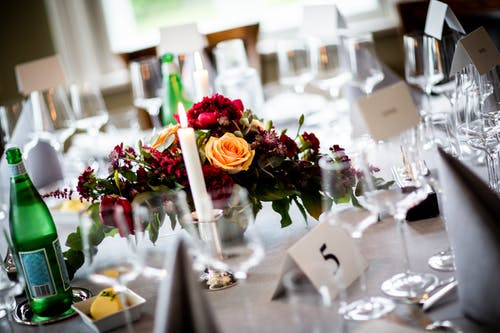 And there you have it. Making the big day jolly and memorable will take some work, but it's all worth it. With the above few tips in mind, organizing a lively and fun event just became easier and less stressful.