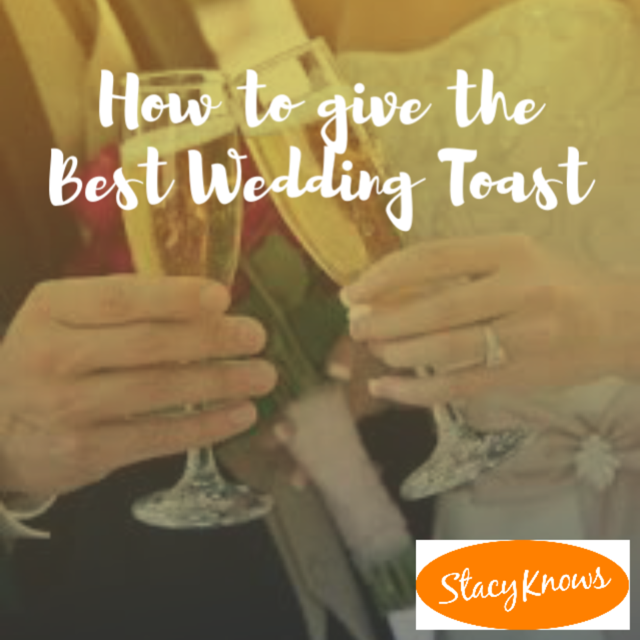 Today, weddings are big business– $60 billion to be exact.  Weddings have taken on a life of their own, with brides and grooms putting each and every detail of their big day under the microscope.  Couples want to make sure that everything is absolutely perfect—from the venue to the wedding gown and everything in between.  
But what about the wedding toast?  This is one area where brides and grooms lack control, leaving couples feeling anxious about what might be said.  Whether you're the father, mother, best man or maid of honor, rest assured that with enough preparation and thought, you can bring your 'A' game to the microphone.  Here are my top ten tips for delivering a stellar wedding toast:
 Get a jumpstart

.  Whether it's nerves or lack of time, many people wait until the last minute to write their wedding toasts.  This is a big mistake for even the most gifted of speakers.  Make sure that you start preparing what you want to say at least two to three weeks in advance of the celebration.  Give yourself some wiggle room for edits and re-drafts.  Build in time to practice your speech aloud, preferably in front of a few trusted friends, to make sure that it flows and resonates well.
 Make it short and sweet.

 Great wedding toasts have a time limit.  No exceptions.  You can allot three to five minutes for your speech.  Anything longer and you will lose people's attention.  Say what you want to say and gracefully let everyone return to the party.  This way you will leave the audience wanting more, not less.
 Think about the audience.  

When you are selecting your material for the speech, think carefully about how this information will resonate with the audience.  Don't pick obscure or embarrassing stories to share with the guests.  Instead, highlight information that everyone in the room, regardless of age, gender or length of relationship with the bride and groom, will appreciate.  Think about how you want people to feel after you've sat down—choose the words that will match the desired effect.
 Make eye contact.  

Making a toast can be a stressful experience.  As a result, most people want to say what they have to say and sit down as quickly as possible.  The downside is that many forget to look up from their piece of paper or index card to make eye contact with the audience and with the bride and groom.  While perfectly acceptable to have the written words in front of you, make sure to look up throughout the talk and show the audience that you want to connect with them.  
 Make stories and anecdotes the backbone.  

The personal stories and memories you share in the speech make up a critical part of your speech.  This is where you can paint a picture of what you want to communicate about the bride and groom.  When deciding which stories to include, keep this rule in mind: if you would not share them with your own grandmother, leave them out.
 Balance humor with heartfelt.   

Wedding toasts that most often hit the mark are the ones that come from the heart, with some humor infused.  There is nothing like funny stories, jokes and laughter to loosen the crowd and make you feel more at ease.  Just make sure that you balance the laughs with healthy and heartfelt sentiment to communicate how you feel about the happy couple.  
 Think spoken, not written.

 Your speech should be akin to a polished conversation.  You should write the speech down, rehearse it and feel comfortable with the words on the page.  This doesn't mean you need to use flowery prose and inspirational quotes unless you routinely talk that way.  Remember that your speech will be spoken, even if there are written words in front of you.  Jargon and idiomatic expressions are perfectly acceptable.  But stick to your script.  Too much adlibbing can derail your speech.  Provided you have had ample time to prepare the speech, speaking completely "off the cuff" is unacceptable.
 Be yourself.  

Don't forget that the speech should reflect your personality.  If you are typically funny or witty, make sure that your speech is too.  If you are a person of few words, make your speech short and to the point.  At the end of the day, your speech should reflect who you are as a person, not who you think people expect you to be.
 Hold off on the alcohol.  

It's very tempting to have a drink (or two or three)

to take the edge off, but chances are that alcohol will make it even more challenging for you as the speaker.  Just think about how many times you've heard people deliver sloppy, drunken speeches.  Remember that you have been selected to represent the bride and groom on their big day and you want to put yourself in a position to honor them.  Feel free to have a drink; just wait until after you've given the toast to indulge.
 Hire a professional speechwriter.

 If the thought of writing a speech sends you into a panic, or you just can't organize your thoughts, consider hiring a professional speechwriter.  Think of it in the same way that you would hire a party planner to oversee your event, a stylist to help you with your wardrobe, a hair and make-up specialist to make you look your best, or a photographer to help you tell the story of your celebration.  With a little help, the speech can shine just as brightly as the other aspects of the celebration.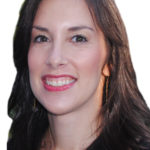 Holly Blum is the owner of A Speech To Remember.  As The Word Whisperer, she creates unique and customized speeches and toasts for weddings and other special occasions.  She works with clients to transform their ideas and stories into words that fit their style and make a lasting impression.