So you've finally decided to have a destination wedding! Congratulations are in order, but you also have to think of the preparations for that glorious, memorable occasions.
It might all seem perfect when you look at the pictures, but destination weddings involve a lot of work. You may get a professional wedding planner on board, but there are still several things to work out. An interesting way to do it is to read up blog posts such as 10 Things to Know Before You Go Wedding Dress Shopping. But before you get on this joyride, take a look at some of the preps you have to keep in mind:
Decide On The Budget
One of the main factors in a destination wedding is the cost. You not only need to decide how much you want to spend but also who will pay for what. The breakdown will probably be similar to a regular wedding, but now you also need to consider traveling and accommodation costs.
You might want to change the location based on airfare, or whether you can get a good hotel package. Consider the tourist season if you're visiting a popular spot—rates are likely to spike then. The budget will also decide what kind of accommodation you get, so make sure you know what you're getting.
Focus On The Guest List
There will probably be relatively fewer people on the guest list at a destination wedding, especially if it's a far-flung location. You need to ascertain just who will be able to come. Elderly folks might usually opt out of such events, as would anyone with health issues.
The fewer people you have, the more flexibility you'll get in your pick of location and accommodation. You can reserve a small party afterward for the rest. In any case, everyone likes to get an invitation even if they can't always RSVP.
Decide The Destination According To The Surroundings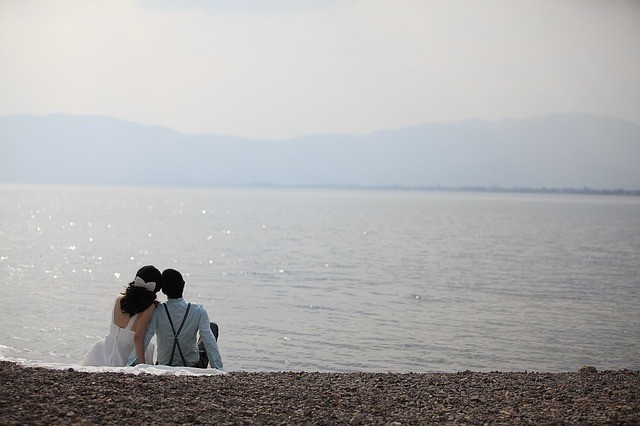 Image Source: https://pixabay.com/photos/beach-romantic-couples-love-1094040/
Before you start working on a location, you might want to shorten your search by deciding on the kind of backdrop you want. Are you looking for a tropical venue, urban, or perhaps, the mountains? Natural beauty looks wonderful in pictures, but so do skyscrapers and city views.
Whichever venue you end up choosing, make sure to choose your dresses accordingly. How about surfing a bit online for this part? Check out Azazie, they got cool stuff to offer to brides-to-be.
Think About Your Favorite Stuff
If you're passionate about a certain hobby or sport, you might want to make room for it on your wedding day. You can also go back to the place where you and your significant other first vacationed, or even where you first met. There could also be family ties that lead you back to a location that has special meaning.
If you're one of those who love hiking or skiing, the mountains or even a ski resort will be a great choice. Who says you can't have a skiing vacation along with celebrating your wedding?
Go With Your Instincts
At the end of the day, you want to enjoy your wedding to the utmost. Stay true to yourself, and don't let anyone pull you into anything you don't like. If you and your to-be spouse are laid-back folks, it's perfectly fine to have a destination wedding with a low vibe.
However, you also want to make sure that all your guests enjoy themselves as well. As long as you don't compromise on your own personality, the big day should be a hit.
Wrapping Up
The tips above will help you figure out the perfect destination and help in preparing yourself in the best manner. You can enjoy your special day as soon as you take care of the details.