FOUR MUST-HAVE MOUTH WATERING BURGERS FOR
NATIONAL BURGER MONTH FROM NYC'S TOP TOQUES
'21' Club's Time-Tested '21' Burger • Dry-Aged Prime Perfection at NYY Steak •
Gooey Taleggio Burger at TESSA • Ultimate Bacon Burger at The Writing Room
 As a sure fire way to curtail your summer diet, May is here with
National Burger Month! Rather than noshing on a quarter pounder with cheese, indulge in
these tantalizingly topped prime, handcrafted beef patties at some of New York's juiciest
spots.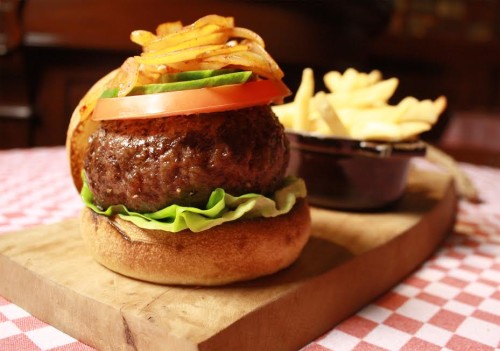 You know something tastes good when it's
been on the menu for over 60 years. The '21'
Burger at New York's iconic '21 Club' (21 W
52nd Street, New York, (212) 582-7200,
www.21club.com) was created by the original
Prohibition-era owners and originally sold for
$2.75. Today, Executive Chef Sylvain
Delpique takes a custom prime aged beef
blend from Master Purveyors and tops it with
sautéed onions, a thick sliced tomato, lettuce
and housemade pickles and positions the
whole thing delicately on an artisanal challah
roll from Amy's Bread. Crispy French fries and signature '21' sauce round out the perfect
plate ($34). The iconic 21 Burger has been regarded as one of the most influential burgers of
all time by the likes of Time Magazine and the legacy continues on.
For a burger that's sure to hit it out of the
park, head to NYY Steak (7 W. 51st Street,
New York, 646-307-7910,
www.nyysteak.com) for lunch where
Executive Chef Elliot Lopez takes 21-day
dry-aged steaks from their on-site butcher
shop and expertly grinds and shapes the
beef into juicy and richly flavored 8oz ounce
patties. Perched atop a soft brioche roll, and
served with crispy fries, the burger is
dressed with aged Gouda and sweet onion
jam for the ultimate indulgence ($17).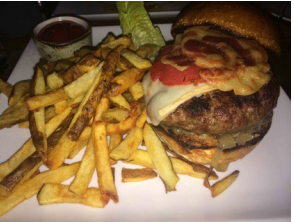 Adding Mediterranean flare to a classic
American staple, Executive Chef Cedric Tovar
is utilizing tender Angus beef for the house
burger at TESSA (349 Amsterdam Avenue, 212-
390-1974, www.tessanyc.com). Tovar tops the
burger with gooey Taleggio cheese, caramelized
onions, crunchy romaine and an oven-baked
tomato slice. The "Pièce de résistance" is a crispy
wheel of pancetta for a salty cured flavor to
make this the new king of burgers on the UWS
($19). A heaping portion of rosemary fries is
merely icing on this savory cake!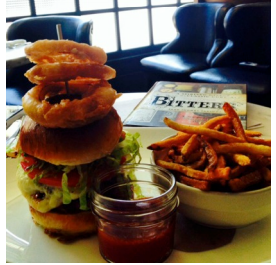 Bacon aficionados won't be disappointed by the
homemade bacon topped burger at The Writing
Room (1703 Second Avenue, 212-335-0075,
www.thewritingroomnyc.com), served exclusively
for brunch. For the TWR burger, Executive Chef
Lucas Billheimer cures the bacon in house for one
week with a mixture of herbs and spices, including
garlic, coriander, black pepper and fresh herbs and
hard smokes it over applewood chips for 10+ hours.
A bounty of this handcrafted bacon is placed atop an
8oz Black Angus patty along with Vermont cheddar,
lettuce and tomato before being positioned on a
perfectly soft and buttery housemade Parkerhouse
roll and speared with a stack of crispy onion rings
($18). Pair it with French fries and Chef Billheimer's side of "secret sauce" for the most
delicious bacon burger that you will definitely want to write home about!