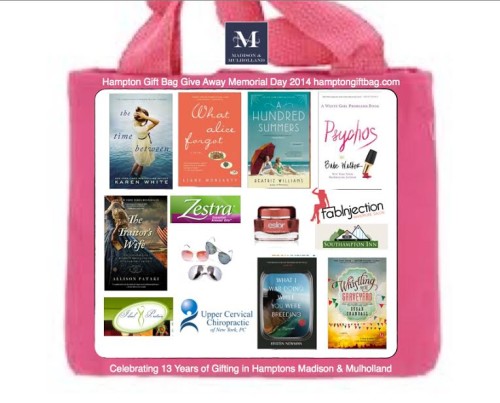 Madison & Mulholland celebrates 13th year of gifting in the Hamptons. 
Beginning Friday May 23, 2014 Madison & Mulholland celebrates13 years as the Official gift bag in the trendy Hamptons.
Hampton Gift Bags are once again the hottest trendy "must haves". Inside the gift bag we offer the summer's best-selling beach reads, samplings and gift certificates. PLUS a limited number of bags will be receiving our new high-tech sunglasses (polarized sunglasses allowing you to see your digital screens (iPad, tablets, etc) outdoors. The gift bag's value $500+ .
The gift bag can be reserved at HamptonGiftBag.com and can be picked up at specific locations in the Hamptons (Quogue, Bridgehampton, Sag Harbor and Southampton).
Hampton Gift Bags are packed by clients at ARI of Connecticut, Inc.; Enriching the lives of people with disabilities and their families by enabling them to achieve their fullest potential at home, at work and in the community.
Goodies include:
This summer's Best-Sellers!
A Hundred Summers: As the 1938 hurricane approaches Rhode Island, another storm brews in this novel from the author of The Secret Life of Violet Grant.
Psychos: A White Girls Problems Book: If you're one of the hundreds of thousands who devoured Babe Walker's New York Times bestselling novel White Girl Problems or one of the million people who read her blog or follow her on Twitter daily, then you've obviously been waiting with bated breath for her hilarious follow-up novel, Psychos.
The Time Between: New York Times bestselling author Karen White delivers a novel of two generations of sisters and secrets set in the stunning South Carolina Lowcountry. 
The Traitor's Wife: A riveting historical novel about Peggy Shippen Arnold, the cunning wife of Benedict Arnold and mastermind behind America's most infamous act of treason . . . 
What Alice Forgot: From the author of the #1 New York Times bestseller, THE HUSBAND'S SECRET…A "cheerfully engaging"* novel for anyone who's ever asked herself, "How did I get here?" 
What I Was Doing While You Were Breeding: A funny, sexy, and ultimately poignant memoir about mastering the art of the "vacationship."
Whistling Past the Graveyard: Whistling past the graveyard. That's what Daddy called it when you did something to keep your mind off your most worstest fear. . . . 
Plus: 
Eslor – The Art of Beauty (elsor.com) Active Night Cream:This intensive, exclusive formula night cream helps preserve the skin's suppleness and firmness, while preventing the appearance of fine lines and wrinkles. The results are a fresh, youthful-looking glow and rested appearance to your skin. Chlorophyll Lifting Mask:Skin tightening mask. The dried film of natural milk proteins, plant extracts, seaweed extracts, and minerals tighten the skin, help enhance blood circulation, and help diminish fine lines.
Zestra.com: Recommended by doctors, Zestra® is a safe, natural, easy-to-apply blend of botanical oils and extracts that works by heightening a woman's sensitivity to touch. So you feel more during sex. Experience the Zestra Rush™ within minutes the first time — and every time — you use it.
Madison & Mulholland PT2 High-Tech Sunglasses: with new patented  lenses that allow you to see your "digital toys" outdoors! – Limited Qty of sunglasses will be gifted.  Value $150)
Gift Certificates: 
Southampton Inn, 91 Hills St Southampton NY: Enjoy $10 off Breakfast (Valid until 6/30/2014, Spend $20 and get $10 off…more details on gift certificate).
Got lots of aches & pains? http://www.ucc-ny.com/ I highly recommend Dr. George Gertner after one visit my age-old sciatica is GONE! Experience a $300 consultation, exam and Xrays for only $27.Dr Gertner is a "NUCCA" certified practitioner & chiropractor.  
Dr. Gail Lauro, weight loss coach for Ideal Protein. $100 off consultation Valid in Manhattan and Westchester.
FabEmergency Kit complete with double stick tape, black safety pins and instructions on how to use everything to avoid a fashion emergency during your FabWeekend in the Hamptons.  PLUS: 1 free hour ($175 value) of HamptonsFab personal wardrobe styling services.  Contact info: carmenadriana@FabInjection.com, 646-483-3354, info@FabInjection.com
Want a gift bag? All you have to do is make a reservation at HamptonGiftBag.com