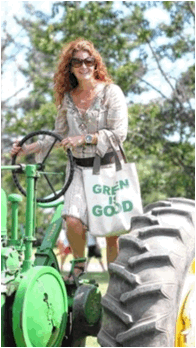 Tessa Edick is changing lives by challenging us to think about the way we eat. As founder of FarmOn!, a 501C3 organization, she's creating a culinary collaboration between farmers, schools and colleges (Including the Cornell University School of Agriculture), celebrity chefs (did someone say Jean-Georges Vongerichten?) and business owners, small and large. Why? She's pulling resources and funding, creating educational programs, and shifting the area's focus to farmers—or, as she likes to call them, "starm-ers"—to raise focus on the importance of eating local.
From July to September, FarmOn! (along with Friends of the Farmer) is hosting three celebrity chef and music events in the Hudson Valley (see below for details) to raise awareness and support for local farms. IntoxiKate creator Kate Schlientz recently caught up recently with Edick, to ask her about these efforts as well as her eating habits.
IntoxiKate: How did you get your start in the food industry?
Edick: In 1999, I owned my own food company. Back then, "organic" wasn't a buzzword, but that's what my product was; I wanted to reinvent jarred pasta sauce without using canned products. I used only fresh, local ingredients to produce tomato sauces and pestos. The product became very popular. I made TV appearances and was also on Oprah's "O List." When I sold the product to a bigger company, I started working with other chefs on their food products.
Why did you shift your focus to farmers?
I felt the farmer was getting the short end of the stick—they never get money upfront, they have no visibility or recognition. In 2001, I bought a house in the Hudson Valley. I was having dinner parties with friends, and using local ingredients. My guests kept asking about my recipes, but it wasn't that. The food was better because fresh ingredients taste better. The farmer gets up at 4 a.m. to feed us. I wanted to be a cheerleader for the farmer.
How does FarmOn! help?
We're focused on repositioning the thinking for buying local, and starting that with children. We've created educational outreach programs to raise awareness. There's a scholarship available for the Cornell University School of Agriculture funded by FarmOn! to help promote careers in agriculture. We're placing children on farms to help them understand the business of food, and challenging them to come up with innovative ways to grow the business.
We're also pairing up with businesses in all industries to create really amazing events and initiatives. For example, we're talking with people in the fashion industry, we're working with Disney to create children's events, and we're working with the NBA to help promote super foods making super athletes. (See FarmOn!'s July events below.)
Tell me about your philosophy towards food.
I want to connect with the food I'm eating. I want trust the person that is making my food. I want to know the person, I want to know the animal, how he lives, what kind of soil he's in, what kind of water he's drinking… That's the big part of flavor and taste in life. There's a wellness component you can attach to it.
What does your daily diet look like?
I live by what I call the 70/30 rule. The majority of my focus is on local, fresh ingredients. But when I go to a ball game and grab a hot dog, I know that meat isn't coming from where I usually source my food. And that's fine. I'm also not going to have dinner at a friend's house and demand where they get their groceries. When I eat at home, I use products from local farmers markets. I'm also part of a CSA. I'm connecting with how my food is made and grown. When I visit these farms, I have a great time, but my main goal is optimizing nutrition. That makes me thankful for healthy food, and thankful for the people committed to making it. We're really luck to live in New York state, because we can source local food pretty much all year round. But  just think... If everyone in the country decided to use one farm fresh ingredient for one meal every day, imagine the difference that would make…
What are some easy ways people can start adapting local ingredients into their lifestyle?
1. Get away from thinking it's too expensive. How much do you value your health? Good food can't be cheap.
2. Stop thinking it's inconvenient. Go to a farm. You can get everything you need there. Connect with your community and know where your food is coming from.
3. Use common sense. Pay attention and ask questions.
FarmOn!'s Upcoming Events
Friday, July 18: FarmOn! Hoedown Concert by Lukas Nelson & Promise of the Real
Club Helsinki Hudson, Hudson N.Y. 
The FarmOn! Hoedown concert is a stand-alone event for the first time ever, with the generous support of John Varvatos. This summer's rock concert takes place at Club Helsinki Hudson and will serve Taste.NY.gov local libations and a farm-fresh menu. Music will be playing from 6 p.m. until midnight in support of the FarmOn! Foundation and the organization's regional farming families. Join Lukas Nelson & POTR, which features the son of legendary singer-songwriter Willie Nelson, and Ruby Stinson, daughter of The Replacements' star Tommy Stinson, who will perform with his daughter for a rock-filled evening to support the next generation who heed the calling of the land.
Tickets: Standing Room Only – $50, VIP – $75; helsinkihudson.com
Saturday, July 26: Hootenanny! Farm Fresh Fundraiser Dinner 
Copake Country Club, Copake Lake, N.Y.  
HOOT! It's the 4th annual FarmOn! Hootenanny! Fundraiser Dinner hosted by ABC Kitchen and ABC Cocina Michelin-starred celebrity chef Jean-Georges Vongerichten. Billed as the "best event of the summer in the Hudson Valley," the Hootenanny! is a fun-filled evening and unparalleled farm-to-table dinner where attendees will dine lakeside at the Copake Country Club in Columbia County, N.Y., and get the opportunity to meet and eat with a local farmer and connect with members of the Hudson Valley community. The fun begins at 6 p.m. with a Hudson Valley cheese course and happy hour to taste the bounty of the region, featuring local cheese makers and creameries, local libations (beer, wine, spirits) and more. Enjoy live music and a multi-course farm-fresh meal with spit-roasted meat sourced just five miles away from the event. Watch a golf cart drive-in movie sponsored by Whole Foods Market, and bid on unique finds at silent and live auctions that raise funds for the FarmOn! Foundation, a 501(c)(3) nonprofit. Cap the evening aside a bonfire indulging in a sundae bar with local poached fruit and ice cream from Ronnybrook Farm Dairy. Every single consumable at this event is sourced within 40 miles and is included in one ticket price.
Tickets: $150 per person, friendsofthefarmer.com/tickets
Saturday, Sept. 27: Friends of the Farmer – Hudson Valley Food Lover's Farm Festival 
FarmOn! at Empire Farm, Copake, N.Y.
An experiential daytime family affair featuring a Disney musical artist and drawing in excess of 5,000 attendees to FarmOn! Foundation's new working farm in Copake, N.Y. Meet Your Farmer opportunities connect families with their food choices and sources in an interactive day of music, little farmer activities, educational games, taste tests, live animals, a locavore shopping village, local libations, farmers market and grill, CSA sign-ups, and introductions to extensive agriculture-based community resources, nonprofits and small businesses from throughout the Hudson Valley region.
Tickets: Starting at $15, Kids are free.  friendsofthefarmer.com/tickets